For
modern landscape design
often use fences made of stones called gabions. Using them to erect a retaining wall and create architectural elements. These items are widely spread, because they do not violate the ecosystem of the area and not hinder the development of vegetation. Just an incredible find for every owner of a suburban area!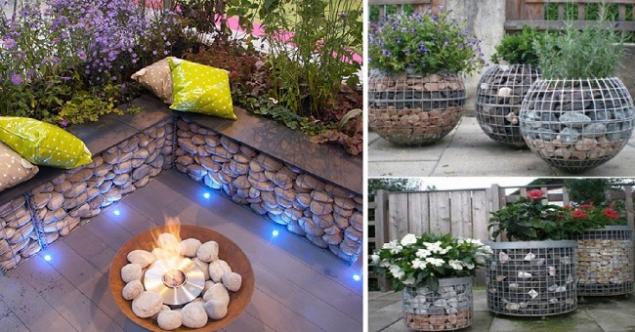 Gabions are very easy to make your own. For this you will need a mesh, stones, a little time and imagination. The editors of
the"Site"
prepared specially for you a selection of ideas, how to decorate a area with these designs. But first check with a simple diagram that displays the progress of the creation of the gabion.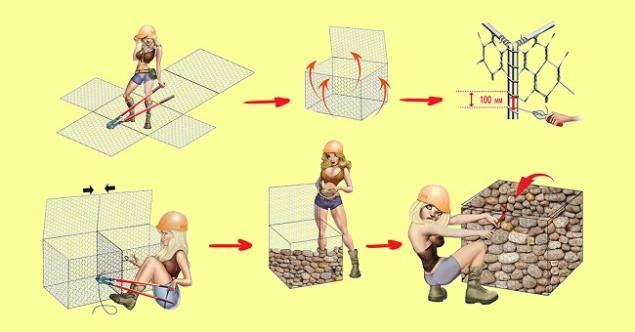 Gabion with his own hands
That grill looked bored and fit into the overall landscape design, use gabions. Looks very interesting.



Very cozy place for family gatherings on warm summer evenings. All in all, the grid, stones and a couple of boards. Use for extra decor and comfort pillow.



And how about that Parking space? Also under the canopy you can put a table with chairs and spend a noisy party.



Just amazing idea! Now the tree will please the eye even in the midst of asphalt surfaces.



These walls will serve as a great help in the zoning of the site. And look very stylish.



Do the design of the grid and stones. Put the old barrel, fill with water, put a couple fish. And you've got a small decorative pond! Else fetch from the nearest water source, a few lilies and even beauty.



No need to play with the bricks, it is possible to use gabions. Garage, shed, gazebo — this design works for everything.



Adorable idea for flower beds.



The Foundation for the fence without the use of cement. To know before...



The stones in the grid in the role of fence — perfect protection from prying eyes. In addition, it is easy to form any curve.



Great fence for a summer terrace.



Another great option is the grill.



That's so cute benches will not only serve as a place for gatherings, but also great to decorate your site.



You can even create sculptures. It turns out very unusual decor.



And a few more ideas for flower beds. I agree, this is much better than old tires or boards.



The most common filler for filling gabions used hard rocks stones: quartzite, diorite, basalt, granite. You can also use other materials. The best part is that these designs can be fit into any landscape design.
Turn your site into a real sweetie with gabions! And don't forget to share the amazing ideas with your friends!
Now everyone can publish articles
Try this first! To WRITE an ARTICLE the Author

Oksana Dudnik Loves painting, ready to admire the pictures all the time! Oksana knows a lot about perfumes, well versed in fashion trends and will give odds to many well-known beauty bloggers. Her love of sport supported by sports category in sailing! Xenia prefers meat dishes, can not imagine a day without them. Favorite book charming girls — "the Emperor" Niccolo Machiavelli.