Honey is a unique product of natural origin, it has not only pleasant flavor but also a wide variety of useful properties. People have long used hidden in honey healing power. Including women began to use honey for your beauty treatments. A very good way was the hair mask with honey, it prevents breakage of hair, their dimness and pain, its essential advantage is that it can be applied to any type of hair.
The use of honey in cosmetics
Honey has been used for a very long time. Using honey women sought flawlessly beautiful skin, thick hair and so the Honey can be easily used with other natural ingredients. Honey is full of natural ingredients and because it is so useful and also more easily absorbed in the body.
After procedure masks with honey, most likely, at the same time disappear dandruff. Honey has many vitamins, minerals, enzymes, and so perhaps after the first use of the mask with honey you will notice a positive effect on their hair.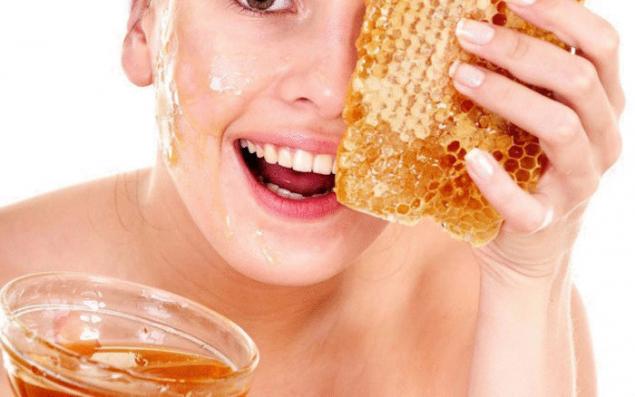 Hair mask of lemon and honey Just two ingredients – honey and lemon and it will help to strengthen the hair, while the preparation will take no more than 5 minutes, and the results will be immediately noticeable. Squeeze the juice from the lemon and add 60 g of honey, stir until smooth, apply on entire length. Keep the mask 15 minutes.
Mask for oily hair you will Need 2 tbsp of honey and 2 egg yolks. This mass is rubbed and massaged into the scalp. It is recommended to apply the mixture at night before bedtime and wash off as much in the morning.
For dry hair, Honey hair mask favours solving problems and dry hair. For preparing the mask, you need the following ingredients: egg yolk, garlic juice, aloe, honey. All the ingredients need to be in equal proportions. After all thoroughly mixed, the mixture is to apply the mask on hair for the third hour.
For brittle and damaged hair To prevent in order to protect the hair from breakage, cut or other damage, it is possible to make the special mask from castor oil and honey. 1 part honey you need to take 3 parts castor oil. On the hair to withstand at least an hour and rinse with shampoo. If your hair is oily, then the procedure is repeated every 2 weeks, and if dry and brittle, more often.
Honey mask for hair loss honey and Solved the problem of hair loss. The blend mask is made of honey, two egg yolks and burdock oil. Mask massage thoroughly into scalp leaving in 40 minutes. The experience of using periodically using this mask, the hair should stop falling out after only a few months. But if the cause of hair loss is an internal illness or hormonal failure, the prescription will be useless.
Homemade vitamin mask with honey Vitamin mask with honey for hair to the right people who have an increased sebum secretion. Because this hair will Shine, or Vice versa, will become lifeless and brittle. Often break at the ends, separate and often falls. Even if you have dry long hair not to wash my hair, the problem does not go away because there is not enough fat grease.
Mask with cognac and honey you will Need: a tablespoon of olive or burdock oil, one egg yolk add a spoonful of honey. The mixture is stirred, and dilute before applying brandy – 1 tsp of the Mixture is applied on hair and kept for 3 hours.
Mask for oily hair type to Make a mask regularly to keep the sebaceous glands become normalized and you got rid of the Shine. So, 60 g of chalk to mix 2 boiled egg yolks, this substance applied to the roots, making massage movements. The mask is left overnight and in the morning head a good clean and all.
Source: lubim-zhizn.ru/