Love is a romantic feeling. So the man is easier to convince a woman in her senses, inviting her to a romantic dinner. A romantic dinner can be arrange to offer the woman a hand and heart. Meeting for dinner, and after a few years of living together will be very romantic. Most often in such cases, men invite the woman in restaurant. But such meetings are not very original, and the restaurant can be crowded and noisy. Alternatively, a man may arrange a romantic dinner at home.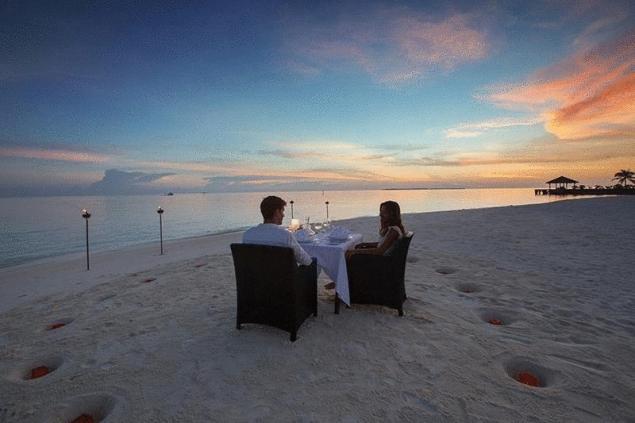 To organize a romantic dinner at home, a man must first gather about the woman the required information. He needs to know what kind of wine the woman prefers, what she likes the smells, what the woman favourite dish. The most suitable option of dishes are seafood. Shrimp, tartlets with caviar, the crab salad – all sumptuous meals. But, some people may be allergic to such delicacies, so ladies need to find out if she had a problem. Sweet dishes such a problem too. Women and girls usually like sweets. But before you put on the table, gorgeous cakes and sweets, we must ask, not whether a woman follows a diet. If a woman is dieting, it can be quite awkward. The tastes of the host and guest can differ in other matters, but the man needs to focus on the preferences of the woman (her favorite Hobbies, movies, music). It would be ideal to find a common topic of conversation.
The task of men to make a romantic menu. To begin this task, you can, as soon as the man found out gastronomic tastes and preferences of women, found out if she had a taboo special food preferences. A man needs to impress, to charm a girl, turn a romantic dinner into an unforgettable event. The table should be alcohol, but high-quality, expensive and not strong and in limited quantities. You need to choose light, non-greasy meals that can be eaten with a fork (without dirtying your hands). Meats and several kinds of light salads would be the ideal solution. On the table should not be a lot of different food, as the dinner should not turn into hours-long absorption of food. If men have no culinary ability, it is better to cover the sweet table, and a couple of delicious dishes available at the restaurant.
The success of a romantic dinner depends on three components: musical accompaniment, lighting and odors. When choosing lighting, it is better to stay on the Golden middle. Annoying situation when light or too much or too little. The main lighting is better not to include. Preference should be given to the lamp or lamps. The classic version of the candles remain the best option. Candles can be great, or it can be a scattering of small stars. Scented candles are not suitable for dinner, as they can cause headaches. Pleasant fragrance have to give fresh flowers – lilies or roses. Music should be quiet, calm, unobtrusive. Music should not be annoying and distract from the conversation. The situation can vary if you include a disc with your favorite songs girl. After dinner, the girl you can invite to slow dance. Romantic dinner it is hard to imagine without flowers. A man must consider what bouquet to choose your favorite. The originality and the brightness can add a custom gift.
Source: efamily.ru