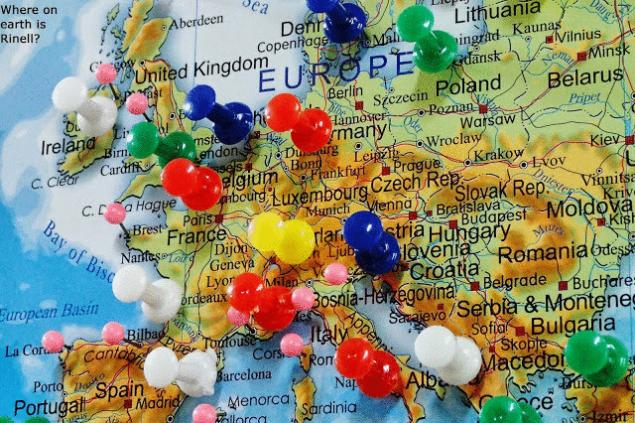 Can't imagine my life without traveling? In this case, you will need a list of organizations and resources with which to visit new countries, without spending all your money.
We have collected a list of core services that provide the opportunity to participate in various activities and projects in different countries, including volunteering, training programs and assistance to local residents for bed and food.
Help Exchange
This resource locals from around the world invite travelers to help them on the farm or in small businesses in exchange for free housing, food, sometimes excursions or even yoga. A great way to not only visit a new place, but also to explore the local culture. Simply select the type of work that suits you and contact the owner. For example, you can join the Italian farming, spending only two hours a day.
WWOOF
Here you can find announcements of local people in different countries who are engaged in organic farming and need free labor. Another way to travel, working for bed and Board.
Sudan Volunteer Programme
A charity organization from the UK sends students-linguists of the last two courses of universities and graduates as volunteers in Sudan to teach Sudanese children English. You can join a good cause and get a good practical experience. Preference is given to candidates for whom English is the native language, but if you have practical teaching experience, your application will also consider.
SE7EN
At SE7EN you can find the volunteer program or project in almost any country. For example, to go to the Bahamas to work on independent research station for the study of lemon sharks.
VSO
Another international charity organization that offers many volunteer programs in different countries in the areas of health, environment, economy, education and others.
Youth in Action
This educational program of the European Union for young people (under 30 years) annually distributes grants to non-profit organizations on their projects in different countries, including Macedonia, great Britain, Turkey, Georgia, Latvia, Azerbaijan, Croatia.
"In the framework of this program over the last two years I visited Macedonia and the UK. The essence of the program is that it provides free training, pays 70% of the flights, visa costs, internal transport, accommodation and meals during the training. Plus you always have extra days in the country, but at their own expense. In fact, to become a member, you must submit the application form on one of the training programs. Every training dedicated to a specific subject. So, last year we studied tolerance to representatives of other countries in Wales." - Inna, a member of the Youth in Action program.
Conservation Volunteers
And this organization will appeal to fans of ecotourism, who dream to visit Australia or New Zealand. The goal is to protect nature. On the website many volunteer programs in different parts of Australia and New Zealand, both short and long periods.
Soundcloud
Do not forget about this quite popular resource where you can easily find a free housing and new friends in different countries. Personally, I often use Couchsurfing to get acquainted with local life and people in new places I visit. For supereconomy can be combined Couchsurfing with hitchhiking.
United Nations Volunteers
In addition, you can become a UN volunteer, if you're over 25 years old, have a University degree and fluent in English, Spanish or French.
AIESEC
International youth organization that provides various internship programs, exchange programs and volunteering opportunities for students and graduates in 113 countries.
Appalachian Trail
Another nonprofit organization accepts volunteers who love nature and are willing to take part in preserving the heritage of the organization (which is 250,000 acres from Maine to Georgia in the USA).
Find a crew
If you do not suffer from seasickness, can become part of the crew of a cruise ship, yacht or catamaran and exchange their work on an exciting journey under the sea (includes Oceania and Asia). Another alternative to the Vagabond Sailing (Asia, Oceania, the Mediterranean).
The low-cost airlines
Often budget airlines offer very competitive rates for flights, so you can fly to another country for ridiculous money. Do not forget about Ryanair, Virgin Australia, Jetstar and other global giants budget airline, which, though not fly from Russia and Ukraine, but will significantly reduce the budget for long or complex flights.
Source: www.ecology.md