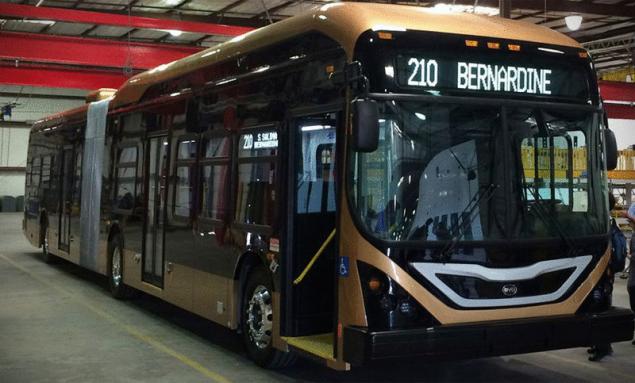 A new direction in the field of public transport has made China, presenting at the international exhibition of his achievement...
Held in late October in Houston the exhibition of the American Association for public transport (American Public Transportation Association, APTA), the Chinese company BYD Motors unveiled to the public the fact that without a doubt can be called the world's largest electric vehicle battery — electric bus eBus Lancaster, whose length is 18.2 meters.
It should be noted that the company has created BYD Lancaster eBus bus with an eye, primarily to the American market. In this regard was taken and the name of this vehicle, which is the name of one of the cities in California. In appearance, the Lancaster eBus bus is similar to a traditional city bus with a full body, but "under its hood" hide many of the most recent developments of electrical drives, batteries, control electronics and other related fields.
Each wheel of a bus driven by a built-in motor that has a power reserve of 20 percent. This will allow the bus to easily negotiate a hilly city roads, carrying up to 120 passengers at a time. At the same time, one battery charge is sufficient to overcome distances of more than 288 miles with the full load of passengers.
About the battery bus Lancaster eBus is to tell you more. The bus uses a "proprietary" iron-phosphate batteries, capacity of which is enough to operate the bus throughout the working day. This means that the bus can be charged at night, when passenger load is down and routes remains a small number of machines. Time the full charge is 2 to 4 hours, the battery can withstand 10 million cycles of charge-discharge, while maintaining 70 percent of original capacity. This should be enough for 25 years of operation, which is more than the life of the body and mechanical components of the bus.
In addition to the high capacity, durability and reliability, batteries Lancaster eBus can withstand open flames, strong enough mechanical strain and shocks. And if necessary, one bus can become a charging station for other bus or to give the energy of its batteries in the energy General purpose network that will be particularly useful in cases of various emergencies.
In addition to bus Lancaster eBus at the exhibition APTA company BYD Motors has presented the electric bus, Transit bus, whose length is 12.2 meters. This bus is designed to run on suburban routes, he is able to get on a single battery charge a distance of 402 kilometers. But for 24 hours this bus is able to travel a distance of over 1200 miles, spending electrical energy, worth up to $ 200.
Source: ridus.ru