World-renowned French
designer and naturalist Patrick Blanc
gained fame thanks to the invention of a unique system of biological décor which made possible the design of the walls, producing a virtually vertical greening garden, the main principles and developments which are designers and gardeners to this day. The first vertical garden DIY Patrick tried in his residential house in the suburbs of Paris. Where he created the real tropical jungle, consisting of a variety of exotic plants. Where a complete illusion of the jungle added to the atmosphere inside the house, where was set a warm and humid air of the room, fluttering like an exotic forest birds.
The idea of creating something like that originated in Patrick when he was just a child. At a young age he was attracted by various plants. He studied their ability to grow indoors, with artificial lighting and with a limited amount of soil. So childhood dreams and youthful passion turned into a business of his life. Patrick Blanc graduated from the University of Paris Pierre and Marie Curie, and now he works in the CNRS (national research centre in France).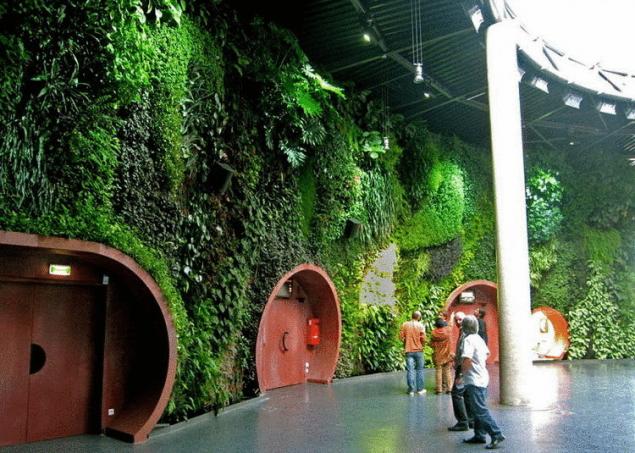 Vertical gardens designed by Patrick is a real art, where in addition to technical developments to mount special frames on the walls, providing water the plants, you need a deep knowledge on the selection of exotic plants and the ability to create a vertical surface for a real live rug with its own unique pattern to the inside of this oasis all the plants could get along with each other and become one whole composition. After all, sometimes to create one such garden Patrick uses several dozen different species of plants.
Developed by Patrick technology of planting plants is that initially, the wall mounted metal frame with a thin plastic shell that is waterproof and prevents moisture penetration on the wall. On the external side plastic coated with a polymer felt with holes where will be planted the plant, then installed a special pipe for irrigation. The entire design Assembly is very thin, with a thickness of only a few centimeters, so the load on the wall is minimal. Planted one square meter of garden weighs 30 pounds.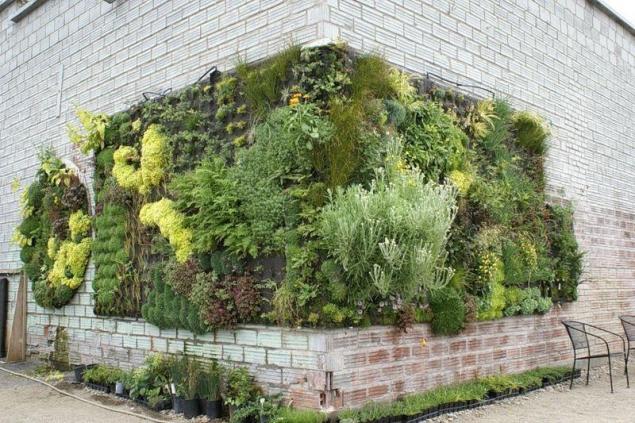 In 2002 and 2008 were published two books of Patrick Blanca: "to Be a plant in the shade of the tropical forest" and "the Living wall in the city." Vertical gardens of Patrick Blanca adorn many of the facades of buildings all over the world. This shopping Mall in Bangkok, and the Museum of modern art in Germany, France, Brazil, Turkey, Japan and the French Embassy in Delhi, and Orchid vertical wall garden at the new York Botanical Garden, and many, many administrative buildings, restaurants, hotels and boutiques in different corners of the world. And with that, the inventor of modern vertical gardens Patrick Blanc, is not going to stop. As he says himself: "His aim and the motto of his life was to reconcile the city with its concrete and lifeless walls into living nature".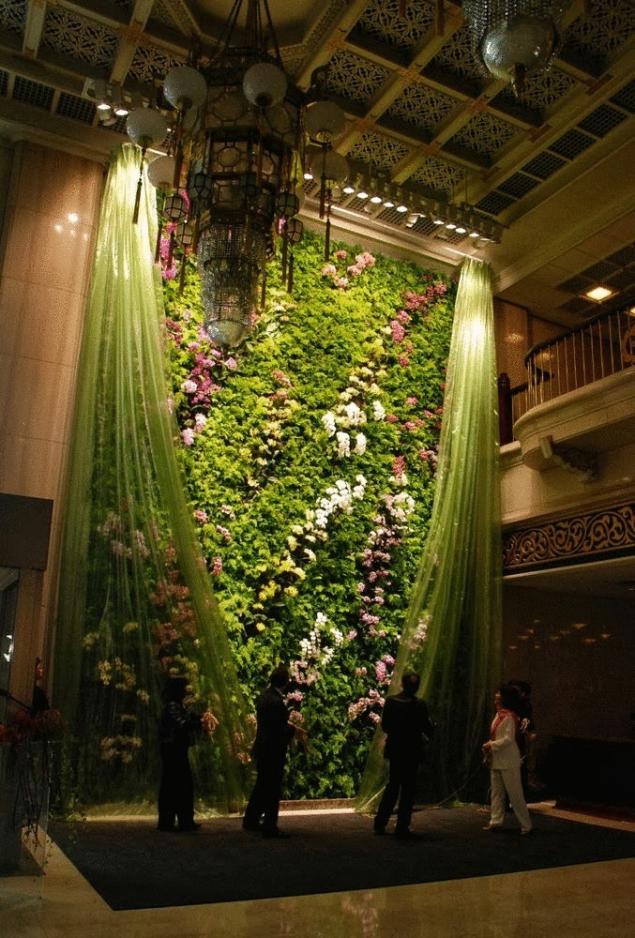 Source: allfreefoto.ru