Many probably still remember the recent scandal with photographs of the Lebanese-Israeli conflict, which are posted on its website, Reuters and admitted that one of its photographers, Adnan Hajj, used computer programs in order to distort the reality. And recently I came across an interesting album, which tells about the falsification of photographs and works of art in the Stalin era. & quot; ... The author, David King, plays, whenever possible, the original picture and retouched version, and sometimes several. For example, people disappear from the photos one by one, as they disappeared from life or from the political arena. On one print, in 1920 Lenin and Krupskaya went to open the power in Kashin and photographed with a group of kulaks (in the background) and children (in the front). After 19 years the image was erased all the adults and some children. It is clear why. You look and think: this one is laughing, he is no more. This looks startled - and there ... And then - the collapse of the book: this is not, and those destroyed, and out of those, and those ... & quot;

Some photos with the comments from the album.

Walking along the banks of the Moscow-Volga Canal. Yezhov, who before his arrest was withdrawn and the second of his high office - Commissar of Water Transport - to retouch option next to Voroshilov, Molotov and Stalin no longer exists. Many years later, Khrushchev said that Yezhov was not only an alcoholic, but a drug addict and "got what he deserved».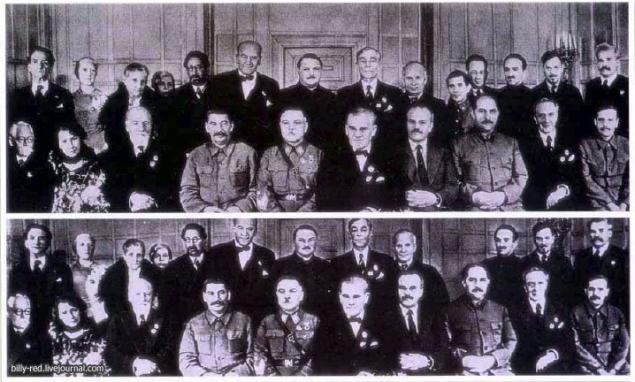 Top photo: party and government leaders with the artists of the Moscow Art Theatre to celebrate the fortieth anniversary of the troupe, October 27, 1938.
Yezhov in the second row, fifth from the right, next to Nikita Khrushchev.
Lower picture: published in 1949, due to Stalin's seventieth birthday. Retoucher removed Yezhov and Boyarsky, the former director of the Moscow Art Theatre, at that time, too, was shot.
December 8, 1938 Yezhov was removed from the post of People's Commissar of Internal Affairs. His successor became Beria, which is April 10, 1939 Yezhov personally arrested. A 4 February 1940 Yezhov was shot.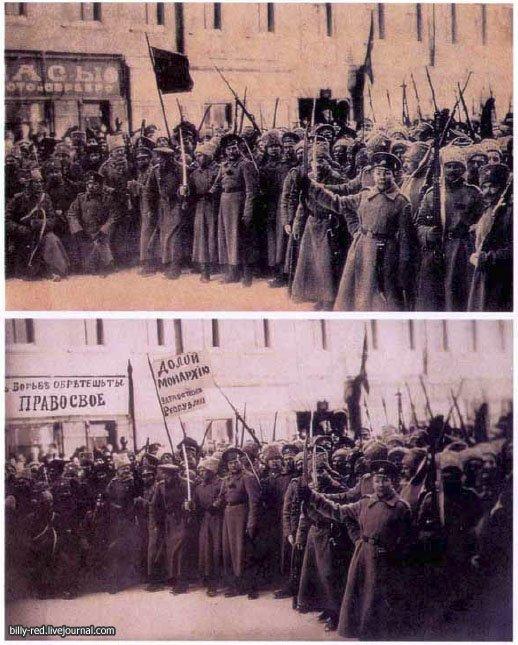 Above: the soldiers who came to the demonstration in the first days of the February Revolution of 1917., Petrograd, Foundry Avenue. In 1917, there were thousands of such cards. In the background is a sign of a jewelry store, "Watch. Gold and silver. " What is written on the flag, it is impossible to read.
Below: appeared in the same year version of the same picture, but vyeske jewelry store is another inscription. "In the fight you will gain Prao her." The black flag is turned white, and on it - a clear sign. "Down with the monarchy! Long live the republic! »