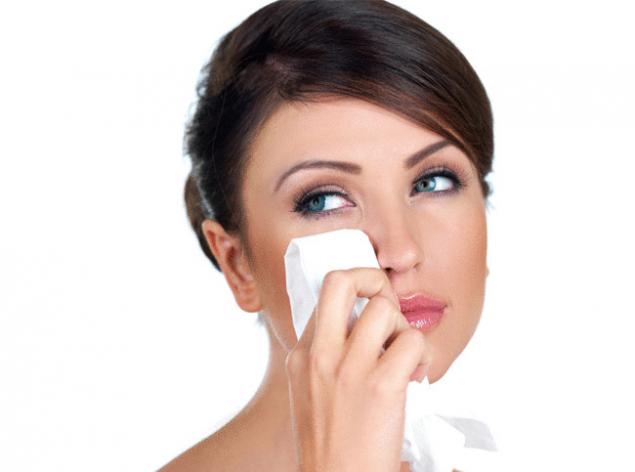 Photo: thinkstockphotos.com
Swelling of the face occur due to variety of reasons ranging from fatigue to serious diseases. To get rid of this problem by identifying the cause and eliminating it.
Most often a noticeable swelling in the morning. But in some cases, the swelling persists throughout the day, bringing its possessor considerable aesthetic discomfort. Who wants the whole day to walk around with eye-slits? First of all, you should take the survey and find out the cause of the edema. And already proceeding from it, to take some action.
To prevent the formation of edema on the face follow a few simple rules:
1. Sleep on a higher pillow or on a mattress with a higher corner of the headboard. This will allow the head to be higher during sleep, with the result that fluid will not accumulate in the tissues of the face.
2. Minimize the use of salt, foods with high salt content or food as it delays the fluid in the body.
3. If you are prone to swelling, try not to drink at night a lot of water the kidneys will not have time to rework it and the accumulated liquid is partly reflected from the early morning on your face.
To get rid of the edema, not associated with the disease, with the help of simple recipes for face masks, cooked at home.
Potato mask
Mask will help reduce puffiness and relieve dark circles under the eyes.
Need:
1 raw potato
1 tbsp flour
1-2 tbsp cream or milk
How to prepare:
Grate raw potatoes on a fine grater (you will need 1 tablespoon of potato). Mix it with flour and cream or milk. Then apply on the problem area. After 15 minutes, remove the mask, wash with warm water and lubricate the skin under the eyes nourishing cream.
The mask of fresh cucumbers
Perfectly removes puffiness and refreshes the face.
Need:
1 small cucumber
½ Tsp lemon juice
How to prepare:
Cucumber completely chop in a blender, mix cucumber pulp with lemon juice and apply it on the problem area. After 15-20 minutes rinse the mask with cool water and lubricate the face tonic lotion.
Nourishing mask with yogurt
, This mask has not only nourishing, but also decongestants.
Need:
1 tbsp ground coffee
1 tbsp cocoa
2 tbsp natural yoghurt
2 tsp lemon juice
How to prepare:
Mix all the ingredients and apply the mask onto face, wait 10 minutes and rinse with clean warm water. If you have dry skin, replace the yogurt with almond oil and lemon juice liquid honey.
Protivootecna mask with strawberry and olive oil
Should be:
3 ripe strawberries
1 tbsp olive oil
1 tbsp honey
How to prepare:
Mash the strawberries with a fork, mix the resulting mass with olive oil and honey, Then apply the paste to the problem area and rinse with cool water after only 15-20 minutes.
Mask with aloe juice
Helps to remove puffiness.
Need:
1 tbsp of aloe juice
2 tsp. fresh cucumber juice
0.5 tsp. of almond oil
A pinch of potato starch
How to prepare:
Mix juices of aloe and cucumber with almond oil and potato starch until thick. Then gently apply the mask to the skin around the eyes application movements and wait 10-15 minutes. If you have sensitive skin, reduce the waiting time to 7 minutes to avoid waterlogged her. Without the mask until complete drying, wash the existing slurry using cool water and apply to the skin a light day cream with moisturizing effect. A little secret: that the face mask has become even more nutritious, add vitamin E liquid, squeeze it out of capsules which can be purchased at any pharmacy.published
P. S. And remember, only by changing their consumption — together we change the world! ©
Source: domashniy.ru/