In our modern world where people constantly communicate with each other, we often forget that in our cities there are places without Internet access and without all the convenience that it brings. More and more information moves online, and people without easy Internet access are at a disadvantage.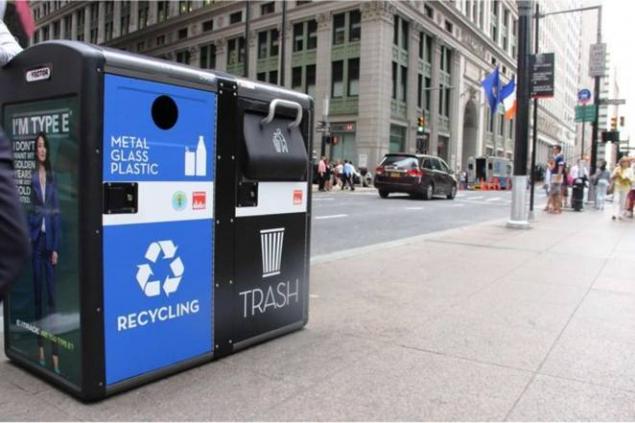 New project in new York city aimed at addressing this problem in underdeveloped areas by transforming what is usually the invisible part of our daily life – an ordinary trash can — these high-tech machines. BigBelly, a manufacturer of smart trash can that supports Wi-Fi, will place their tanks, which serve as access points Wi-Fi in the area around the city's five boroughs.
Smart bins in its original form is already working in cities around the world. Compact musoroprovodnaja tanks on the solar panels maximally improve time on cleaning. Installed sensors detect when the tanks are filled (or when there is a strong smell), and then they warn the local utility organization about the need of cleaning.
This winter is two smart dumpster in Manhattan was converted and used as access points Wi-Fi, they provide wireless access from 50 to 75 megabits per second is fast enough to download an HD film in just a few minutes. Now several hundred of these smart trash cans in new York will be converted to access point as soon as the municipality will consent to this project that will probably happen this fall.
Trash cans are actually very useful as access points to the wireless Internet, they are located on earth and they always have convenient access, which allows you to provide a strong signal, not weakened barriers. In addition, tanks placed on the streets around the area, making them extremely affordable.
Smart trash cans will be able to distribute Wi-Fi for free thanks to banner advertising.
Payphones in new York are also replaced Wi-Fi access points, the so-called "Links" which offer free charging, domestic calls, and free city information on the prescribed tablet. The first such machines will begin its work at the end of this year, and about 10,000 of them will be installed in the five boroughs — thousands of them will offer free Wi-Fi. published
P. S. And remember, just changing your mind — together we change the world! ©
Source: www.facepla.net/the-news/5141-мусорные-баки-wi-fi.html