Archaeologists called the most unusual and striking findings, which was done when excavations in the capital. The treasure found on the territory of Gostiny Dvor, the first birch-bark, found on the territory of the Kremlin, the foundations of the Voskresensky bridge on Manezh square, as well as furnace in a historical-architectural monument of the XV–XVII centuries "the House of boyars Romanovs" in Varvarka included in the list of the most striking and unexpected discoveries made by Russian archaeologists during scientific research in Moscow. It is reported TASS with reference to the Department of cultural heritage of Moscow.
The main archaeological sensation made during excavations on the territory of Gostiny Dvor, is recognized as 16 vessels from precious metals and ancient coins: more than 95 000 Russian silver coins and 335 of the Thaler, minted in the mints of Western Europe from the Pyrenees to Scandinavia. The archaeologists were able to establish that this treasure was hidden around 40-ies XVII century. All in all, the period of reconstruction, conducted from 1996 to 2001, was found 4,500 artifacts. Some of them exhibited in the Exhibition of the archaeological complex "Old Seating yard", created in 2002.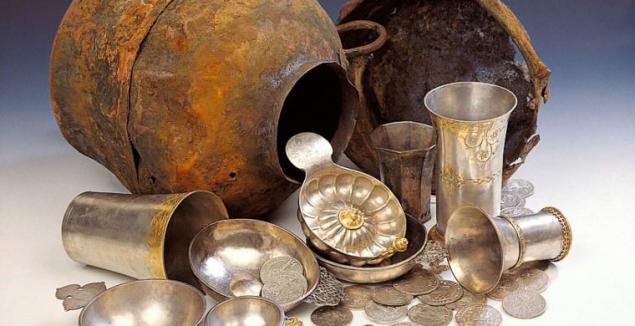 The treasure found on the territory of Gostiny Dvor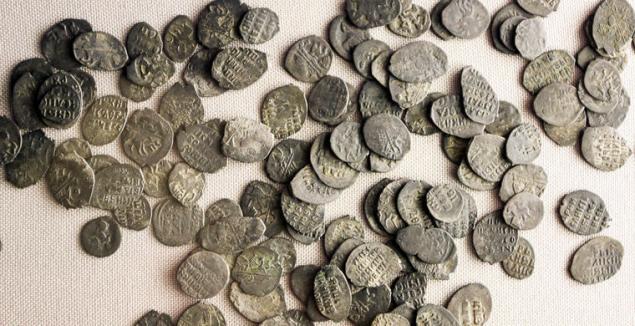 Coins Gostiny Dvor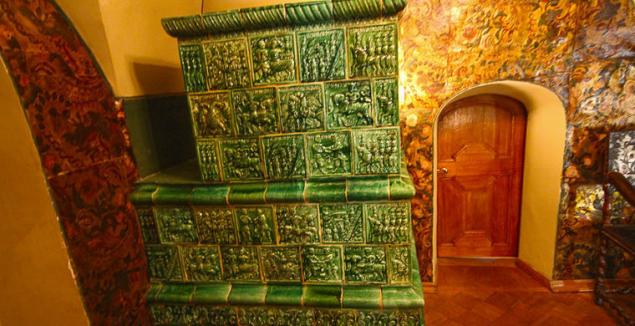 Tiled stoves of the XVII century house of the Romanov boyars
The foundations of the Voskresensky bridge on Manezhnaya square is Also an important point in the history of archaeology is recognized as the detection of the first birch bark in Moscow. A narrow strip of birch bark with a length of 17 cm and a width of 3 cm was found by a group headed by Sergey Chernov during excavations on red square in 1988. The discovery of this artifact has forced the authorities to adopt a law "On ensuring the preservation of monuments of archeology and streamline archaeological supervision in Moscow" prohibiting the construction in the historic centre without prior archaeological research. Later in Moscow, there were found two letters, one of which is particularly valuable: it represents the longest ancient text on birch bark, survived.
Moscow archaeologists appreciate the discovery of the foundations of the Voskresensky bridge, which was discovered during the construction of the shopping center "Okhotny Ryad" on Manezh square. Voskresenskiy bridge spanned the Neglinka river, it began as a way to Tver, and then and in St. Petersburg. The design of the bridge is well preserved due to the fact that in the reconstruction work after the Patriotic war of 1812 Neglinka enclosed in a pipe, and resurrection bridge unnecessary sleep. Now the foundations of the bridge — the main exhibit of the underground Museum of archeology of Moscow.
In the list of outstanding Moscow finds also hit the tiled stove in the XVII century house of the Romanov boyars, discovered in Soviet times, in the course of restoration works on the street Varnava. Today Romanov chambers are a branch of the Historical Musayelyan  
P. S. And remember, only by changing their consumption — together we change the world! ©
Source: www.moya-planeta.ru/news/view/rossijskie_arheologi_sostavili_spisok_samyh_neozhidannyh_nahodok_v_moskve_13667/