Petiolar celery is a biennial culture of the family Umbelliferae, cultivated to obtain the bleached petioles, which are used in cooking various dishes. Petioles from different varieties are colored with white, pink or red. The most valuable are varieties with white stalks, with the red varieties the most cold-hardy, they can be removed until late autumn.
Celery — cold-resistant plant grows best and develops at a moderate temperature and sufficient humidity.
The best celery is a well-cultivated soils, humus-rich, albeit difficult, but with the reaction medium, close to neutral, but not acidic. Position it better after cabbage, zucchini, cucumbers, potatoes. I don't use manure and fertilizers so use the fermented food waste and compost. A trench width of 40 cm and a depth of 25-30 cm is done in March - April. The very same width of the future of beds is 60 cm, is feeding, is sprinkled over the top of the ground so that the level in the trench was below the level of the soil at 8 cm and Then mulch the soil.
Seeds are sown in late February — early March.
First, fill them with hot water of about 60 degrees/ wait for cool water, dried in tissue paper and sown in seedling box, not prisypaya ground. The box should be covered with the film, watering be performed only by spraying.
With the proper observance of all rules seedlings emerge in 10-12 days. Celery likes bright light, it is necessary not to forget. In phase two true leaves, the seedlings can be thinned in pots. Petiolar celery should be planted less the root, keeping the distance between plants was 50 cm and between rows 40 cm Then 1 square meter only need 5 pieces of seedlings. These conditions must be maintained accurately, otherwise a good harvest, namely, the juicy stalks — not to. Care should be taken to "heart", i.e., the apical Bud was not buried.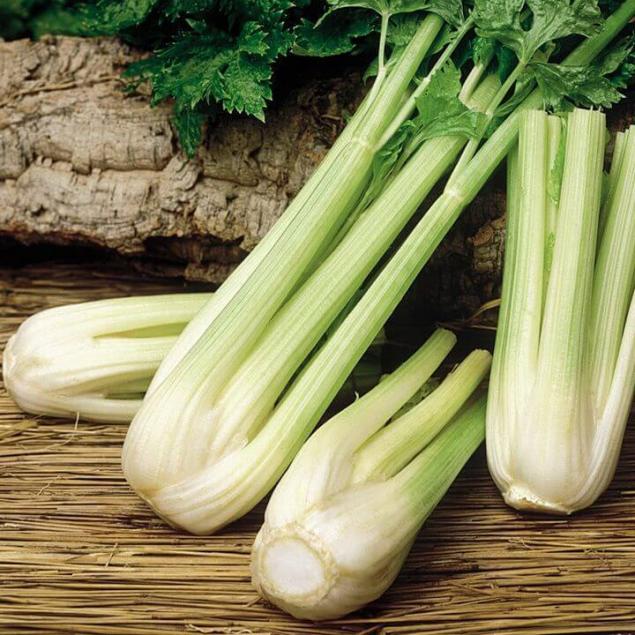 Petiolar celery is very water-loving plants in dry weather irrigation rate of 20-25 liters per 1 sq. m. the growth of the need to remove side shoots, they immediately attract your attention with its untidy appearance, a small thickness, so they'll delete it.
Fed petiolate celery infusion of nettle and vermicompost, using the biological product "the Shining". Here everyone decides for himself, what kind of fertilizer you need to cook. The important thing is that feeding should be weekly. Long, thick, not hollow, succulent stalks grow only if the entire vegetation period the plants were grown CONTINUOUSLY. Meanwhile, delays in growth, they have sometimes even due to COMPACTION of the top soil, when watering the roots begin to suffer from lack of oxygen. Then it is necessary to LOOSEN the soil.
The next is the bleaching of petioles.
To do this, you must associate the petioles a mild piece of string, then wrap them with thick paper /type of packaging/ re-tie. You can wrap and straw, just so that there were no gaps. Leaf blades should remain free. Several times I tried to till the ground, but after this test, the petioles have acquired an unpleasant earthy flavor.
After bleaching the stalks are tender and tasty. This year I didn't pay much attention to celery, so compared to last year, the stalks are not as thick, but hollow was not, and was juicy to the fullest.
But at the time my first holiday experiences that happened. Mistake this year — a little side shoots removed, spared and left hard. Another error later closed the paper from the light, the stems are not sufficiently bleached. But the taste is good. Now a few roots stemmed celery stored in my basement just in buckets paper is not removed, the leaves trimmed, stalks continue to be well-bleached. A clod of earth quite a bit to spray. Brushed and washed petioles can be stored for long periods in the bottom drawer of the refrigerator, and take out as needed.
Do not deny yourself this useful and rich in vitamins vegetable plant. The stalks it a lot of easily digestible carbohydrates, rare vitamins, salts, minerals, aromatic compounds. Consumption of celery has a positive effect on metabolism in the body, strengthens the nervous system.
The stalks can be used fresh, boiled, stewed, as a separate dish. Serve them as a side dish to meat, poultry, potatoes and vegetables. In China, there are dessert dishes stemmed celery. A variety of salads using the stalks will enrich your table, because celery goes well with any food — from meat, chicken, fish, vegetables.
Even a simple salad of shredded carrots with celery, or regular potato soup with the stalks will impress the gourmet. Grow petiolate celery in their beds, he will repay you with health! published
P. S. And remember, only by changing their consumption — together we change the world! © Join us at Facebook , Vkontakte, Odnoklassniki    
Source: www.7dach.ru