Most of us are in need of a digital detox, but not everyone can afford it. We need to respond to calls and letters from the boss to be distracted by messages, messengers, and just from time to time to flip through a news feed.
That is why the founder of the research laboratory in London Kate Unsworth argues that completely cut itself off from technology is impossible, but you need to find a way to interact with them most efficiently. That they will be engaged.
Scientists and then conduct a separate study on the effect on our body habit to use gadgets. Every few months there are new information. For example, a surgeon in new York recently published a study stating that 60% of the load on the neck occurs when we bow our heads above the smartphone, causing pain and displacement of the vertebrae. Exeter University scientists found that men who are regularly exposed to mobile phone radiation decreases sperm count. Trading group The Vision Count found that 70% of the U.S. adult population feel eye strain due to constant interaction with screens.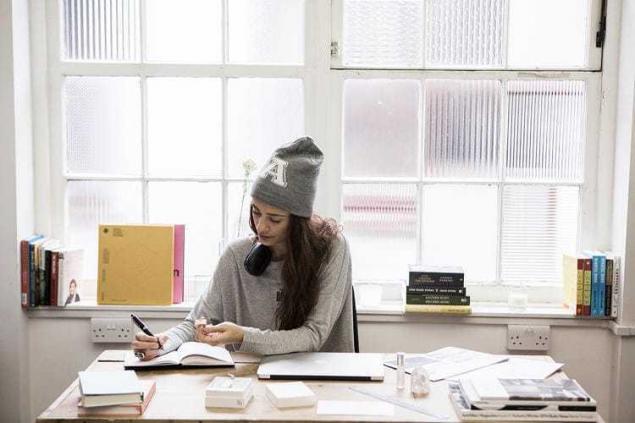 Photo: Vinaya.
The acquired knowledge is interesting, but they lack the systematic and contemporary analysis of how technology is changing us. Especially for this purpose in London was opened at the laboratory. The idea of creation belongs to Kate Unsworth, founder and Executive Director of the Vinaya. This company develops products and tools that help people understand their relations with gadgets. The three-story research laboratory located in Shoreditch, the creative city centre, and opens on a lively street with many cafes.
In early 2015, Unsworth has attracted three million dollars from investors from the UK and USA the creation of this space.
"Early investors are usually looking for a quick return, she says. — We are specifically looking for people who would have invested in a long-term project to conduct an in-depth study. We appealed to people who believed in our mission and were willing to understand that our relationship with technology there is a scientific justification".
Laboratory Vinaya will create products that will help to build a healthy relationship with technology. This ultimately should be the main source of income for the company.
At the moment the team Vinaya consists of six neurologists, anthropologist, philosopher, and psychologist. These scientists also have access to what Unsworth calls "brain Board" of experts from local universities who study dreams, attention deficit disorder, and artificial intelligence.
The space is equipped with control systems that monitor brain activity, heart rate, cortisol, cycle of technological dependence, etc... as soon As the lab heats up, the first studies will focus on the impact of technology on stress levels, depression, anxiety, sleep and productivity.
The epidemic of electronic posthomous to launch, the team Vinaya conducted an initial small study. For example, the team wanted to know how individuals and companies interact with email, and as digital communications increase the productivity and level of happiness or prevent them. In the end, they hope to understand whether there can come a tipping point when e-mail will cease to be useful and will be counterproductive.
At the initial stage of the study, they interviewed one hundred experts from different kinds of companies. 63% of respondents agreed that they spend a significant portion of time answering emails, and 41% knew that the benefits would spend time if I was not distracted in the mail. It turned out that the amount of time that a person spends on e-mail, does not depend on the volume of unanswered emails, but rather from the expectations of the employer that his employee will be in constant communication. The majority of respondents checked their email on vacation and weekend, even when the box was crammed with messages. The respondents agreed that such attachment becomes a part of their everyday life, despite the fact that they didn't even realize how negatively this habit affects them.
The laboratory specialists also studied human relations, assessing the importance of eye contact in live communication. This work inspired them to create a viral video "I see you".
Likey today's dnatree floor of the building was occupied as a meeting space, where events will be held and where the local community will spend time. "This place is full of books," says Unsworth. It was conceived as an analogue of the University library where anyone can borrow a book on the topic of interest and dive in head first".
In the lab are going to hold public lectures of experts from different fields, exchange ideas and simply to inspire each other.
"We wanted to create a modern version of the Greek Lika, where usually spent time and learned from each other as Aristotle and Socrates, says Unsworth. We want people coming here have begun to delve into unfamiliar subjects, since experts from different disciplines typically do not have the opportunity to interact with each other".
Design studycast laboratory Vinaya will be dedicated to the Studio for designers and product managers who will be engaged in product development. To date, the team has already created the piece called Altruis which helps the user to quickly answer calls, send text messages and e-mails. It is worn as a ring or necklace. Stone Altrusa vibrates when you try to call or when the message is a certain word.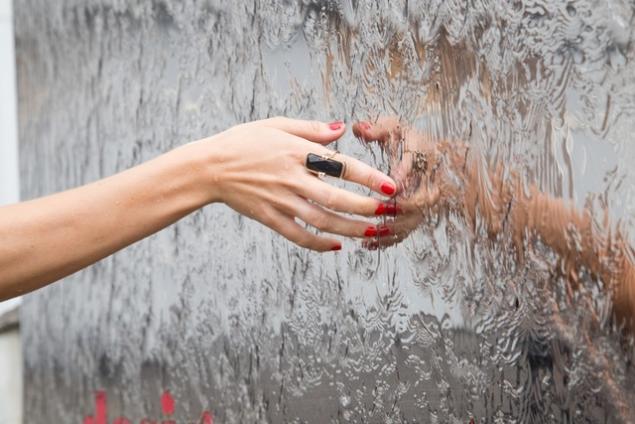 Decoration Altrius. Photo: Vinaya.
"We see ourselves as a product company, says Unsworth. — This is our specialty". She stressed that most of the studies that were conducted in the laboratory of the Vinaya, could be conducted in the academic walls. But in this case you will need more time to turn knowledge into material objects, which could help consumers lead a more healthy lifestyle. "We want to reduce the gap between deep study and consumer products," she says.
At the moment the design team is working on several other products. The next product that will appear on the market, will not be a wearable device, and another tool that promotes a more conscious relationship with technology.published    
Author Ekaterina Bochkareva  
P. S. And remember, only by changing their consumption — together we change the world! © Join us at Facebook , Vkontakte, Odnoklassniki
Source: rusbase.com/news/laboratoriya-vinaya/