Nowadays, when gas and electricity is expensive, solar furnaces are a great alternative to electric stoves and gas stoves. One such device is a GoSun Sport solar oven that you can carry in a backpack.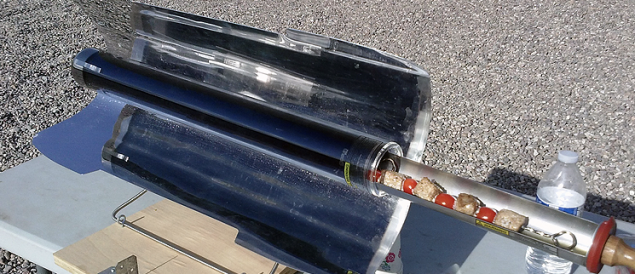 The inventor of the oven GoSun Patrick Sherwin concentrated solar energy into vacuum tube for heating hot water and adapted it to cooking.  
The principle работы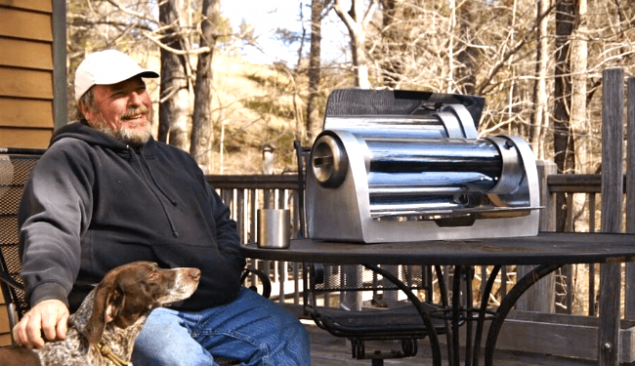 According to the company GoSun the GoSun model Grill is perfect for skewers on the street, as its dimensions allow you to feed 5 to 8 people.
The oven works very simply — revealed mirror aluminum blades hub, they catch the sunlight and direct it to the vacuum tube, which holds up to 90% of collected thermal energy. This allows the stove for a few minutes to heat up to 280°C. But to use this oven only in solar time.
In order to in the furnace it is possible to cook on cloudy time, in a sealed aluminum body built in thermal battery that operates on the basis of organic wax. It is heated for two hours and then can autonomously cook food for 8 people.
In it you can bake it, saute it, cook anything...
In Guatemala they were used to convert local residents to cook food without smoke, because there are cases where inhalation of smoke causes serious illness and death.
Oven features GoSun
Weight
furnace: 0.7 kg.
Length
of unit: 32х15х20 see
Maximum temperature
: 371°C.
Operating temperature
: 93°C — 288°C.
Working volume
: 0.3 L.
Cooking time
, depending on what I cook: 10-20 minutes.
In order to clean this oven, you need to spend some time. But first you need to figure out how to do it. The representative of the GoSun sent a instructional video on how to clean the stove, but, unfortunately, the English manual:  
Currently, the creators of GoSun prepare for mass production of these stoves and collected on Kickstarter (English). more than $560 thousand On the project page on Kickstarter has published more than 175 comments on the draft, both positive and negative. Some users who had made their investments, are unhappy that the developer rarely reports the latest news about the development of the project.
However, the site GoSun now the device is available for $279 (more than 6 thousand UAH, the GoSun Sport model). For comparison: for the price you can find many models of gas and electric ranges with built-in oven (although you can find several thousand hryvnia cheaper). For the bag cover to the stove under the stove GoSun asking for an additional $49. However, this amount is added more and shipping. It stands, as reported by the journalist of the "great Epoch", $75 to anywhere by air. To deliver the promised 7-10 days. Thus, in Ukraine, to such a device is available for $354 (approx. 7950 UAH, without a case). Stationary model GoSun Grill, as listed on the website, already sold out, and will become, available she by the beginning of 2016.
There are many designs of furnaces powered by solar energy. So not only can you purchase the industrial version of a solar oven, GoSun such as but produce different models with their hands.
Even in such ovens, the food is prepared 1-3 hours under moderate load, but it is cheap and environmentally clean.
Gradually, these devices are becoming more popular. For example, previously, Chile has a restaurant where you cook in the solar ovens. published  
P. S. And remember, only by changing their consumption — together we change the world! ©
Join us in Facebook , Vkontakte, Odnoklassniki
Source: www.epochtimes.com.ua/ru/novosti-nauki-i-tehniki/solnechnye-pechi-budushchee-121279