Quite a long time, fructose was considered a safe way to sweet. No effect on insulin levels – it's just amazing. Plus, one and a half times sweeter than sugar. However, all attempts to cheat nature end the same way. Today I will tell you about the
hidden dangers of fructose
.
Yes, it's true that pure fructose does not cause a sharp jump in the level of "blood sugar", but she has other qualities that make it more dangerous for the body than sugar.
However, current medical studies show a number of other side effects for the same metabolism. Therefore (and I quote), "at the present time the consumption of fructose as a sugar substitute for diabetics not recommended".
Harm and benefits of fructose depends on its quantity.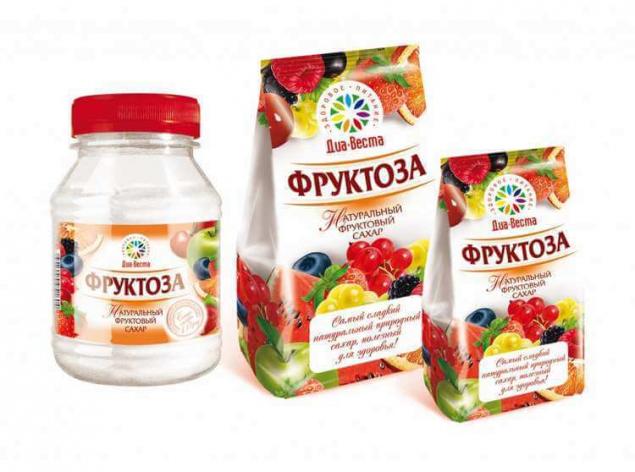 So, what is the danger of excess fructose:
1. Limited use by the body.
2. The breakdown in the liver.
3. Difficult hormonal regulation.
4. Disrupts feeding behavior.
5. Causes obesity
6. In the long-term effect leads to the development of metabolic syndrome and certain other diseases.  
But first, a bit about how fructose snuck into grocery stores.
Fructose is a normal component of fruit, we even adapted to its use in small quantities. However, in the fruit contains relatively little fructose, it is located within cells associated with the tissue. Of course, if you wrapped around a huge number of fruits with high sugar content, their naturalness will not help you to save weight and it will be harmful.
To properly understand the process of metabolism in fructose, we need to consider in what form we consume the sugar. If you drink soda or eat ice cream, our gut is filled with a large number of unbound fructose. But the fructose from the Apple hits the liver immediately. Fruit fiber, such as cellulose, is decomposed by bacteria in the intestine that slows down the process of digestion and assimilation. Our enzymes must first break the cells of the Apple to get to the stored sugars.
The main sources of fructose are sugar (the sugar molecule composed of fructose plus glucose) and cheap food syrup, derived from corn — high fructose corn syrup (HFCS) is almost the same, but the individual molecules (pre-split).
What food we usually get a lot of fructose?This:
table sugar
honey,
molasses,
syrups,
all sorts of sweet drinks,
fruit.
It is therefore very desirable to avoid all foods that contain sugar, maple syrup, honey, corn syrup, fruit juices, soda and, of course, pure fructose.
Please pay special attention to the grapes, bananas, apples, pears, oranges, pineapples.
Honey is also a lot of fructose.
Indeed, in some fruits such as apples and pears, fructose, contains three times more than glucose.
However,
in most fruit and vegetables from our recycle ratio is more balanced
. In pineapples, blueberries, peaches, carrots, corn and cabbage, for example, the ratio is one to one.
A huge amount of fructose is in the restored nectars, which we consider to be "juices".
Manufacturers also love to replace the fat in low-fat foods equivalent and even more amount of sugar or fructose.  
The contents of glucose, fructose and sucrose in 100 grams of edible portion of vegetables, fruits and berriesFoodGlucoseFructoseSucrose FoodGlucoseFructoseSucrose(g)(g)
Cabbage
2,6
1,6
0,4
Plum
3,0
1,7
4,8
Potatoes
0,6
0,1
0,6
Cherry
5,5
4,5
0,6
Carrots
2,5
1,0
3,5
Apples
2,0
5,5
1,5
Cucumbers
1,3
1,1
0,1
Oranges
2,4
2,2
3,5
Beets
0,3
0,1
8,6
Tangerines
2,0
1,6
4,5
Tomatoes
1,6
1,2
0,7
Grapes
7,8
7,7
0,5
Watermelon
2,4
4,3
2,0
Strawberry
2,7
2,4
1,1
Pumpkin
2,6
0,9
0,5
Cranberry
2,5
1,1
0,2
Apricots
2,2
0,8
6,0
Gooseberry
4,4
4,1
0,6
Cherry
5,5
4,5
0,3
Raspberry
3,9
3,9
0,5
Pear
1,8
5,2
2,0
Black currants
1,5
4,2
1,0
Peaches
2,0
1,5
6,0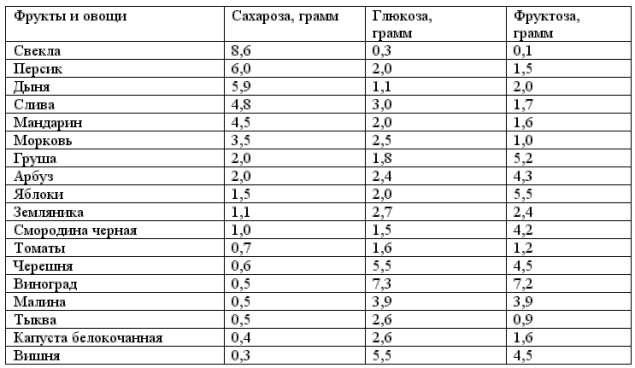 Let us consider the danger of excess fructose
1. Limited use by the body
Glucose is necessary for all organ systems of the body, and it is good, but
fructose neither the brain nor the muscles or other tissues not able to break down, so it's broken down by the liver, like many other poisons
.  
2. The breakdown in the liverIn our body digest the fructose can only the liver.
Daily the liver can process only a small amount of fructose. Excess fructose is converted into fat. Besides, a daily stress on the liver does not go unnoticed. The liver is taxed and starts to fail in its work.
This leads to an increase in liver enzymes and then to fatty infiltration of the liver.
Also stimulated the production of very low density lipoproteins or very low density lipoproteins, which are currently being considered for enhancing atherosclerosis.
Because of the huge load on the liver, fructose causes an increase in uric acid. It can cause gout.
Our body is not able to defer fructose in the form of chains (unlike glucose, which is stored in the liver and muscles as glycogen). We do not have separate pathways for the breakdown of fructose. Simply put, to have something to do with fructose, it is necessary to couple enzymatic transformations to type in "glucose" biochemical path — for example, glycolysis. This occurs in the liver.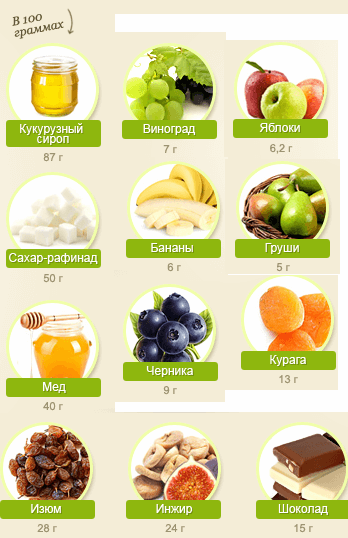 3. Difficult hormonal regulationFructose does not cause insulin response in the body.
Previously I thought that it was good, but the lack of such a reaction disrupts feeding behavior. After eating is the secretion of insulin, as a reaction to carbohydrates are eaten. In addition to escort glucose to the cells of the body, it performs the function of an indicator showing how much food was eaten and when to stop. If insulin is not allocated, then a mechanism which disables the admission of energy, is missing.
In this case, the body may begin to gain weight that leads to obesity.Fructose does not cause the secretion of the hormone leptin,
which gives the body a signal of saturation, so foods containing fructose, it is easy to overeat, and overeating again deposited in the form of fat "in reserve".
Glucose metabolism is finely regulated in the body, if glucose becomes too much, the splitting can be stopped. Glucose will then be directed to storage in the form of glycogen. With fructose such regulation is not all that sucked into the liver to be recycled.
If the processing of glucose finely adjustable, then the increased consumption of fructose has an adverse fat accumulation and, thus, to cause a lot of trouble for health.
4. Disrupts feeding behavior
Fructose does not cause the feeling of hunger (promotes overeating), fructose does not affect the feeling of satiety. So people can eat more carrots fruit sugar than usual sucrose.
In two studies it was shown that the effect of glucose and fructose in the human brain (in the hypothalamus) is different:
the glucose had a negative influence on the amount of consumed food, and fructose, on the contrary, stimulated the appetite.
The problem is that fructose is found not only in diabetic food, every year it is increasingly used in conventional foods.
Fructose is found in almost all sugary carbonated drinks, popular among youth, as well as in juices that are positioned as natural. They are not only natural sugar from fruit, but enriched with fructose corn syrup, which is used in the restored nectars.  
5. Causes obesity
30% of fructose goes directly to fat (in contrast to 5% of the care in the body fat glucose).
Products containing fructose, should be careful also for the reason that
the cells in our body fruit sugar is not actually needed
. In addition,
it is significantly faster than the glucose turns to fat
. Ate you say, the usual candy — blood rose the level of glucose. You were like, move glucose burned. Once you ate biscuits with fruit sugar — it will readily turn into fat as to burn fat will be much more complicated than glucose.  
6. In the long-term effect leads to the development of metabolic syndrome and certain other diseases (obesity, fatty liver, inflammation, irritable bowel syndrome).
Metabolic syndrome includes a resistance to insulin, impaired glucose tolerance, hyperinsulinemia, and hypertension gipertriglitzeridemia.
In a study conducted by a team of scientists from the Medical College of Georgia, found a diet rich in fructose, high blood pressure, sugar levels, insulin resistance and inflammatory factors associated with diseases of vessels and hearts, in the analysis of 559 adolescents 14 to 18 years old.
Excessive consumption of fructose leads to increased fat content in the body, especially the liver, and increases the circulating levels of triglycerides that increase the risk of clogged arteries and cardiovascular diseases.
Some scientists link fat in the liver with insulin resistance, when cells start weaker than normal to respond to insulin, exhausting the pancreas to such an extent that she loses the ability to adequately regulate the content of glucose in the blood.
Richard Johnson of the University of Colorado in Denver suggested that
produced in the result of metabolism of uric acid fructose also increases insulin resistance
. In turn, insulin resistance is considered the main factor
contributing to the obesity and diabetes of the second type
, and these three disorders often occur together.  
Also interesting: Cellulose and propionic acid in Your gut Posture as a sign of the VICTIM
Excessive fructose causes glycation (glycation) of the cells in our body, "sugared" protein molecules. And this causes a lot of problems, including the familiar
cataracts
.
In addition, fructose to the American gastroenterologists believe the cause of more than one-third of cases of irritable bowel syndrome.
Under the irritable bowel syndrome (IBS)
is usually understood clinical syndrome gastrointestinal dysfunctions (constipation, diarrhea, flatulence, abdominal pain) with no obvious organic changes of the gastrointestinal tract. SRK is one of the most common gastrointestinal diseases in developed countries.  
Author: Andrey Blueskin  
P. S. And remember, only by changing their consumption — together we change the world! ©
Join us in Facebook , Vkontakte, Odnoklassniki
Source: www.beloveshkin.com/2015/02/blog-post_78.html