Annuals, blooming all summer in the garden or at the cottage, filling the flowerbeds and voids in mixed flower beds, and perfect for growing in pots and hanging baskets. Many flowers-annuals hardy and settle in the garden for a long time, multiply by self-seeding.
It is very exciting to create a decorative arrangement of annual flowers. In this article, pictures and names of long blooming annual plants, easy to grow and care for. Remember that in a category often include annuals and heat-loving perennial plants and flowers that in cold regions easier to grow as an annual.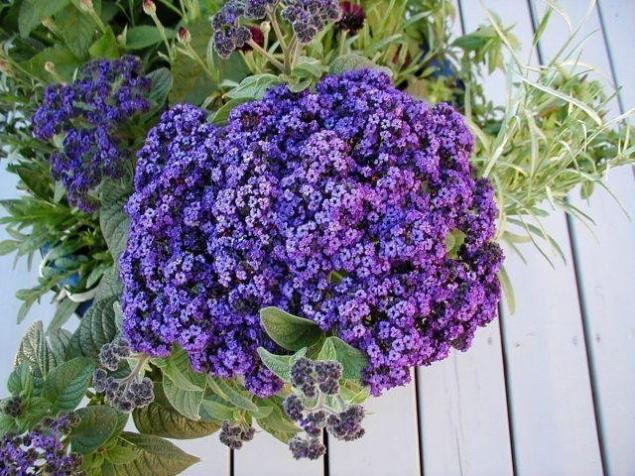 To save time and effort, I grow only those annuals that don't require any special care and bloom for a long time, some almost all summer. This is Petunia, Pansy, pelargonium, alyssum, verbena, calendula, nasturtium, Lobelia, poppy, marigolds (Tagetes), Nigella, forget-me-nots, fuchsia, cornflowers. I grow some drugievredonosnye.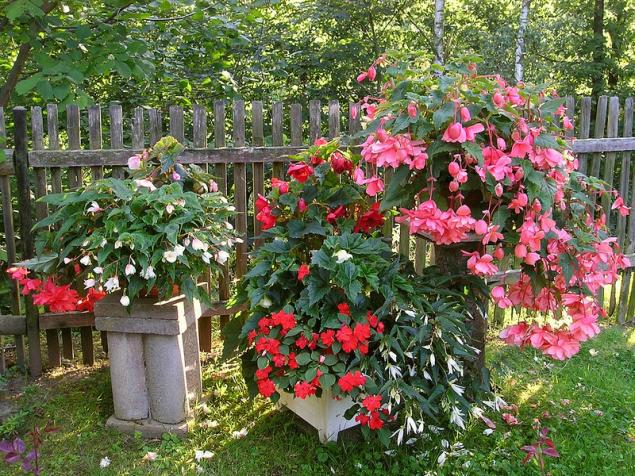 Pelargonium, Petunia, Pansy (viola), verbena, fuchsia, Coleus, heliotrope
, and some other annuals I use for the decoration of hanging baskets and containers and buy in the form of seedlings.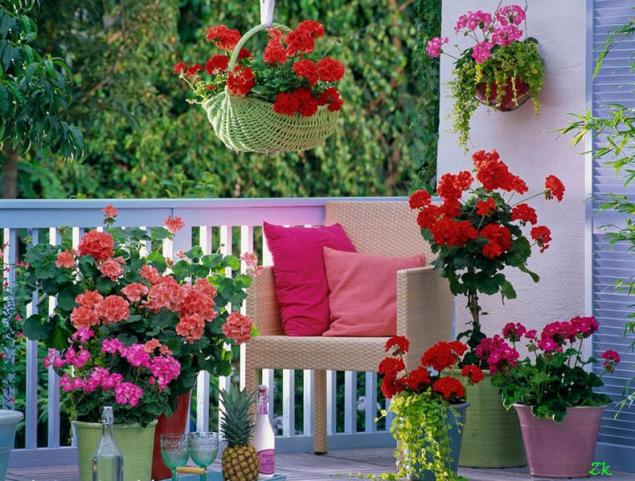 These annual flowers can be perfectly combined with each other in colour and texture. I like to combine in a basket or large pot low annuals with plants that have a basket style and beautifully hanging down.
Pansy
I love the huge bright flowers. Purple pansies really remind me of the eyes of my daughter Anne — large and blue. Seedlings of pansies can be bought from us year round in any supermarket.
Pansies (biennial) is usually grown as an annual. Nice pansies in a wide, flat pot on the terrace, patio, balcony, loggia, or even the windowsill. If you do not pick off faded flowers of Pansy, they scatter seeds around. From these seeds the next year will grow and bloom the violets, flowers of which are also very nice, except not as large.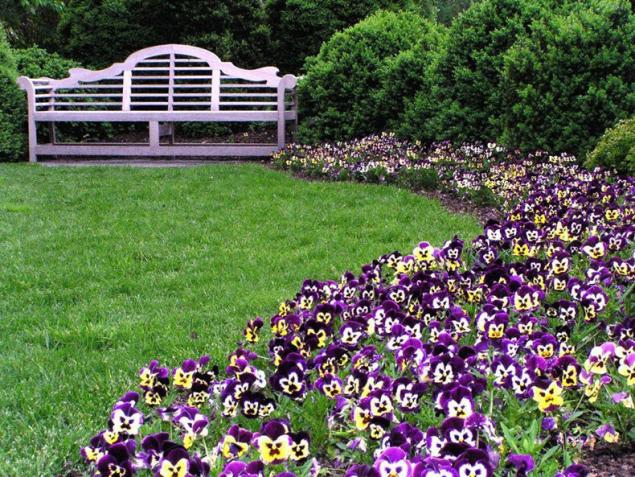 I love
the poppy
sleeping. Buy seeds varietal annual somnolent poppy (Papaver somniferum), it is sufficient only once. If I like the variety of poppy, I leave the dry bolls, and August-September, just scatter the seeds where I want to see Mac next year.
So, in my garden year after year grow chic simple and double black poppies hypnotics varieties 'Black peony', a wonderful purple poppies. Black simple annual poppies are my favorites, they bring so much drama to the overall appearance of the flower bed, scattered here and there in the mixed border!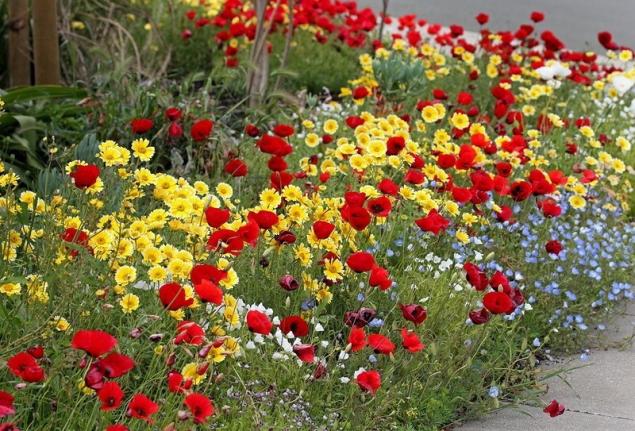 Bright color
marigold
pleasing to the eye and uplifting. I'm planting calendula with large bright orange double flowers in a wide, low pot on the patio. Calendula is combined with rich purple, fragrant heliotrope. Heliotrope is grown as an annual, the garden attracts many butterflies and bees. From sweet cherry-vanilla fragrance of heliotrope its common name in English — cherry pie (cherry pie). Known variety of the heliotrope — marine.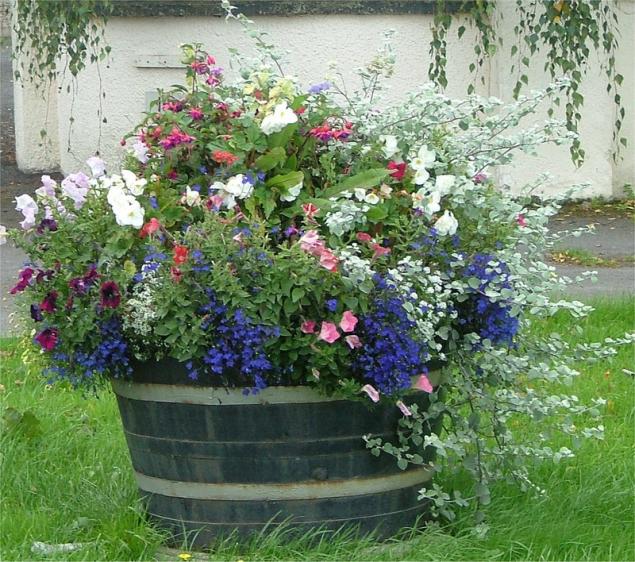 Alyssum
is another favorite in our garden. Alyssum in our climate is not always behaves as an annual plant. Warm winter alyssum not only did not die, but continues to blossom! A few months alyssum growing in the entire colony, covering vast areas of the garden like podvorotni and blooms continuously from late winter to the beginning of the next. Alyssum exudes amazing honey aroma and goes well with any other plants with large flowers and leaves, creating the background or filling a void between them.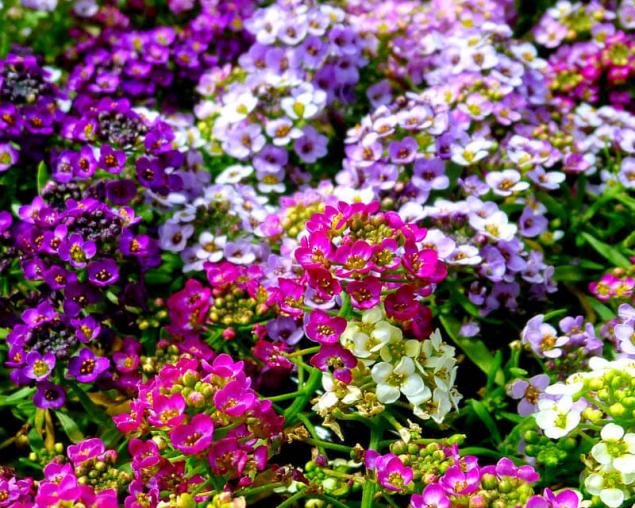 Forget-me-not
winter-hardy, but they are easier to grow as annuals. Forget-me-nots growing EN masse in the rear of the 'natural' part of my garden. During summer cleaning flower bed I pull out the faded greenery of forget-me-nots (and she pulled out very easily right from the root) and gently shake it where I want to multiply me-nots.
So it is possible to sow forget-me-not entirely without effort, and next year they will bloom and cover the area solid blue carpet, because the forget-me-not — groundcover. Forget-me-nots are also great for cutting, they look beautiful in a vase in water.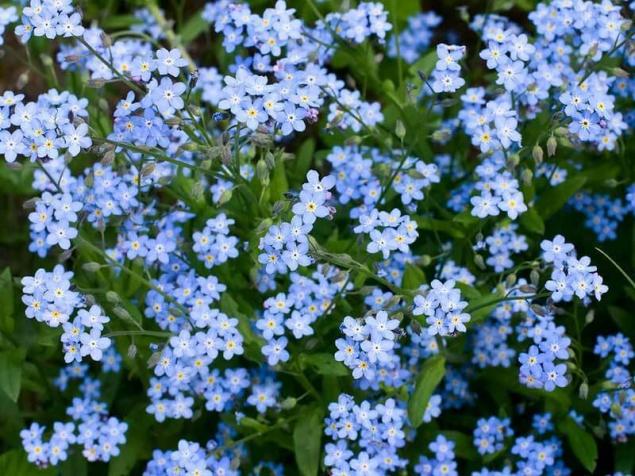 My grandmother used to put forget-me-not in a vase, and a bowl of water stems to the middle, and flowers on the outside. On top of it is pressed down stalks porcelain figurine of a ballerina. Forget-me-nots was up and had a very beautiful composition of air in the middle of the table.published  
Author: Oksana Jeter  
See also: Ecoparking, paths, recreation areas – arrange the plot is fast, easy, affordableThe French kitchen garden: the unique charm of your area
P. S. And remember, only by changing their consumption — together we change the world! ©
Source: countrysideliving.net/blog/2016/04/annual-plants/