We all already know about raspiarennyh in the network of Chinese electric cars, thin-film solar cells submitted by the company Hanergy
But amid rapidly improving Chinese companies to European projects suddenly appeared in the shadows. Tell about company Sono Motors, developed his version of the electric vehicle having the similar working principles — Sion (Sion). Moreover, this German startup promises their model is very attractive to the European market price.

Currently, the company has launched a Crowdfunding to find sources of funding for his new project. A simple electric car, easy to maintain, capable of generating electricity through solar panel mounted to the body, and it is very cheap.
Idea Sono Motors was to create a product, the development of which is still not busy none of the major manufacturers. Electric car with good performance and design that will not scare children. The electric car has a 4.1 meter in length with space for six passengers (three in front and three in the back), and lightweight body.
Sion is powered by an electric motor 50 kW (68 HP), enabling it to accelerate to a maximum speed of 140 km / h. the Energy gives the battery, which can have two options set. One with 14.4 kWh, which is enough to drive about 120 miles. For charging, the user can use a charger with a capacity of 3.7 kW and above, With 22 kW charging an electric car can be charged to 80% charge in just 30 minutes.
The second option will have a battery of 30 kWh . This will increase the autonomy Sion to 250 kilometers on a single charge. The battery can be recovered with the help of power up to 43 kW, which can charge to 80% capacity within 30 minutes. Among the main features Sion is its ability to recharge the battery using its integrated solar panels. Monocrystalline panels Sono Motors, have a sufficient level of efficiency, allowing to travel up to 30 miles each day. It is quite optimistic about the panels, with an area of 7.5 square meters, by default, does not allow to have a perfect orientation.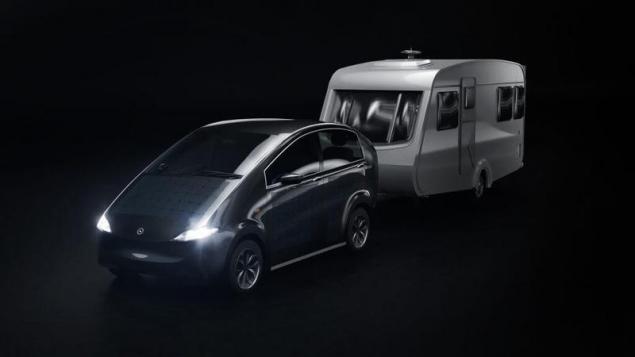 Finally, the price of Sion. The initial version will be offered at a price of 12,000 euros, while the most equipped will start from 16 000 Euro. If the company will be able to withstand in production models, such prices this undoubtedly will be one of the biggest advantages of this proposal.
Currently, Sono Motors is looking for funding. While the campaign is running smoothly and already in this first phase were able to raise 114% more than planned. The project on paper sounds great, but, of course, will require much more investment to start the production line. published SUBSCRIBE to OUR youtube channel that allows you to watch online, download from YouTube free video about the recovery, the rejuvenation of man. Love for others and ourselves, as the feeling of high vibrations — an important factor for improvement .
Put LIKES and share with your FRIENDS! www.youtube.com/channel/UCXd71u0w04qcwk32c8kY2BA/videos  
P. S. And remember, only by changing their consumption — together we change the world! ©
Source: www.electromobile360.ru/2016/09/sono-motors.html