Chili can be easily grown at home. What a pity that I did not come up with this bright idea before: I love the sharpness of the peppers, in addition, they are so cute look on the windowsill ...
This plant likes sunny, warm place. You can grow peppers from the seeds in a pot, and it is possible to first prepare the seedlings and then transplanting the plant into the ground! A great option for summer residences.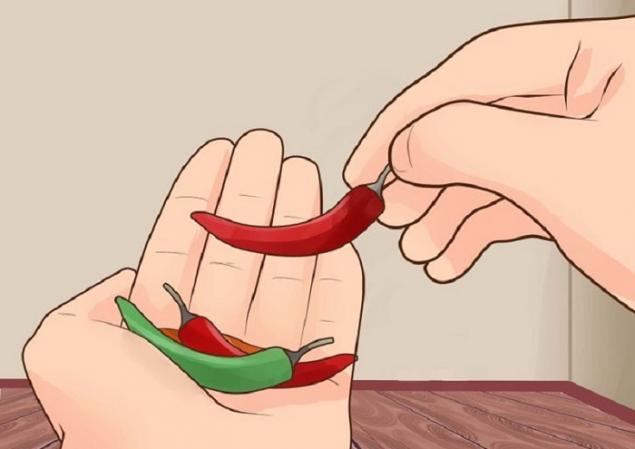 How to grow peppers chiliTebe need
Gloves
soil
chili pepper seeds
small pot
water



Soak seeds chili in the warm water. Leave them there for a day, then take out and dry. Planting in the ground must be only fully-dried seeds! The procedure activates soaking the seeds and plants to grow strong. Better yet, use as a medium for soaking chamomile tea, it has beneficial effects on seeds!






Prepare pots for planting the seeds, add drainage at the bottom of the pot and the soil - fertilizer. Make a recess in the ground height of 1, 5 cm and place the seed.




Watered the seed daily, 1 ch. L. of water daily will suffice to moisten the ground around each seed.




Chili loves warmth and a lot of sunlight, because to provide suitable conditions for seed germination. It is appropriate in this case to use an infrared lamp, which accelerates the germination of pepper!




The first germ can appear in a couple of days! A few weeks later the plant can be transplanted into a pot of soil or more.



An important point: if you want to transplant the pepper in open ground, it is necessary to temper the sprouts, bringing them into the fresh air. a couple of hours is enough to just a day, and plants adapt to changes in temperature! This will protect against destruction of the tiny sprouts during transplantation.



Fertilizers containing potassium, ideal for chili. Regular fertilizing small tree, you will create all conditions for a generous harvest!





I like little white flowers that appear during flowering chili! Very impressive look ...

This prolongs the life of a medicinal plant, its fruit is used for the prevention of colds, in case of poisoning. In addition, the sauce of chili pepper - a delicious addition to any meat dishes! Show you know how to grow it in a miracle on the windowsill.