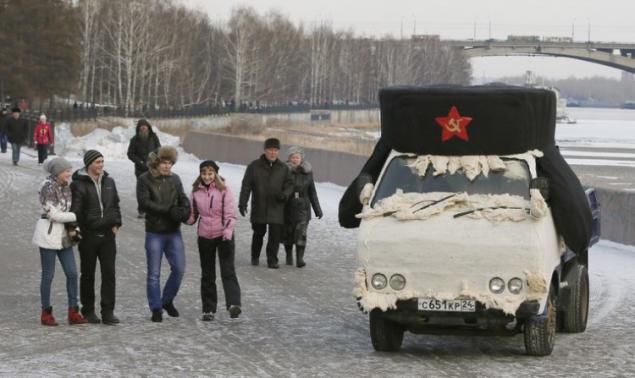 "People think that Siberia - a desolate icy wilderness, but I love her isolation, sullen residents and supernatural identity of this place," - confessed to the British Guardian, who went to live in Novosibirsk. Atypical history, right? But such cases.
How Siberia, the main "horror stories" for foreigners for a long time becomes their new home? Stopping "extremals" willing to share the secrets
"Russian glamor».
< Happiness shabby couch
"What man in his right mind would want to live in Siberia?" - A question Briton Henry Turner used to hearing and by his countrymen, and from the Russians themselves. And responds to it: "Yes, my khruschyovka - this gray ugly eyesore. Yes, in our musty hallway cleaved shabby concrete and paint in my bathroom did not have sinks, and I sleep on the old shabby couch. But I am immensely happy that he had been in those places that have always dreamed of. »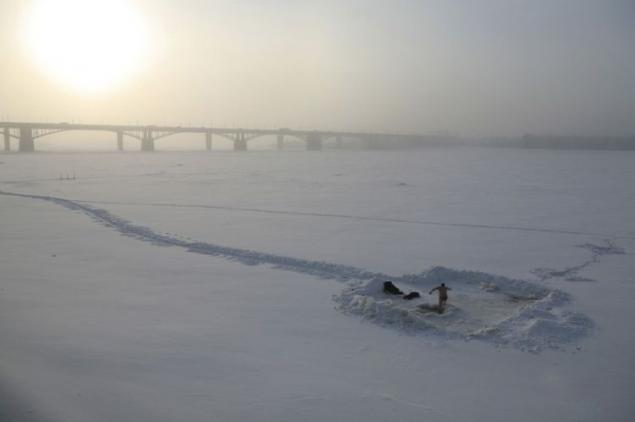 "When I arrived in Novosibirsk to learn Russian, then plunged into a whole new world where salespeople in stores and kiosks always look unhappy, where no one never smiles, but constantly stare at you as a stranger. I very soon realized that the one who is smiling - for the Russian is clearly "that", and that it is necessary here to be rough-straight. For example, I asked my friend why is not accepted to thank the drivers who gave way to pedestrians. His answer was simple: "Why should someone be grateful for what you did not kill?»
Glass building business and trade "Bud" center on the Red Avenue, recognized in 2015 the best architectural project in Novosibirsk. Photo: kns / fotki.yande.ru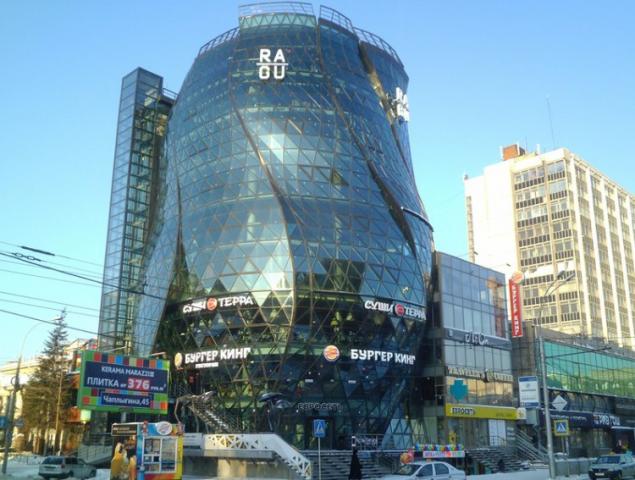 «Honest Russian rudeness»

"I must have painted Russian too rough. But do not you think that the reluctance of others to thank for everything builds virtue in a higher degree? In a country where convinced that if overused politeness, it will lose its value, our British habit of constantly apologizing and saying "please" seems insincere and even

unfair. " "Siberians, on the contrary, seemed to me a very honest and forthright. One can not help you learn to appreciate their unwavering integrity and once you understand how they relate to you. If you are lucky, they will be the most loyal friends, to whom you can always rely on ».

< The first" Soviet "city and marshrutka

By the way, even before Henry Turner visited Russia in Ukraine. Kiev became the first former Soviet city on his way. He crashed into the memory of this episode.

"I remember a few years ago I was jumping on the seat, I rushed to Kiev in the marshrutka (a terrible form of transport in the post-Soviet countries), and desperately trying to find out how to get to my hostel near the central station. "Help! My hotel! My hotel, offer large station, the train! "- Then I hardly spoke in Russian, and my pathetic attempts only injected into a stupor elderly passengers»

. Typical Kiev shuttles in 2005. Photo: Norbert Aepli / Wikimedia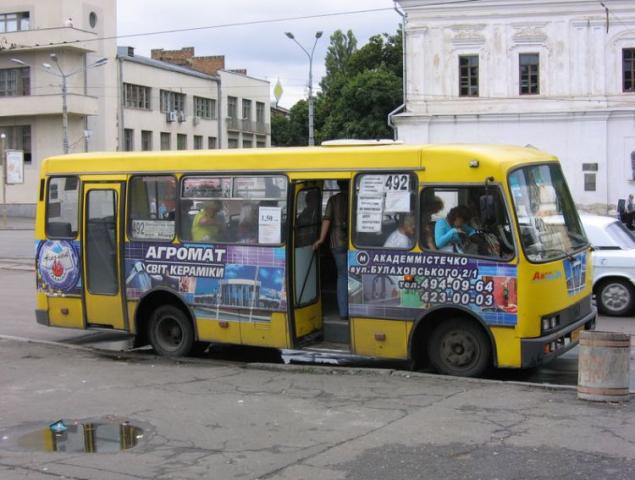 «Wild East»

Another Briton, love Siberia, met his future wife there (she saved his obsessive about the homeless at the bus stop) and described his experience in his book "The Year of the Englishman in Siberia", available online. However, in Russian it is possible to read only one chapter of 12, but we have moved To some funny passages

Through Siberia by train:. Provodnitsy and semechki

"Gloomy provodnitsy Trans-Siberian Express a little disappointed not only for his rough manners, but also the fact that it seems to have been the fattest woman in the whole of Russia, - says James Brooks. - I'll never understand why such extensive people work in such a confined space when they are heavily promoted on the car, the children throw themselves in front of them in all directions, while adults hold their breath and pressed into the wall »

. That image illustrates the post "Massive Russian ladies" in the English-language blog Dad's Travel Diaries.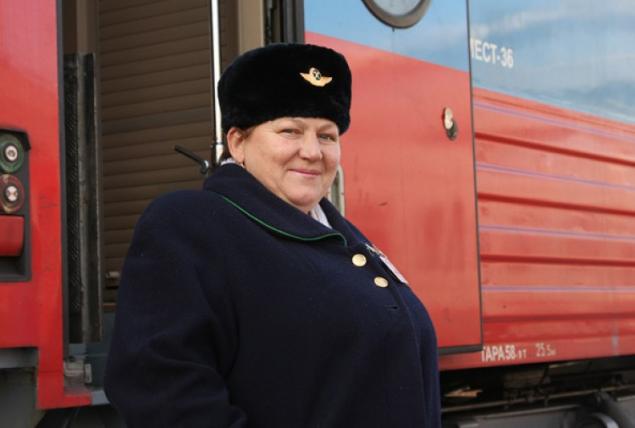 «Semechki in Russia - a national hobby, their bite is not for taste or saturation, it is more a ritual. Seeds placed in the mouth completely and with the help of teeth and tongue take out the grain. Husk often spit out right under his feet, where "rodents" happen to be (in football stadiums, for example, buried in the husk on the knee), although trains people a little more careful. I first ate the seeds whole, than Russian led in terror - they said that I have some sort will happen soon rupture of the appendix. But I appendix has already been removed, so I thought it was funny to tease them a little. »

< Finally something to read! Khruschevki and tapachki

"If Chita tower with spectacular view stalinki on the main streets, the margin is mainly filled khruschevki. Inside are usually broken wooden door and porch littered with debris. Working elevator - an absolute rarity, and the stairs - a disgrace. So before you get to your apartment, if a person falls into a different world. »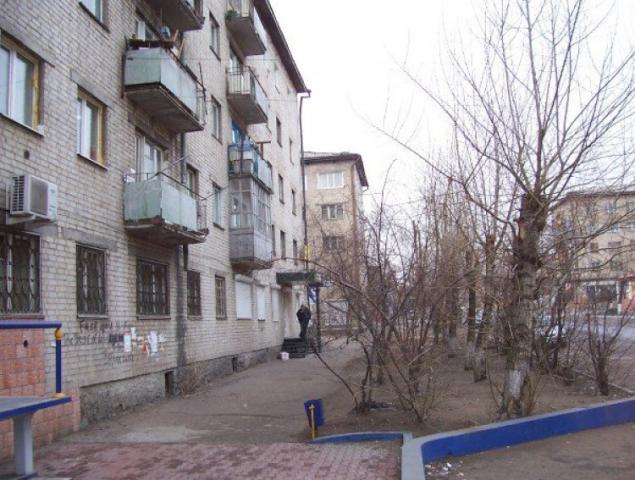 "My apartment»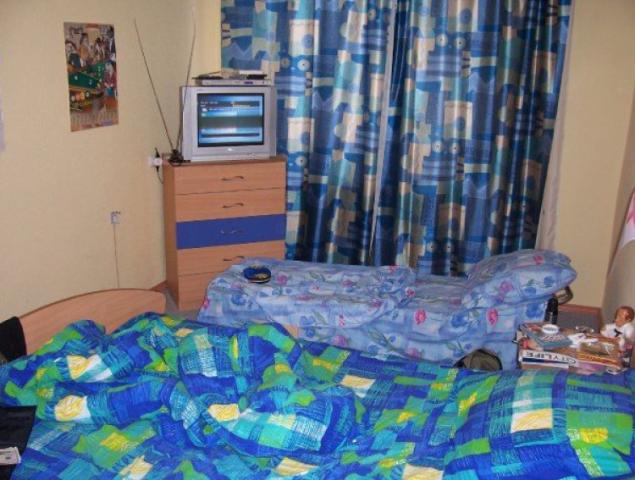 "Going into the Russian apartment, you need to take off our shoes, and offers tapachki - mostly soft shoes without backs or rubber slippers. I was glad to take off our shoes so as not to bring into the house of outdoor dirt, but because in my culture slippers are strongly associated with the elderly, and flip-flops - with German tourists, I studiously avoided them wear »

. "From the permanent frost wooden houses in Chita like drowning»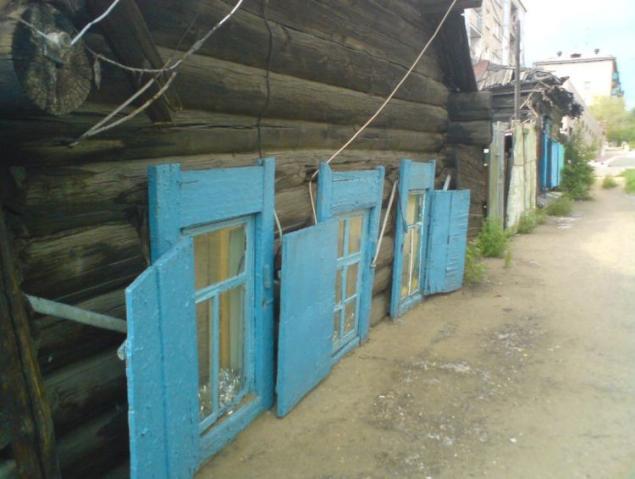 "So Russian is usually parked." One of the illustrations of James in his book.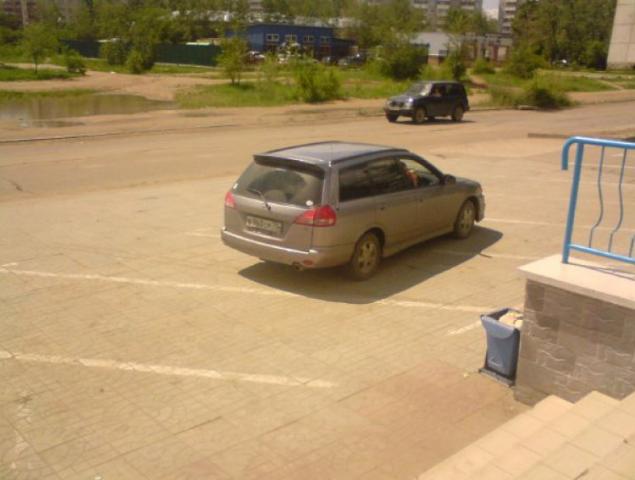 Vodka with pepper and a babushka «KGB»

"On the way to Krasnokamensk with a group of my students, I became ill with bronchitis. Honey vodka with pepper, which I stuffed with hard, saying that it will cure me, yet something did not fulfill the promise. And then we went to visit a school friend of one of the students, where we were greeted with extraordinary hospitality. I finally gave true remedy for cough, and while I was drinking tea with a cake, overlooking the shabby but cozy environment, Sergei Grandma suddenly grabbed my head and tried to pull her

from the shoulders. " "I thought it was in a panic, that she - a former KGB agent and wants to kill" foreign spy ". Fortunately, it turned out that she was just trying to make me strong "wellness" massage of the neck! In general, it would be nice to warn me, but here's an example of how Russian are completely unexpected for you to try to make something good, spit on taboos and personal space. »

"A typical Russian evening". James - rightmost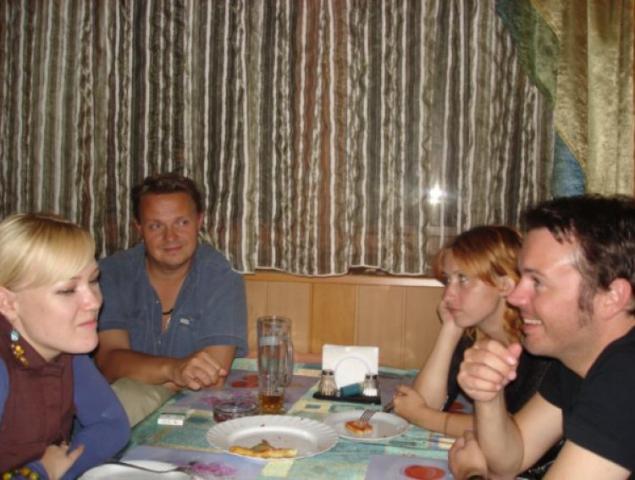 Feast in Russian

"In my last week, I was invited in Chita on student graduation. By tradition, every 10 minutes or so someone would get up, everything stopped there, and toast. By that time I had already adapted to drink vodka and easily drawn into this custom. »

"But between the main toast students one by one come to me to have another drink with me separately. As a result, I got drunk so ugly that do not remember much after that moment, I asked him to give me a call and solemnly announced to students and fellow teachers that I nazhuralsa. Fortunately, in the days that followed different funny witnesses have assured me that nothing too shameful to me does not happen. »

"Drink vodka. Spring 2006 year. I do not often do this, honestly »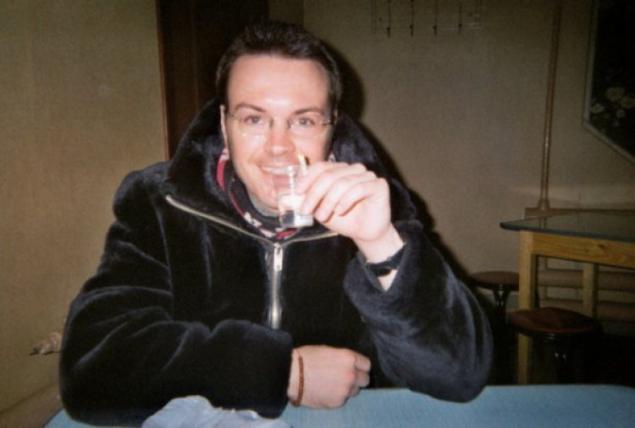 "I've always been inexplicably drawn and continues to draw in Russia. In Russia, life is such as it is - without embellishment, and even cons are often unpleasant, but the real delight of the fact that you know the Russian people, should any adversity, "- concludes the author


Loading ... Loading ...
Liked? Share with your friends!
Loading ... Loading ...