< Tatiana Medihova
Kryvyi Rih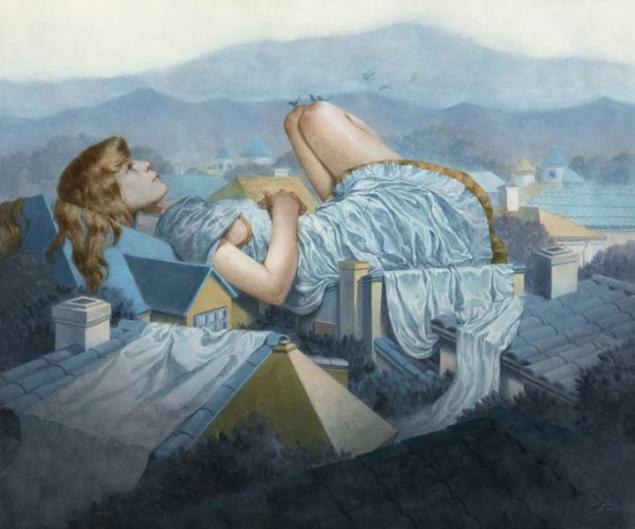 Ckazka

*** Little Soul was infinitely happy. However, she was always happy, but she was especially happy because I got into a group of twenty-five thousand brothers and sisters, who were allowed to transfer to another Earth. Little Soul all sparkled and shone with joy. She loved her house, where there were no restrictions of time and space. And no worries, but to fly and rejoice, rejoice and fly. And she never tired of listening to music of the spheres and the whisper of the stars. It was a young, but very clever soul who knew a lot, but unfortunately could not use their talents. After all, here we were all equal, and she did not even have a name, and so wanted to feel the feature dissimilarity - and enjoy it. Do not think that it was pride - in the House did not even exist such a thing, just lately began to visit her strange thought: "Who am I and what am I? Why am I? And is it always will be? Will not I ever get bored of their perfection? »

*** As she was delighted when she learned that he was a favorite, ready for an exciting journey of earthly life! However, it frightens little moment of transition through a double mirror, which, as told by experienced old Soul selects memory Houses and distorts the pure quality of inexperienced young souls. "Lord - she prayed - to make sure that I passed all the tests with dignity, which will fall to my lot, so that I could see, hear, know and be able to serve and to do, to love and to do!»

*** - Congratulations, you girl! - Tell your doctor young mother, passing newborn nurse in the experimental arm. - Beauty is

. - How do you know? - Flushed with pleasure a woman in labor

. - Believe my experience, - smiled elderly doctor - I already took so much

. *** - Sometimes it seems to me - later said his mother, - that our daughter was born into the world with a ready plan. She has a good memory and a great zest for life. If Ian loves and believes she can turn the mountains, but if what disappointed - can all be turned into ruins. Everything must revolve in its own pace.

*** The girl grew up and easily adapted to the surrounding world. Little Soul liked it a new name, because it meant the "grace of God", and she, more than anyone else, understood the deeper meaning and significance of these words. Although the double mirror and took away her memory of the House, but occasionally it is visited by some unusual insights, and then she appeared wings, and flew it and was glad. Especially when Jan could do something from the heart, as the mother said. But the more the Little Soul acquired earthly experience, the greater was grounded, and able to fly less and less.

*** When Ian slept, the Little Soul goes on a journey. One day she went for a long time, enjoying the warm sun, the gentle breeze, the trees and flowers near the river, along which she was walking. It was a bright, wonderful dream where all yellow shone like gold, and green emeralds sparkled, and the birds sang happily, even more beautiful than on Earth, welcoming her. But the Little Soul went this time, so far, that has become tired, impressions were not already so bright, and the stones, about which she stumbled, causing irritation and pain; besides, there was a heavy cold rain, and it is soaked through. She realized that got lost on the road, and even began to fear that he could not go back. In any case, it was necessary to look for the night to keep warm, rest and gather your thoughts as it to be.

Finally, Little Soul luck: a little away from the road, she saw a small, but very cozy house, on the threshold of which, as if waiting for her, stood an old man with a long white beard

. - Welcome to the Queen! - He invited to visit the pilgrim amused such treatment, but what else she did not have - did not get wet night in the rain

! - You probably have confused me with someone else, - timidly she noticed, but the old man only smiled silently in his beard

. Old Sufi lived in the house with their three children, who warmly welcomed the Little Soul. The eldest daughter cooked a delicious dinner, during which the middle son told a lot of funny and instructive stories. And after the intimate conversation of their younger sister pilgrim showed some exercises that help relieve fatigue and back in a good mood.

- What do you wonderful children! - Sincerely admired the Little Soul

. - Yes, but they do not immediately become so - the owner smiled. - The eldest daughter, Ying - kind, tender, feminine, trying, that all was well. But people often use it for their own benefit kindness, tried to make her feelings of guilt. She was upset and crying. In such cases, it defended a brother named Ty. He knows a lot, likes logic and order. "We must be able to say" no ", - he explained - although sometimes it is so hard to do." "The one you're so smart" - admired sister

. A younger daughter Qi is not like that. It is quiet, calm, smooth, but very strong. It supports us when we are tired or ill. Before, my children often debated which of them is more important, but eventually realized that for me the best when they live together, helping each other and to me. I'm always calm and happy, because my kids with me John Tu and Qi, and when I join them, we make a happy united family.

- Why do you call me the Queen? - Little Soul asked

. - Do you remember who liked to present himself as a child? - He asked with a smile

. Little Soul wanted to say that it has always been so, and no childhood she had, but she remembered Ian and somehow said:

- Probably, the princess

. -Vytyani His right hand - he suggested

. - Why?

Representable like a little princess, and put it on his palm. Turn imagination.

Little Soul blinked and suddenly imagined that in the palm of his right hand stands a small Yang in a beautiful lace dress.

- And now Hold your head over her left arm. It is the hand of awareness. What do you feel?

- My left hand started to rise slowly over the head of the girl, who began to grow

. - All princess someday grow up and become a queen, - she heard the voice of the old man. - Try to live in harmony with the mind of your Mistress, and then we'll come to it at the right moment. And now good night, Your Majesty, for tomorrow you will return to your path. Life goes on!

*** As the years passed. Ian grew up, grew up, got married, she had children and grandchildren, and then something happened that when something happens to everyone on Earth. In conclusion, people said that it was a great soul, which is enough for everyone: family, friends, and all the world that she knew people and nature, because it has a tremendous intuition. From these words, the Little Soul was easy, relaxed and happy. She again had wings, and she soared so high as never before, to say goodbye to this world before returning home. Although double mirror again took away her memory of the whole journey of life on earth, she knew that matured and acquired a new quality, for good reason brothers and sisters began to call her Little Big Soul.
Tags
See also
New and interesting
New and interesting