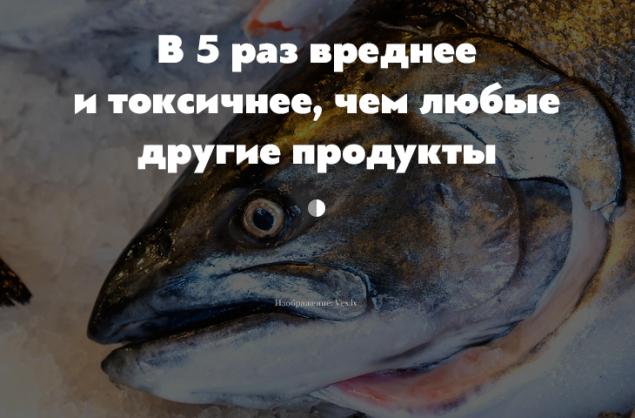 For several months the French journalists Nicolas Daniel and Louis de Barbeyrak studied the fishing industry from the inside. They made their way from Norway to Vietnam, visited Sweden and Denmark. The result of their investigations was the film that reveals the truth that trying to hide the "fish lobby" .Rassledovanie they started from the west of Norway, where in rural areas there are many fish farms that are engaged in artificial cultivation of salmon. Journalists met with the Norwegian activist, environmentalist and founder of the Norwegian Union for Conservation of Nature Kurt Oddekalvom who considers outrageous fact which is hidden under the waters of the fjords.
Kurt Oddekalv long been waging war on the farms, which farmed salmon in Norway. He told the shocking details about their work. < Website publish his story.
"In Norway, the situation is catastrophic to the fishes. Pisces too much: on a small farm they grow by 2 million individuals! Fish is sick, it is now possible to talk about pandemic:. < pancreatic necrosis and infectious salmon anemia captured all of Norway But it is hidden from consumers, "- says Kurt
. Activist monitors for large fish farms last 10 years and keep them under control, collecting evidence. He has a record, which shows how fish farms these workers poured into the water a powerful pesticide that has neurotoxic effects.
«< They themselves have to wear masks and protective suits, in order not to suffer from treatment chemicals reservoirs of parasites and on such farms is not uncommon. This salmon can find a variety of chemicals. It threatens poisoning, and a man there is no "- he said
. Kurt says bluntly: "Norwegian salmon - the most toxic foods around the world." Fishing in Norway brings $ 4 billion a year and is second only to oil.
To unravel the secrets of these farms, Kurd Oddekalv ship uses spyware elements. "The bottom of the farms covered by the 15-meter high rainfall, it is teeming with bacteria - it's the remains of feed and waste chemicals that are added to kill parasites. The level of contamination is very high. Toxic substances, fish excrement ... The seabed is completely destroyed, it is like a gas factory. Bubbles of methane, and so on, and
pesticides are identical substances which are in the first world vonu applied in gas attacks »

The main problem of the Norwegian fishermen - the so-called fish louse, which is parasitic on the fish's body, could kill her. Sea lice to develop resistance to any type, so anglers use pesticides, the effectiveness of which is much higher.

"This is reflected negatively on the fish. So 50% of cod fry on farms is born with the mutation. They can not close the mouth. This gene mutation, and that she disappeared into the sea must live 8 generations. Man when he sees a fish, it does not want to eat, but if you cut off the head, then no one will notice, "- he said

. Salmon is also subject to mutation. He showed that fresh salmon meat is falling apart at the opening.

"This should not be, the meat must be elastic. As you know, the wild salmon of 5-7% fat, and from artificially grown 15-34% fat. A in adipose tissue to accumulate all the toxins Accordingly, this fish becomes the most toxic in the world "-. He stressed

. In turn, the French toxicologist Jerome Ryuzzen noted that in the course of his research word environmentalist confirmed.

«< Indeed, the degree of contamination of the grown salmon is very high. It is 5 times more harmful and toxic than any other products. These toxins should be avoided, and eating, we feel the risk of their exposure, "- he said



. via zdorovie.akipress.org/news:19657