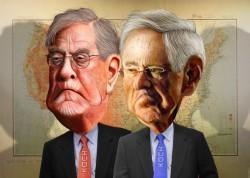 Electric - perhaps the main threat for the oil industry, and in recent years it still looks serious. The sale of the motor cars is rapidly growing in many countries, including the expense of government subsidy programs.
The giants of the oil industry and industry lobbyists are not going to sit idly by. They organized a new group with an annual budget of $ 10 million for an attack on the practice of government subsidies to promote electric vehicles and conventional fuels, reports The Huffington Post.
The group is headed by Koch Industries - the second-largest privately held company in the US, energy and industrial conglomerate with annual revenue of $ 115 billion company is managed by brothers Charles and David multibillionaires Koch (below)
.. Negotiations for a new lobbying group Kohami brothers are James Mahoney (James Mahoney) and corporate lobbyist Charlie Ancients (Charlie Drevna). In January, they organized a meeting, which was attended by a number of executive directors of major energy companies.
If Koch Industries join forces with the Texas Giant Valero Energy and Tesoro Corp., and other companies from the sphere of production and processing of oil and gas, electric young industry is clearly not big trouble. Tesla Motors looks like a little boy on the background of these mastodons.
According to experts, the new group will begin its work this spring or summer. It will have to push in the media on the basis of free and paid articles about the dangers of electric vehicles. For example, it can be a traffic accident information, accidents with their participation, as well as information about the dangers to the environment of lithium-ion batteries, the information about the dangers of such a vehicle for the US economy, and so on. At the same time, the public will try to explain the benefits of hydrocarbon fuel.
The source said that the energy companies are very concerned about subsidizing electric cars at the federal level and at the state level. At this rate, environmentally friendly transport can win a significant share of the market for 20 years. Sales growth came to an exponential curve, and when the number of electric cars will reach a critical mass, it can catch the energy companies off guard.
Now there are only 1% of the US market, it has sold about 400 thousand, but the situation is changing rapidly, especially since the Obama administration proposes to introduce yet another new tax on gasoline sales:. The so-called "tax of $ 10 per barrel of oil."
Source: geektimes.ru/post/271390/