In the woods near the Lower Sergi, near the village of Shokurov hunter shot a huge boar. Mass production was more than 500 kilograms. More precisely determine the outright failed: the balance is simply not designed for such weight.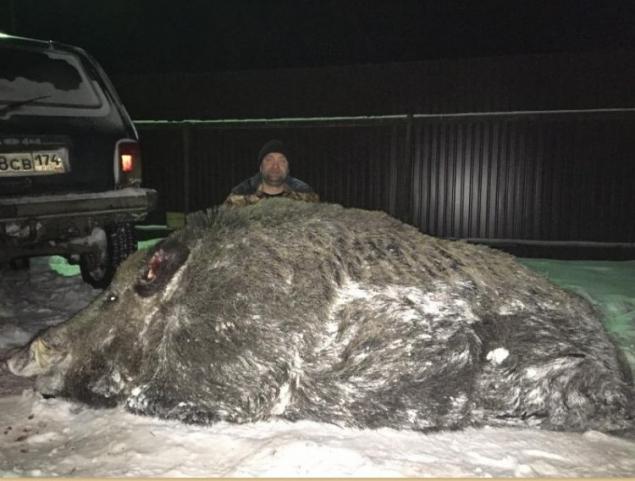 I shot a boar 36-year-old resident of Chelyabinsk Peter Maximov, co-founder of the hunting farm "Andreev." As the businessman, he went hunting in the "magical" day - Friday 13th.
- Hunting for wild boar ran from tower to forage area. The first shot I struck his skin, but he was able to escape into the woods. After that I went to the ranger on his quest - said Peter Maximov. - For a long time we could not get out on his trail, but in the end were able to detect a drop of blood. When we caught up with him, he lay still alive in the snow. We again shot, but after that the animal came down on us. We had to hide behind a tree and make the decisive shot, after which he fell down dead.
According to the businessman, he has been hunting since 18 years and it is the first such large-scale mining.
- Wild boar was so big that we could not even load it into the car. The carcass had to attach a cable to the car and so carry. We drove through the village is already late in the evening, the people who saw us, were very surprised - says Peter Maximov.
Later hunters specified weight and dimensions of the captured beast.
"Specify the size of this giant, the weight of 535 kg, an increase from the hoof to withers - 1, 7 th" - wrote in his Facebook friend of Eugene Kolotilin successful hunter.