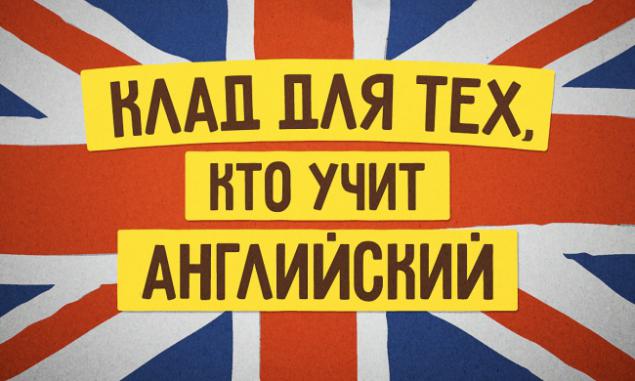 For anyone who is tired of the monotonous cramming and obscure grammatical tasks
Website made a list of the best resources assistants in language learning. They dull the learning process turns into an exciting adventure. Choose which ones you like, and preferably several at once. The main thing, remember that the key to success in learning a language - consistency.




English from scratch h3>
Duolingo - one of the most popular services for foreign language learning from scratch. The program of each course is built in the form of a "tree of achievements": to go to the next level, you need to dial a certain number of points, which are given for correct answers. Polyglot. English 16 hours - course author has proved that it takes only a few days to learn the elementary to understand people and to be understood.


Language social networks h3>
Interpals - pen pals. A huge international community of being constructed on the principle of Facebook or any other social networking site, but with a focus on language learning. Englishbaby - social network with English homework. Learn the language here in several ways: to communicate with users in chat, forums or personal messages, solve puzzles and grammatical listen record. Lang-8 - Services to work on written language to have already mastered the basics of language practice. The user writes the text in the target language, and then taken for checking the written support of the language, and makes its own changes. Sharedtalk.com - a social network that can help you learn any foreign language . It is particularly suitable for those who are already well versed in the language and want to practice. Livemocha - helping others, and it will help you. Exercises that can not be verified program dismantled by native speakers. They do this not just so, and in exchange for that someone then check their exercise. Mylanguageexchange - social network, fully working in the human resources. Here you can choose the ideal partner for language: specify the native language, the country and the approximate age of desired partner. Italki - a network that transforms any vehicle into a serious teacher. There is an opportunity to give professional lessons wishing, recording them in the schedule and binding at a certain time. Busuu.com - an online community for learning languages. Each member of the community is also a student and a teacher who helps who want to learn their native language. Lingq - here presented lessons on vocabulary and thematic lessons. For a fee, you can receive extra lessons.


YouTube Channels in Russian h3>
Puzzle English - a lot of video tutorials on various topics: analysis of grammar, secrets and tips on language learning, interesting expression of the series, pronunciation and much more. li > Albert Kakhnovskiy - learning English on the famous Raymond Murphy. English as the notes - quite funny and entertaining channel. Learning English through music, games, movies and humor. Irina Channel Shipilova - considering a lot of grammatical aspects. Many lessons on listening. English School Jobs - informative entertainment channel about learning English fun and effective. Oxana Dolinka - the study of the living modern English. Many materials for beginners.


YouTube Channels in English h3>
Twominute English - a short two-minute lessons - conveniently and efficiently. You can download to your smartphone and watch the road. MinooAngloLink - lots of useful grammar lessons. Dailydictation - American English with short dictation and analysis of pronunciation. Duncaninchina - short videos about everything in English. EnglishLessons4U - a huge archive of video tutorials on various topics. < Learn English with Ronnie - most of the video is devoted to grammar. The explanation is quite understandable, cheerfully and humorously. English with Jennifer - here you will find tips on how to improve the pronunciation, grammar and learn more. It is useful both for students and for teachers. Rachel's English - channel will be especially useful to those who are experiencing difficulty with the pronunciation. Anglo-Link - a variety of materials is impressive. Most lessons devoted to grammar. EnglishClass101 - about the simple things in English. The channel for those who are more or less versed in grammar, but has problems in communicating. BBC Learning English - a large number of interesting and informative videos on a variety of topics. Learn English with Steve Ford - author - a professional teacher of English with twenty years. A useful material here will find both beginners and advanced students. AlexESLvid's Free English Lessons - popular channel with interesting podcasts, and almost daily updates. Learn English with Let's Talk - good lessons a variety of themes based on modern principles of learning. Engvid - an extensive collection of free video tutorials from the English media.


Interactive services h3>
LearnEnglish - a site with a lot of materials for different levels of study and different formats - from lessons and videos to games and chat with other users. Situational English - offers learn English through acting out situations and storing a variety of expressions. Gathered about 150 articles.
LinguaLeo - gaming service built for the procedure. It contains an extensive database of video, audio and text materials.
Real-english.com - quite an advanced site with lessons, articles and videos. Before you start exploring, select the "Russian Language" on the main page. Eslpod.com - Mighty resource from California. Its main task - to learn English as a second language. The ability to download and work with a lot of podcasts with printouts and dictionaries.
Learn American English online - a great resource for learning English. All submitted material is distributed through the levels. Sex from the US explains grammar in their videos. Learnathome - every day you have formed a plan for the occupation, which can be done in 30 minutes. Quite simply. English-attack - a new approach to learning English. The teaching method based on the use of video, photos, games and chat with friends for the daily practice of English.

Edu-station - the opportunity to work with an interactive dictionary, there are numerous articles, photos and videos.




Learning language through films and TV series h3>
Ororo.tv - movies and series with built-in translator. The real discovery for moviegoers who are learning English. Film-english - language learning with the help of short films. The site has a wide variety of movies: and cheerful vacation in Barcelona, ​​and the problems of British agriculture.


Practice speaking and listening h3>
inSpeak - online course for self-study. Practice speaking, grammar with lots of examples. BBC English - learn a modern living language via BBC. Elllo.org - collected podcasts from around the world on a variety of topics. Living language with printouts and explanations (all in English). You can compare the pronunciation of Canada, England, Australia and so on. D. TuneintoEnglish - site offers tune in English and do it through music. You can write the lyrics dictation, sing karaoke, find exercises to the texts, and guess what kind of song it is from the diagrams.


Vocabulary h3>
FreeRice - a simulator for the English vocabulary. There are grammar exercises and tests in different subjects. Memrise - in the course of training the user is prompted to select an image or a mem-record for the best memorizing words - or create your associative image. Then you need to perform a variety of exercises on the correct answer and the perception of speech by ear. Babbel - visual vocabulary, divided into thematic lessons. The system offers to replenish vocabulary once in 3 ways: repeating the words of the speaker to the recorder, recording them with the suggested characters and playing them in the appropriate context. Slovoych.ru - you can greatly expand your vocabulary. Learning takes place in the process of reading texts - either those offered on the site, or its, which are quite easy to upload to the site. Amalgama-lab - study English with the help of song texts. WordSteps - you can greatly expand your vocabulary, the exercises on the testing of reading, writing, listening and the use of words in context.


English Reading h3>
Babeleo - here you can read the book in the original, professional literary translation of the text is always before his eyes.


Blog h3>
Daily-english-activities - reading this blog, you will be able to learn about the different ways of daily practice of English. Polyglothub - the blog in English, where users share their experience of language learning.


Grammar and spelling practice h3>
Myspelling - excellent practice spelling in English. You offer to listen to the word, then write it. Britishcouncil.org - site of the British Council. Tests grammar, games and more. All in English, so beginners will be quite difficult to navigate, but worth a try. Engblog - site in Russian articles, grammar. BBC - video for practicing pronunciation and grammar.


prepare for the test h3>
ManyThings - you can easily prepare for language tests. There are sections on practicing the pronunciation (American English), idioms, slang and stuff. ExamEnglish - a real treasure for those who need to prepare for international exams in English (IELTS, TOEFL, TOEIC, etc. Etc. .).


Applications h3>
HelloTalk - simply select the language you want to study (available over 100 languages) and immediately makes acquaintance with the speakers of that language. Easyten - application which can be seamlessly absorb 10 new words a day. ListeningDrill - the program allows you to download videos from TED.com and watch with subtitles in two languages ​​at the same time. Learn English by Listening - excellent audio course for beginners is in the network in the form of audio files, and separately in the form of scripts to them. Available for listening to stories in English. Contains 6 levels of difficulty.


Selection of materials on English language h3>
Begin-English - is a compilation of materials in English for beginners. Documents and programs collected by students and graduate students of Moscow State University. List-English - careful selection and classification of materials for the study of English: online dictionaries, school forums, translators, tutors, tests, textbooks, videos, games, YouTube-TV, podcasts, and more. All for free. Englishtips.org - Sea textbooks and books for download. Good search engines work. You can find almost everything. Study.ru - online portal for learning languages, including English. Tutorials, exercises, language learning system online forum fans languages.



via www.study.ru