17 most beautiful folk arts and crafts Rossii.Narodnye - this is what makes our culture a rich and unique. Painted items, toys and articles of fabric being taken with foreign tourists in the memory of our country.
Almost every corner of Russia has its own kind of needlework, and in this article we have gathered the brightest and most famous of them.
Dymkovo igrushka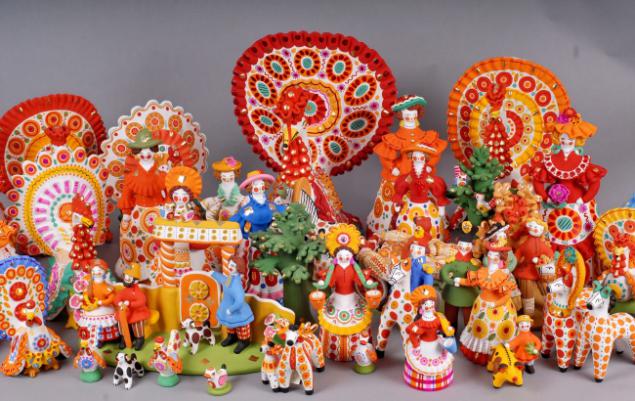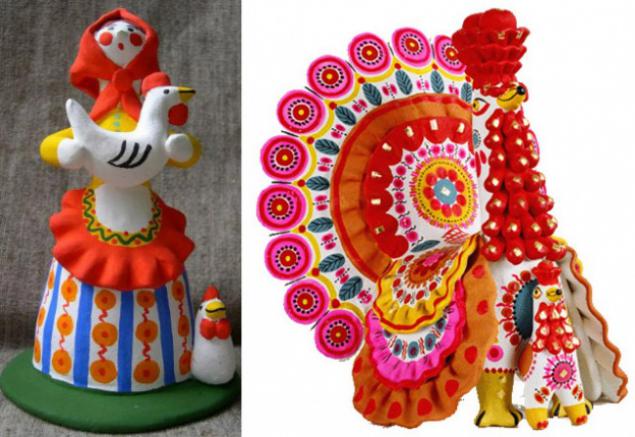 Dymkovo toy - a symbol of the Kirov region, emphasizing its rich and ancient history. She molded from clay, then dries and is fired in the kiln. After that it painted by hand, each time creating a unique instance. Two identical toys can not be.
Zhostovo rospis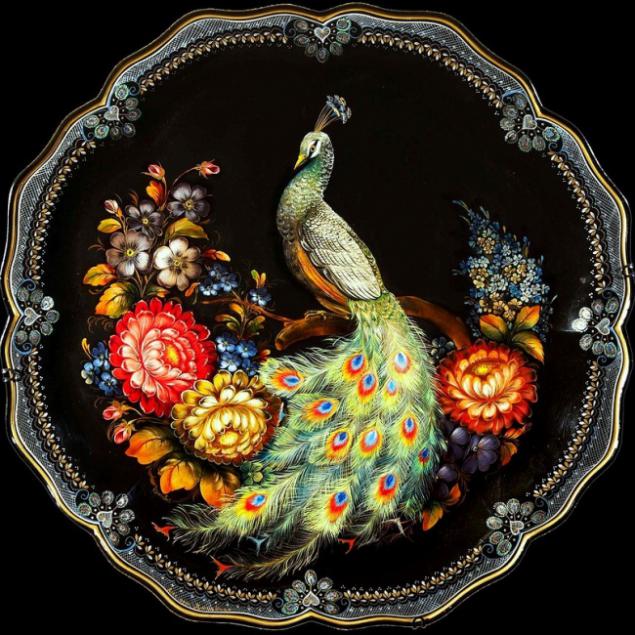 In the early 19th century in one of the suburban villages of the former Trinity Parish (now - Mytishchi district) Vishnyakov brothers lived, and they were engaged in metal painted lacquered trays, sugar bowls, trays, boxes made of papier-mache, cigarette cases, caddy, albums and others. Since then, in Zhostovo decorative painting style began to gain popularity and attract attention at numerous exhibitions in our country and abroad.
Hohloma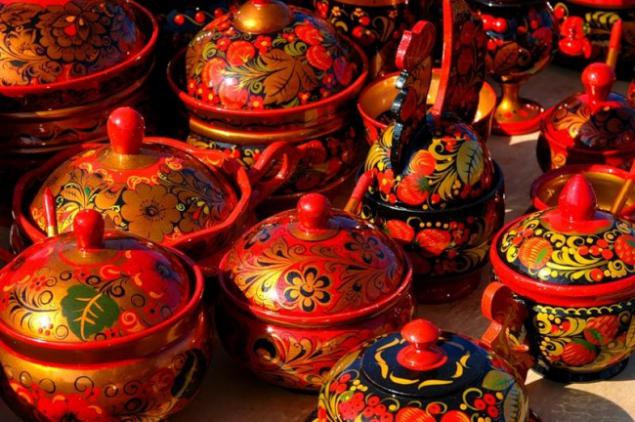 Khokhloma - one of the most beautiful Russian crafts, originated in the 17th century near Nizhny Novgorod. This decorative painted furniture and wooden utensils that love not only lovers of Russian antiquity, but also residents of foreign countries.
Intricately interwoven herbal patterns of bright scarlet berries and gold leaves on a black background you can admire the infinite. Therefore, even the traditional wooden spoon, presented on the most minor cases, leave at the most to get them good and long memory of the giver.
Gorodetskaya rospis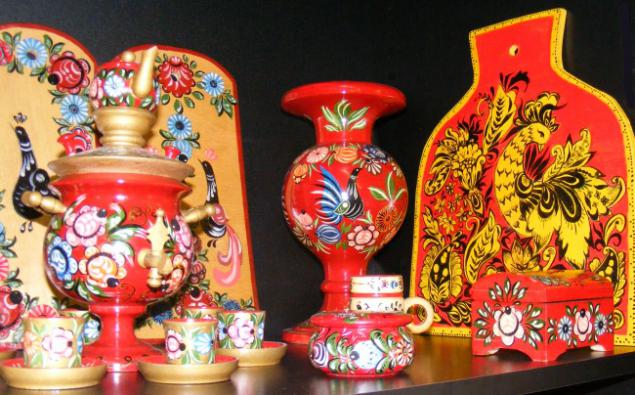 Gorodets painting has existed since the mid-19th century. Bright, concise patterns reflect genre scenes, figurines of horses, roosters, floral ornaments. The painting is done with free strokes of white and black graphic stroke, decorated with spinning wheels, furniture, shutters, doors.
Filigran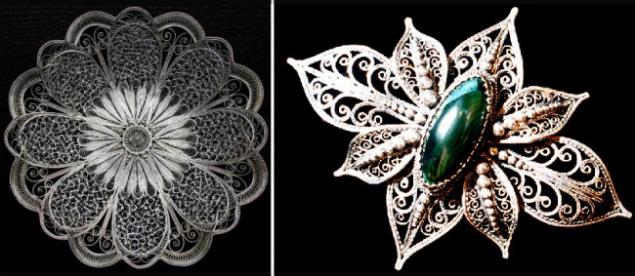 Filigree - one of the oldest forms of artistic metal. Elements filigree patterns are very diverse: in the form of rope, lace, netting, Christmas trees, track surface. Weave made of very thin gold or silver wires, so light and fragile look.
Ural malahit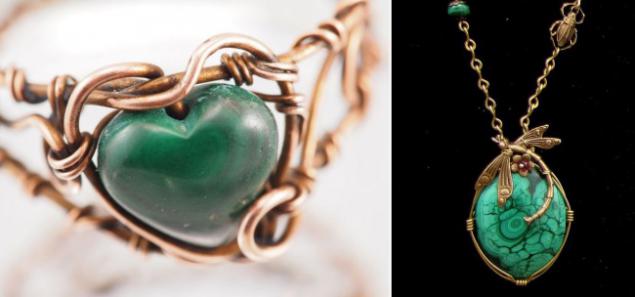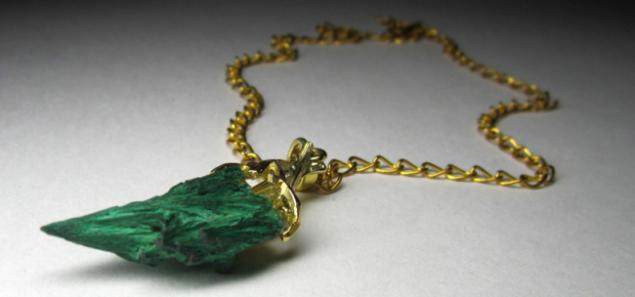 Known deposits of malachite - the Urals, Africa, South Australia and the US, but the color and beauty of the patterns malachite foreign countries can not be compared with the Urals. Therefore, malachite from the Urals is considered the most valuable in the world market.
Gus hrustal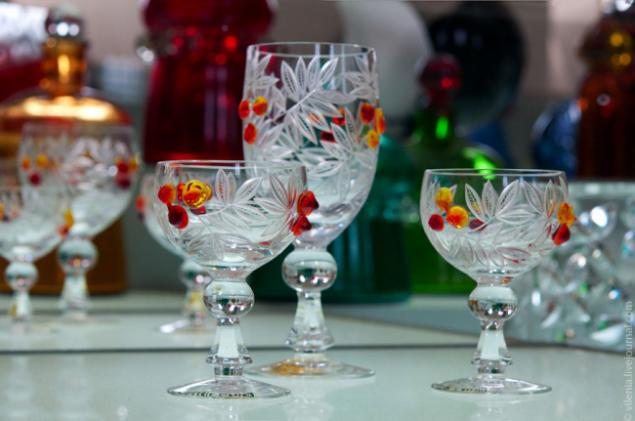 Products manufactured at the crystal factory town of Gus-Crystal can be found in museums all over the world. Traditional Russian souvenirs, household items, dishes for the holiday table, fine jewelry, jewelry boxes, figurines handmade reflect the beauty of the native nature, its customs and native Russian values. Especially popular are the products of colored crystal.
Matreshka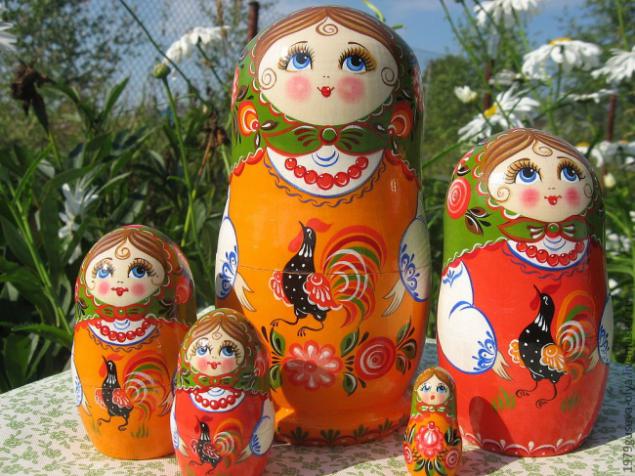 Chubby and plump cheerful girl in scarf and Russian national dress won the hearts of lovers of folk toys and beautiful gift items worldwide.
Now matryoshka - not just folk toy, the keeper of Russian culture: it is a souvenir for tourists on the apron is finely drawn game scenes, stories and fairy tales scenery attractions. Matryoshka become precious collectibles, which can cost several hundred dollars.
Finift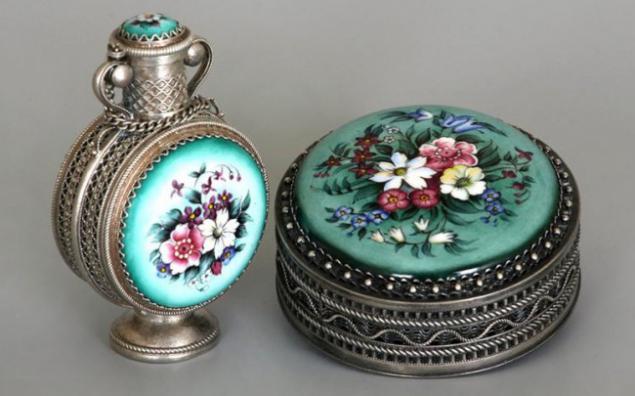 Vintage brooches, bracelets, pendants, promptly "included" in modern fashion - is not nothing but a decoration made by the technique of enamel. This kind of applied art originated in the 17th century in the Vologda region.
Masters portrayed in the white enamel flower ornaments, birds and animals by a variety of colors. Then the art of multi-color enamel was lost, it began to oust monophonic enamel: white, blue and green. Now successfully combines both styles.
Tula samovar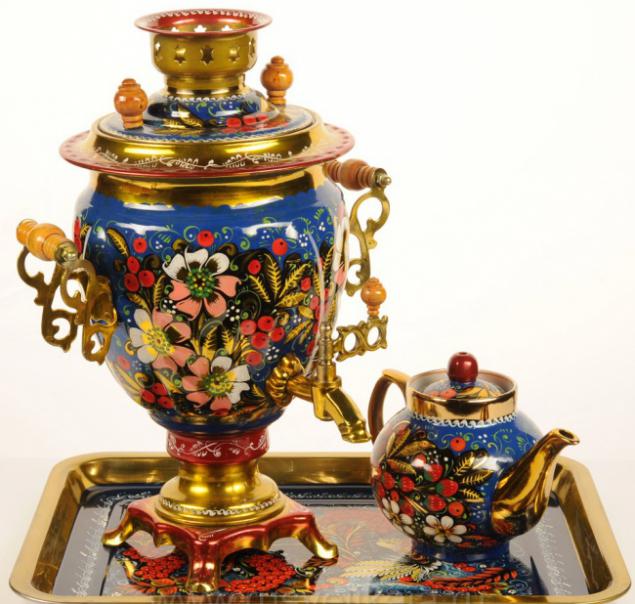 In his spare time worker Tula arms factory Feodor Lisitsyn loved tinkering something of copper, and once made a samovar. Then his sons opened a samovar institution where selling copper products, which enjoyed a huge success.
Samovar Lisitsyn famous variety of shapes and finishes: barrels, vases with engraving, samovars ovoid, with cranes in the form of a dolphin, with looping handles painted.
Palekh miniatyura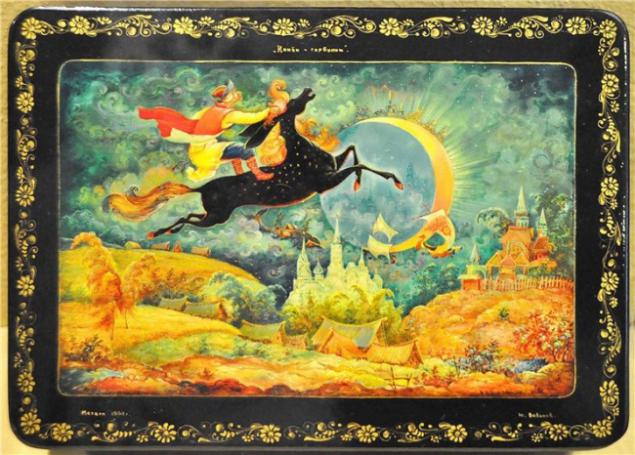 Palekh miniature - a special, delicate, poetic vision of the world, which is peculiar to Russian folk legends and songs. The painting uses a brown-orange and blue-green tones.
Palekh painting has no analogues in the world. It is performed on papier-mache and then transferred to the surface of boxes of all shapes and sizes.
Gzhel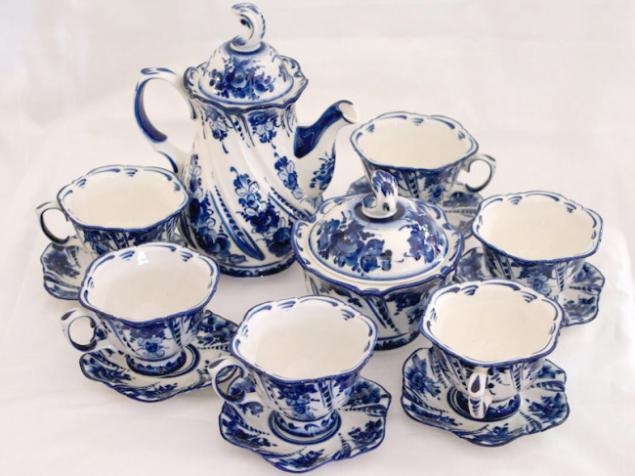 Gzhel bush area of ​​the 27 villages located near Moscow, is famous for its clay mining which leads here from the middle of the 17th century. In the 19th century Gzhel craftsmen began to produce polufayans, faience and porcelain. Of particular interest is still present products, painted in one color - blue glaze paint applied with a brush, with a graphic portrayal of details.
Pavlovsky Posad shali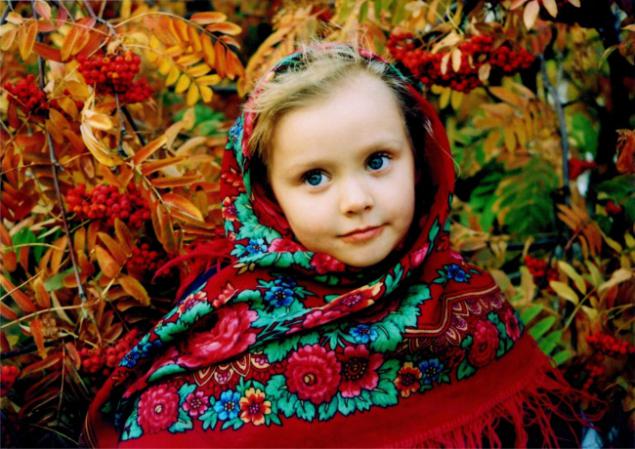 Bright and light, feminine scarves pavloposadskie always fashionable and relevant. This folk craft appeared in the late 18th century peasant enterprise Pavlovsky village, from which later developed Shawl Manufactory. It produced woolen shawls with printed pattern, very popular at the time.
Now the original drawings are complemented by a variety of elements such as fringe, they are in different colors and are a beautiful accessory to virtually any image.
Vologda kruzhevo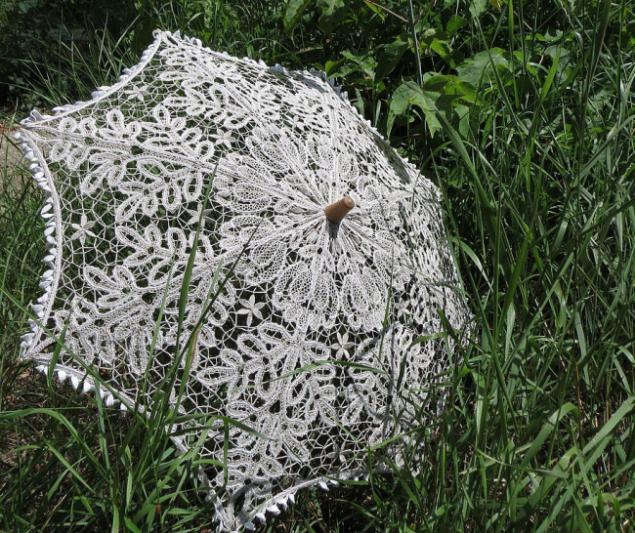 Vologda lace woven on wooden sticks, bobbins. All images are performed dense, continuous, uniform in width, gently meandering linen braid. They clearly silhouetted against the patterned lattices decorated with elements in the form of stars and rosettes.
Shemogodskaya carved beresta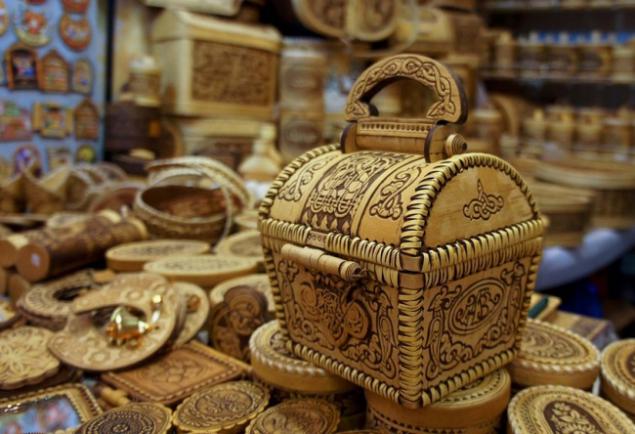 Shemogodskaya thread - a traditional Russian folk art fish carving on the bark. Ornaments shemogodskih carvers are called "lace birch bark" and are used in the manufacture of boxes, boxes, canister, canisters, tues, dishes, plates, cigarette cases.
Symmetric shemogodskoy thread composed of plant ornaments, circles, diamonds, ovals. The figure can be inscribed images of birds or animals, architectural motifs, and sometimes - even a scene celebrations in the garden and tea parties.
Tula pryanik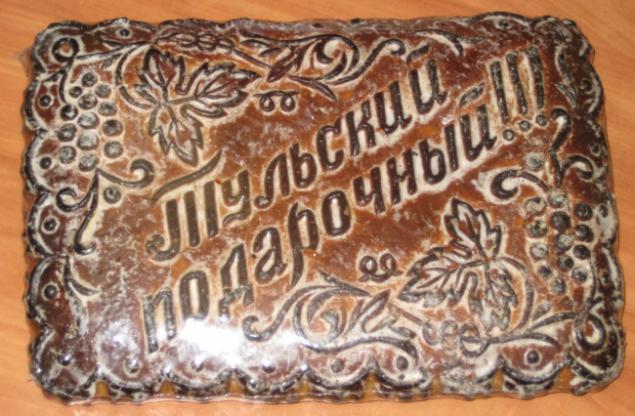 Tula gingerbread - Russian delicacy. Without these sweet and scented products is not held in Russia any event - either gay or sad. Gingerbread served as the king's table, and the peasant. The traditional form is attached with the help of gingerbread planks with carved ornaments.
Orenburg downy platok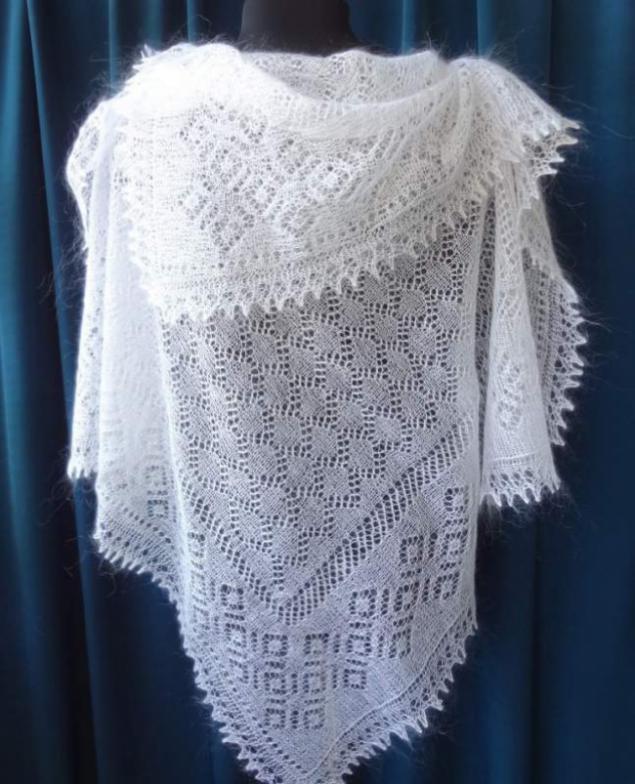 Shawls are knitted from natural goat down and turn out amazingly delicate, beautiful, warm and practical. Openwork scarves-webs are so thin and delicate that they can be threaded through a wedding ring. They are appreciated by women all over the world and considered a wonderful gift.
via # image4471605