Not only is every woman dreams of a healthy, thick and beautiful hair, but a lot of men, because they are much more likely to face problems of hair loss and baldness. The causes of hair loss can be many: hot hair dryer drying, painting, a side effect of medication, stress, tight hats, poor nutrition, poor environment and, of course, lack of vitamins, minerals and other nutrients.
You should not put up with hair loss, it is necessary to take measures, and to make stronger and stronger locks always help home remedies. Particularly effective are the mask with onions. This product not only contains a lot of vitamins and minerals, but they also are biologically active form so quickly enough stop hair loss and moisturize them, provide excellent food, stimulate growth, return the shock of hair splendor and brilliance. And onion masks will help you forget about dandruff and will have a beneficial effect on the hair structure.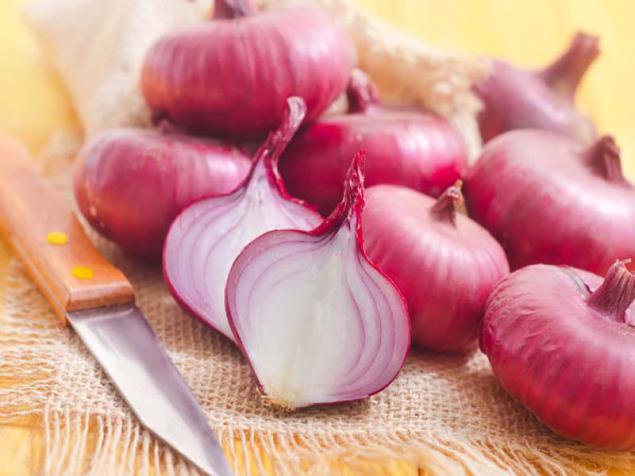 gathered for you a few recipes very effective hair masks that will help you recover them.
Mask for hair growth
Rub on a small grater one bulb and the resulting mush rub the hair roots. To the effect of the mask was better, cover with plastic head and top insulate towel. Rinse off the mask can be given 1 hour - for dry hair, 1, 5-2 hours - for normal hair, in 3 hours - for oily hair. If you have dry hair, add in the mask castor oil.

mask with onions and yeast
Rub on a small grater one bulb and squeeze the juice from the resulting mush through cheesecloth. In this juice add 1 ch. L. dry yeast, burdock and castor oil and 2 tbsp. l. hot water. Thoroughly mix all the ingredients and leave in a warm place mask minute 10. Then rub the mask into the hair roots and put a hat on his head. Wash the mask in an hour with warm water and shampoo.

Aromatic Mask
Rub on a small grater one bulb and squeeze the juice from the resulting mush through cheesecloth. Next, you can add any of these ingredients: egg yolk, calendula tincture, castor oil, 1 part. L. honey. Then add a few drops of any essential oil (the main thing - that you like them), the best rosemary, lavender and clary sage. After half an hour wash away the mask with warm water and shampoo.

How to remove the smell of onions from the hair?
If you're worried that you can not remove the smell after such masks, the odor can be prevented by adding any mask onion lemon juice or banana pulp. Essential oils of rosemary, tea tree, lavender, ylang-ylang as well neutralize the smell of onions. If the smell is still there, rinse the head with vinegar diluted with water at a ratio of 1: 1, or citrus juice in a ratio of 2 tablespoons. l. juice of 1 liter of cold water.

But the smell - it is not important, if you regularly make onion mask, you can quickly and effectively improve the hair and make them thicker and add them to shine!

via takprosto cc