George Kuronis stood on the edge of the lake with a red-hot lava, listening to the gurgling rocks underfoot, spray corrosive acid effusions of his protective suit. It was a real "window to hell", later described it, the ruthless and full of drama.
Kuronis - explorer and documentary filmmaker. Last month, he and Sam Kossman, as a researcher, also a director, dived deep into the crater Marum, placed inside an active volcano in the archipelago of Vanuatu in the South Pacific. Fearless duo decided to take a camera to capture their incredible adventure.
«descend into the crater Marum was my a dream for many years, I was very excited », i> - says Kuronis.

Kuronis, Kossman and two guides, Jeff and Brad McLay Ambrose spent four days on the volcano and descended twice into the crater. Kuronis described that the descent was enormous - as much as 1,200 feet, a height equal to the Empire State Building.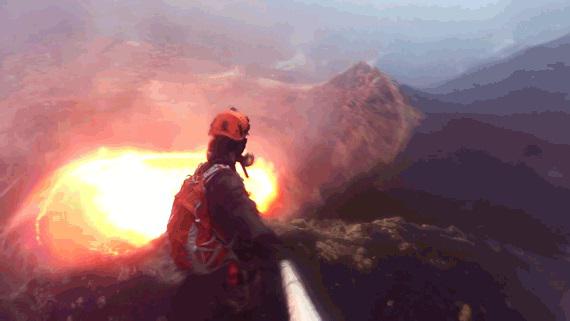 documentary specializes in capturing the extreme forces of nature, which pursued twisters and even got married on the edge of an exploding volcano, knows what dangerous adventures. But a trip to Marum admitted Kuronis, was the most powerful and impressive experience.

«path deep into Marum I would compare with the opposite ascent of Mount Everest, i> - says Kuronis. - Volcano fought from us, we had to deal with terrible weather and the unbearable heat of lava. During the descent and ascent of 400 meters near the loose rock acid rain was so strong, though it came from a car battery! » I>

Brave explorer appeared so close to lava that the spray holes done in his windbreaker and melted one of the parts of his camera.

«When you look at these unusual shots at me, like apt silver bullets, involuntarily feel that the lava waterfall - not the best place to stand next. It was a little scary. If something went wrong, it would have ended the journey of rapid catastrophe ». I>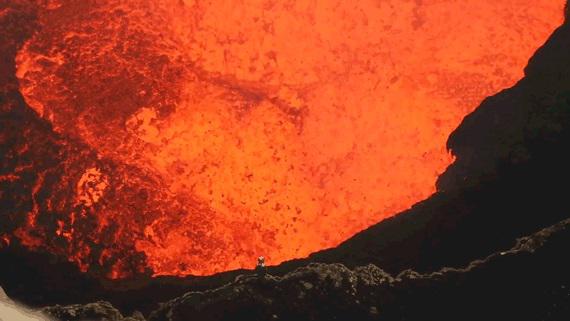 Kossman divided that it was a terrible experience, but this wild fear eclipsed powerful adrenaline rush. The researchers compared the glowing fire pit, over which he had the opportunity to soar, with the surface of the sun, which seemed to see near.

«Certainly, it was the greatest adventure of my life», i> - says Kossman. «It was an amazing expedition», i> - adds Kuronis. No doubt about it, these brave souls know what they say.

From this story I have goosebumps. You too? Then it happened with others!

www.youtube.com/watch?v=BAdFvTo9874