That's really what it is difficult to believe, so it is in that platinum blonde and very enviable Hollywood handsome Brad Pitt today marks '51. But the famous actor is not one of those who will not despair about his age, because today, when he is a little over 50, Brad Pitt can only be proud of living for years and achieved during this time success is not only in your career but also in his personal life. After all, he is not only one of the most successful actors in the world, but also a happy husband and father.
Brad Pitt - a vivid example of this, as usual, does not have rich parents person on their own can achieve tremendous success. Pitt never neglected the usual work. During his life he has worked as a driver, carrier and even the furniture in the restaurant greeter, who dressed as a chicken had to invite passers-by to visit their establishment. Parallel to this, he attended acting classes. First he played bit parts in such films as "No Exit," "neutral strip" and "Less than Zero". It was also a lot of roles in the television series, the most famous of them - the role of Randy in the TV series "Dallas».
But the real success came to the actor in 1994 after working in the movie "Interview with the Vampire." Today, Pitt boasts many awards and nominations, and even the first coveted statuette "Oscar", which he received in 2014 as a producer for the film "12 years of slavery».
Especially for you chose to 7, in our opinion, the best and most diverse pictures with Brad Pitt. Of course, this drop in the ocean compared to the portfolio of creative actor. After all, each of his role - it is an opportunity to see new sides of this talented man. If you ever doubted his talent, you should definitely see these blockbusters.
1. "Interview with the Vampire", 1994

Aktresky part of the picture - just gorgeous! This is one of the great roles of the debut of Brad Pitt. Brad is still young and "green", but the truth is, pretty darn good. His Louis - the eternal wanderer. This is a man who has lost any sense of life even if the code killed his family, so he decided to embark on the "dark side." But he can not find a place in this life. He was hard to kill. He died and became a vampire, but in his heart he - still people. It now and then torn apart by internal contradictions, but he still did not lose hope to find peace, love and happiness. But whether he is?

Perhaps you saw "Twilight" before and now abhor the vampire movie, I want to say that this film - a classic of the genre, but it is an order of magnitude higher than all modern sagas of blood-suckers. From the very first minutes of viewing the film captures. The atmosphere is permeated by that 18th century New Orleans. If you have not seen this movie, believe me, you should bring it to the list of paintings for compulsory viewing.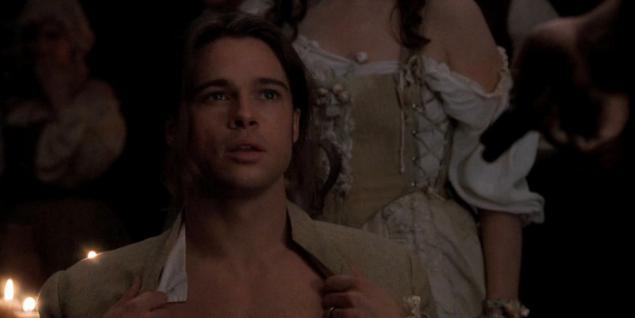 2. "Meet Joe Black", 1994

The love story of a young girl to death in the body of a young man bound "contract" with her father, affect even the most impenetrable corners of the heart. Her father was resigned to death, which is not far off, and it is their native Joe Black. Death gave him a few more precious days of his life in exchange for the introduction to the world of people. Brad Pitt in this film is incomparable. It is this and to be Death. His character came not pompous. It is moderately serious, but vё is not without hints of humor, because Death is also not averse to taste all the creature comforts. Death loves cookies, peanut butter and young girls. You have not seen Death in that guise! What is there to tell, you're bound to see it myself.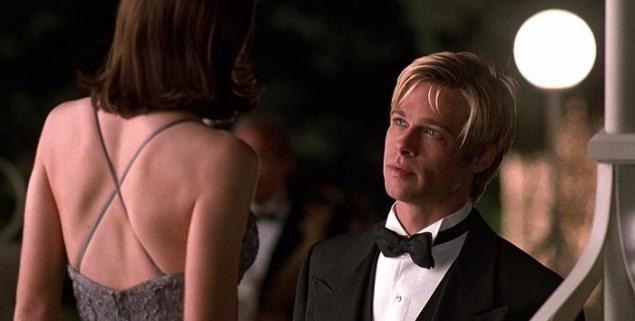 3. "Fight Club", 1999

The legendary "Fight Club" Brad Pitt is us in a completely unexpected role. And if someone has to consider the role his talentless actor who so often flashed on the big screen in Hollywood trash just because of its sugary appearance, the person is guaranteed to change its opinion. You first see Brad so arrogant, savage and evil. His Tyler Durden - a combination of incredible daring, charisma, stubbornness and limitless freedom - all of which is so like narrator. Tyler convinced that self-improvement - for the weak, and self-destruction - the only thing worth living for. The role of the brutal Tyler Durden was for Brad cult. Excellent tandem Pitt and Norton made a picture really worth. In this crazy movie where everything is unique, dynamic and unpredictable. Of course, it's a masterpiece!

4. "Ocean's Eleven", 2001

Ocean's Trilogy - a film about the genius of crime, high-level professionals, working as a team, guided by the principles of daring and aimed at a large profit. A bit confusing, but very interesting scenario where the whole mystery of the history is revealed only at the end. But the whole artfully created involuntarily intrigue more and more draws the viewer to see the movie until the end. Add to the dynamic and gripping story warehouse stellar cast (Brad Pitt, Julia Roberts, George Clooney and Matt Damon) and the director's excellent work, created at the highest level - and you get a great movie, which has already become a unique classic of its genre. From the movie simply impossible to take your eyes off. Almost every scene is full of amazing performances by the cast, a magnificent plot and vivid characters. The real chip this picture probably was "always something chewing," the hero of Brad Pitt. In this film, just nothing to complain about. Steven Soderbergh managed to create a masterpiece!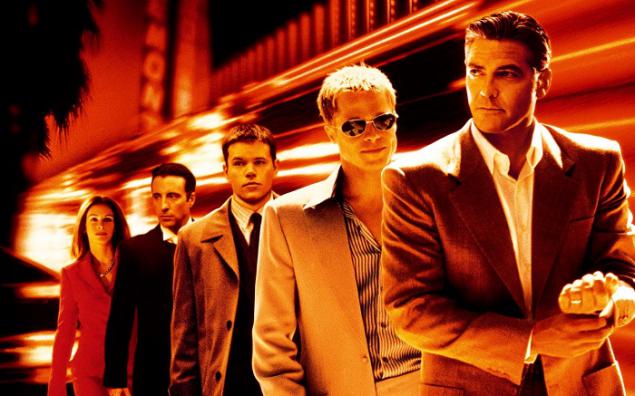 5. "Mr. and Mrs. Smith", 2005

This picture was fateful for Brad Pitt. By approving the main roles brilliant Angelina Jolie and Brad Pitt unsurpassed, the film's director Doug Liman is not only not lost, but also helped form one of the strongest and most beautiful Hollywood couples.

In "Mr. and Mrs. Smith," Brad - the true John Smith! He - a charming, spontaneous, unpredictable and at times light-hearted, he - one of the halves of a whole, which can be called "Murderous Smiths».

No, it's not a film about high matters. Even the theme of the relationship is disclosed to the surface and moved in a completely unfamiliar situation. This is a film - is dynamic and full of active action, which makes it exciting and unpredictable. All decisions are taken completely spontaneously. In truth, it is very interesting to see what decisions are unexpected heroes of the film in the most vital moments.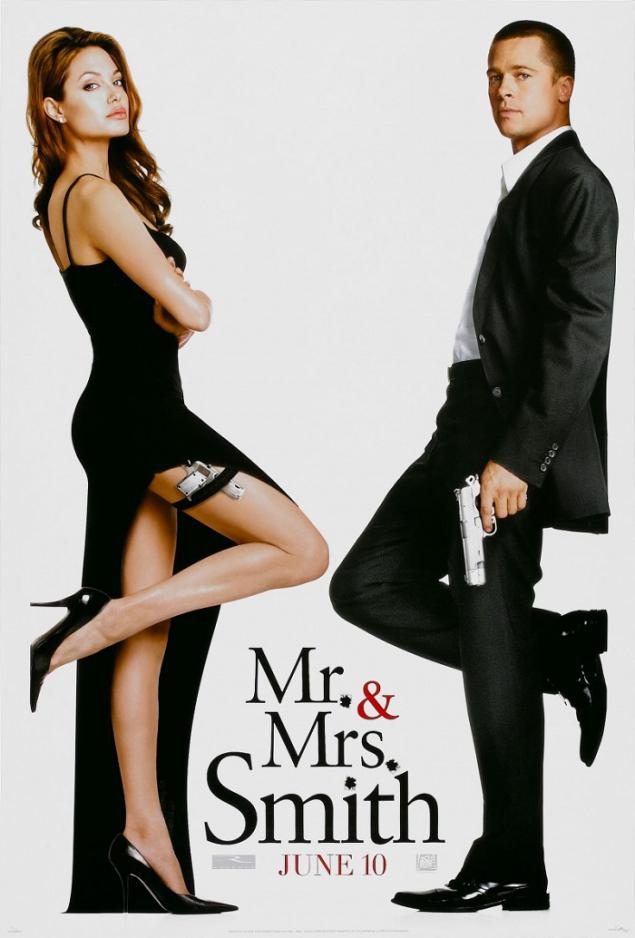 6. "The Curious Case of Benjamin Button", 2008

This is a film about a man who was born at the age of 80 years, and then began to look younger. Great David Fincher presented to our view high-quality and entertaining film, which combines amazing directorial work, harmonious duet venerable actors, consisting of Brad Pitt and Cate Blanchett, sustained share of humor and the necessary amount of drama. This is one of those movies where you have to see Pitt in an unusual role for him, which proves once again that this talented and versatile actor, professional level, which is the strength to convey a sense of the full forces of young men and feeble old man. It seems that he has a gift to please his fans wonderful roles. History of Benjamin Button either for a second does not make you look away from the screen.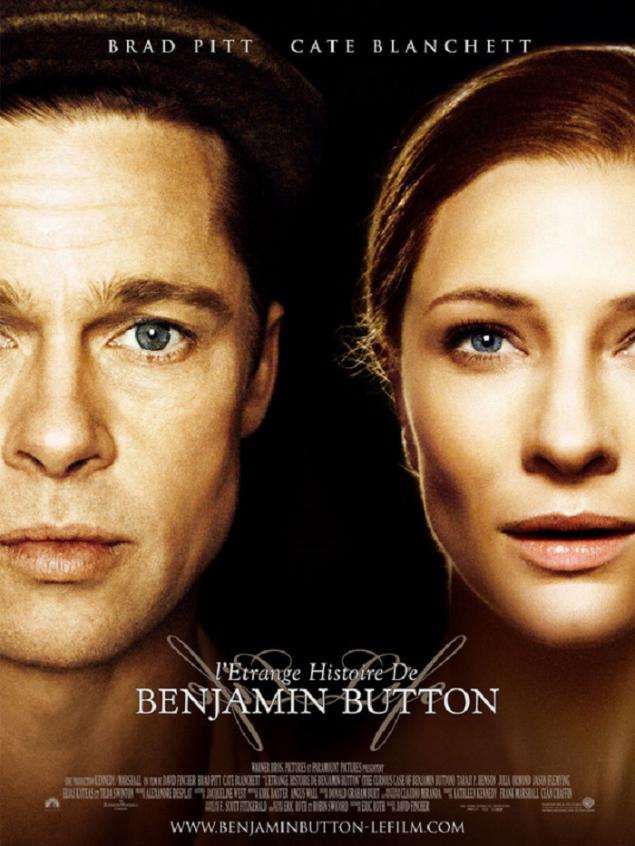 7. "Tree of Life", 2010

"Tree of Life" - a work using the maximum potential of cinematic art. This film and the complex, and at the same time, just because, basically, said that concerns each of us. Kinoshedvr This is a direct dialogue with the audience and, of course, will cause him a lot of questions that, perhaps you should not look for an answer. This is not a film for those who like action games, fighters or American comedy. For them, this picture will seem boring and tighten. It's honest and thoughtful movie for those who are willing to stop for a few hours time to reflect on the question of being. Once again Brad Pitt quality copes with not an easy role, thereby improving their bar as the wizard, which by virtue of anything, even play a despotic and cruel father, who in his own loves their children and teach them to mind but the mind. For this role, the great actor is truly deserved was nominated for "Oscar».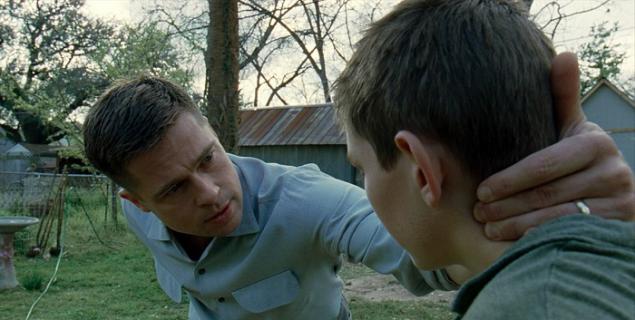 It's safe to say that every year Brad Pitt only honed his acting skills. It is no longer a pretty boy from malobyudzhentnyh serials or bit parts in films. This man, whose name we constantly see in the highest quality and box office blockbusters in the world. The team wants to congratulate this great actor and wish him further creative and conquer the human height. Happy Birthday Brad!

via ofigenno ru