I am ashamed to admit, it happens, you go to your job in a crowded trolley and the elderly can not help thinking, "Where are they, dammit, rods so early?" "Why do old men wake so early? Is to extend itself at least on this day? "- Asks the hero immortal novel by Ernest Hemingway" The Old Man and the Sea. " Rhetorical question ... I assure you, after this incredibly deep poem you look at older people quite differently.
When the old man died in a nursing home in the tiny Australian town, a nurse, going through his things, suddenly I found this touching message, which is then not once published in magazines around the world. The words of this seemingly lonely and forgotten all the old man in no time spread around the world and managed to reach the hearts of millions. From these lines touching the tears rolling down the cheeks of hail ...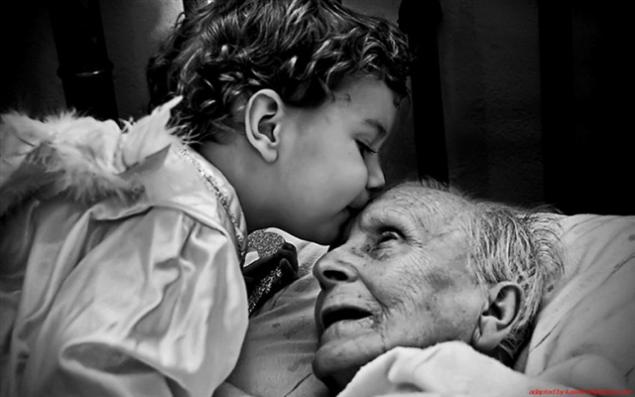 Going to wake me in the morning,
Who do you see, nurse?
The old man cranky habit
Still living somehow,
Half-blind, poludurak,
"Living" fit to be quoted.
Do not hear - it is necessary to overstrain,
Plagued vain grub.
Tambourine all the time - it is not impossible to deal with it.
Well as you can, you shut up!
A plate on the floor overturned.
Where shoes? Where the second sock?
Last fucking hero.
Get out of bed! That you disappeared ...
Sister! Look into my eyes! Manage to see what is behind ...
Behind this weakness and pain,
Over the life lived large.
For the jacket, moth-eaten,
Sagging skin, for the soul.
Beyond this day
Try to see me ...
I'm a boy! Hurry cute,
Cheerful, slightly naughty.
I'm scared. I have five years on the force,
A carousel is so high!
But father and mother near,
I dig them tenacious gaze.
And though my fear is ineradicable,
I know that love ...
Here I'm sixteen, I'm burning!
Soul soar in the clouds!
Dream, happy, sad,
I'm young, I'm looking for love.
And here it is, my lucky moment!
I'm twenty-eight. I'm the bride!
I go to the altar with love,
Again, grief, sorrow, grief.
I'm thirty-five, the family grows,
We already have sons,
His house, the farm and the wife
I have a daughter about to give birth should be.
But life flies, flies forward!
I'm forty-five - cycling!
And children grow by leaps.
Toys, school, college ...
All! Flew off from the nest
And scattered in all directions!
Slowed celestial bodies,
Our home is a cozy empty.
But we together favorite!
We lay down together and get up.
It makes me sad.
And life back flies forward!
Now I'm sixty.
Once again, the children in the house wail!
Great-fun dance.
Oh, how happy we are! But ...
... Suddenly darkened the sun light.
My beloved is gone!
Happiness, too, there is a limit.
I'm a week grayer,
Haggard, soul wilted
And I feel that I am an old man ...
Now I live austere,
Living for the grandchildren and children.
My world to me, but every day
Fewer, less light in it.
Cross age shouldered,
Brad wearily nowhere.
Covered with a crust of ice heart.
And time will not heal my pain.
Oh God, how life is long,
When she is not happy.
But it should be put up.
Nothing lasts forever.
And you, bending over me,
Open your eyes, sister.
I'm not cranky old man, no!
Beloved husband, father and grandfather ...
... And a little boy, hitherto
The radiance of a sunny day
Flying into the distance on the carousel.
Try to see me.
And maybe me grieving, find yourself!
And if we know all the truth about our elders, perhaps, we do not blame them for being a grunt centuries ... To say that he took the soul - nothing to say! Now I'll never look at older people the same way again. Share this incredibly emotional and full of inexpressible feelings with your loved ones a message.
via ofigenno ru