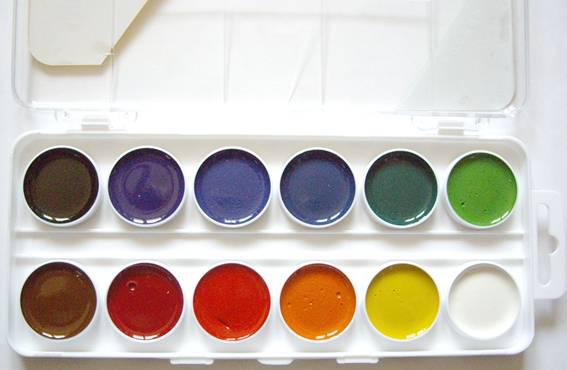 The unique lightness of watercolor has always been a dream of any artist. Amateurs and experienced artists prefer to use such colors, due to the uniqueness, the art of drawing, which allows you to create a clear, clean picture. Watercolor enjoyed great success in the depiction of architecture and landscape, where you can piece together graphics and painting techniques to give more and more new possibilities for the imagination.
Watercolor became popular it is with landscape paintings in the forwarding activity, and after a few years of European artists loved the wonderful view of the paint. Water painting was popular with artists such as Delacroix, Turner, Ayvozovsky, Bryullov.
The number of techniques with watercolors is growing steadily.
What made watercolors?
Watercolor consists of the main components - pigment substances with different additives, including notes:
ox bile allows exactly apply the paint without causing drops;
envelop antiseptic paint, preventing the occurrence of bacteria and mold < /
adhesive components have binding properties;
plasticizers retain moisture and increase the plasticity of the component.
Watercolor is a very solid or pasty substance by dissolving that creates a light and rich composition. When applied to the paper mixture turns into a translucent strokes, which is very easy to get shade and rich colors.

Watercolor paper and water are the main component in which are beautiful, bright and vibrant picture.

The most popular material on which many artists use paint, is paper. But it is not simple, but with a rough surface - it will be tempting and fun in the optical plane. Artists draw sometimes on dry paper, and sometimes pre-moisten it so much easier to lay the paint. The basis is taken as cardboard or wood.

If suddenly you run out of paint watercolors or you decide to try yourself in the role of the artist, offer to buy a quality product in watercolor Rosa. The site http://rosa.ua/catalog/37545_kraski_akvarelnye/ you will find a huge selection of colors and accessories for the artist at low prices. Also on the site from time to time there are new items that will be very interesting as a young and professional artists.