Honda car set a world record for fuel consumption: 2.4 liters per 100 km Bashny.Net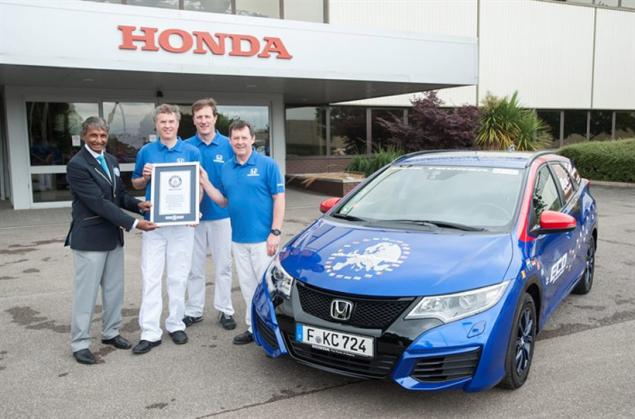 Photo Honda News i> sup>

Japanese automaker Honda got into the Guinness Book of Records: the car Civic Tourer 1.6 i-DTEC показал record low diesel consumption during the 25-day trip the team of three people to 24 countries of the European Union. The пересчёте on the European system measures the car spent an average of 2.345 liters per 100 km. In other words, an average of one liter of diesel is enough for 42.65 kilometers. This is absolutely no modifications to commercially available from the car was not made.

The journey began in the Belgian town of Aalst June 1 this year. The team consistently, moving counterclockwise, traveled to the European Union, breaking the route length of more than 13 433 km. Behind the wheel were the staff of the European research center Honda Fergal McGrath (Fergal McGrath) and Warren Julian (Julian Warren). Fill a full tank of fuel, they are squeezed out of him almost 1500 km route, with all of their journey the team had to stop off at the gas station only 9 times. The cost of fuel for all time was 459 pounds, or about 640 euros. The starting point of the voyage team returned June 25th.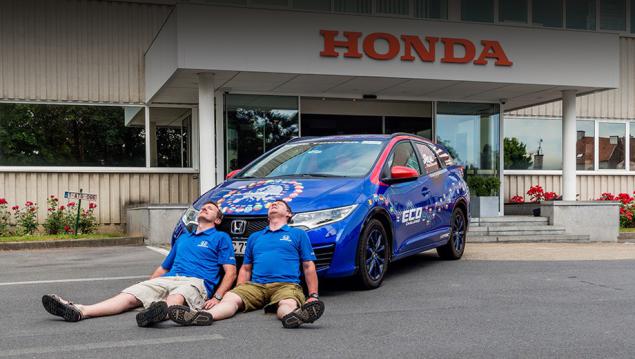 Photo Honda News i> sup>

To confirm such a technically low fuel consumption figures recorded by a special device fuel level, mileage, GPS-recorded tracks and make the corresponding pictures from videos. Representatives of the Guinness Book of Records were satisfied with the evidence presented, noting that the drivers were professional staff of R & D-center Honda.

Honda Civic Tourer 1.6 i-DTEC - a 4-cylinder diesel wagon with front-wheel drive and 6-speed manual transmission. It is sold in the UK for the price of £ 27,460, or about 38 000 euros. The manufacturer of the machine is positioned as a family car and he really declared a low fuel consumption, especially when driving in the country. However, in the Guinness Book of Records has got carefully documented the journey for the first time.

Recently, direct competitors Honda - also the Japanese manufacturer Toyota - announced , their serial car Mirai hydrogen-powered cover the distance of 500 km on a single refueling. On Mirai installed electric energy for which is provided by the converter, "fuel" for which is hydrogen. Toyota points out that hydrogen - a very cheap fuel for the car, the use of which is as effective as the use of hydrocarbons in conventional internal combustion engines.

Source: geektimes.ru/post/253224/
Tags
See also
New and interesting
New and interesting