Full text author, quote:
Now go through the very curious object - a newly built golodomornomu cola, put in place the trump of Kiev - on the picturesque slopes of the Dnieper, between the Kiev-Pechersk Lavra and the obelisk of Fame. Number of the hastily built, with spending huge amounts of money and even finding the Ukrainian authorities in a state of anarchy in the stage of acute economic crisis did not stop this construction. The reason is simple: by order of Yushchenko had to keep to the "Diamond Date" - the 75th anniversary of "famine" (November 22).
What happened then? Held a commemorative event, then after a short time the count was closed to the public - for debugging and repair. It is clear, you will see below why - everything was done literally "living thread", extension cords, and the time spent. But in that short time between its official opening in November 2008 and subsequent closure in early 2009, I had to visit it during the January voyage in Kiev. Their feelings of visiting this temple Novoukrainskaya religion "a la Yushchenko" will show and describe below - they are very specific.
These days the network is widely held picture Yushchenko with his family and entourage standing with candles near the idol depicting a thick sheaf of ears with his hands severed. So, this idol - he borrowed a laptop and it is from this stake, which originally stood. He, too, will be shown. I was shooting in difficult conditions, with very low light and in the presence of constantly scurrying visitors, so some internal shots will be of low quality.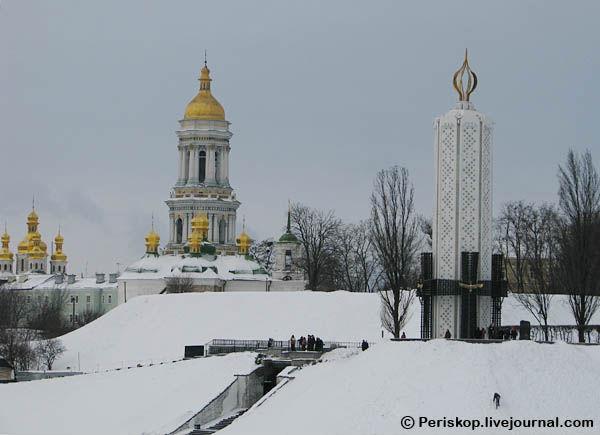 We first estimate the spatial location of the object. As you can see, he inserted the new authorities are very well: between one of the main spiritual centers of the Russian world - Kiev-Pechersk Lavra (left) and the obelisk of Fame dedicated to the victory in the Great Patriotic War (right). That is, in the center between them formed the dominant, designed to be constantly reminded of the new state religion. For its public denial, by the way, it is believed the prosecution.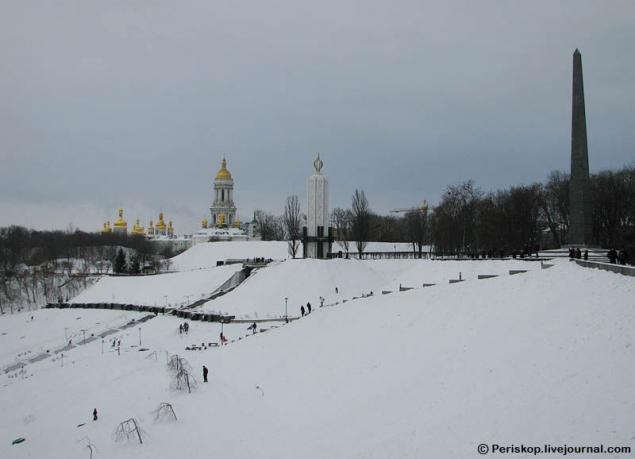 Podoydёm closer. Entrance to the complex two: from the Dnieper, and from the city (not visible). They are made in an artificial hill, pour under this stake. There is, in fact, and is part of the memorial.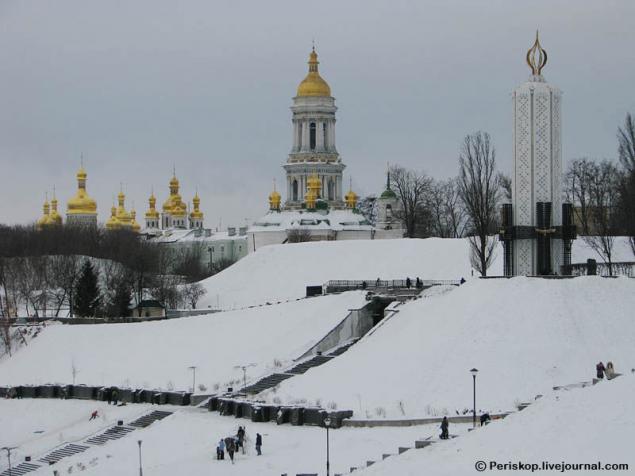 Aesthetic part is based on the contrast of black and white colors and the use of crosses of different style and size.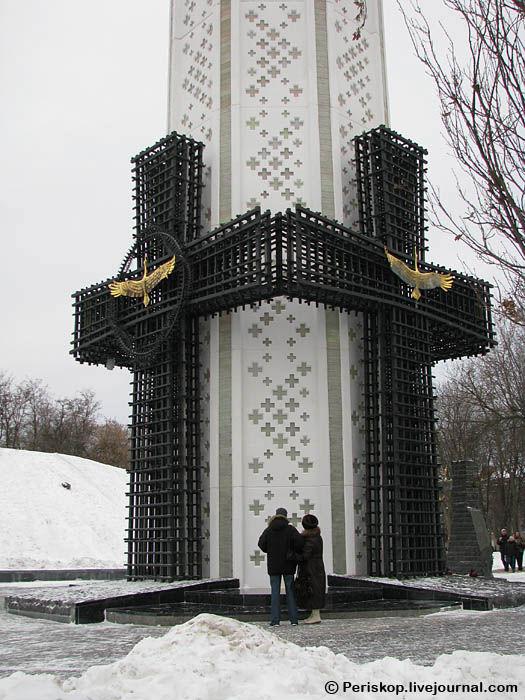 Dispense around: two-stone man.