Metal Cascade MP - the best roofing tradition and modern design Bashny.Net
MP Cascade - metal, which is different from the classic models of more stringent forms that emphasize the fusion of tradition and modern approach to design.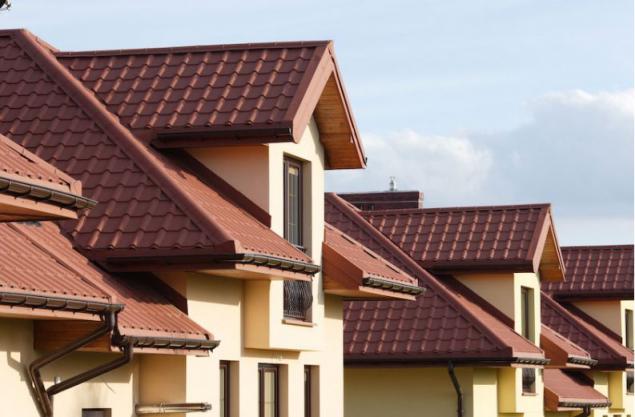 Company "Metal-profile" pleases its customers consistently high quality products. The production process is monitored at every stage - emphasis on the selection of raw materials and the development of manufacturing technology. Thanks to these original roofing materials can obtain a number of advantages.

Steel sheets future tile processed aluminum and zinc alloys, soil and passaged. It protects them from rain, mechanical damage and other troubles. Top layer - a plastisol, polyester or prism. These substances protect the roof from fading and deformation.

Metal is suitable for pitched roofs with a slope of 12 degrees. A profile can have different geometries, so pick up both traditional and unconventional architectural solution is not difficult. All product lines consistently updated with new models. You may want to choose a material with a glossy, matte, metallic or embossed surface. The varied color palette allows you to accurately select the tiles to the design of the facade.

It should be noted that the metal MP Cascade meets European quality standards. It is environmentally friendly, are proof of this certificate. The material is breathable structure, therefore, provides adequate ventilation of roof space. Because of this roof is protected from drafts and other wind loads. In such a house will always maintain a comfortable microclimate.

During the installation of this type of metal you can do without increasing the rafters. Sheet size is extremely useful for packing - is 3 to 65 m 2 25 m either 0, 5 1 m, 2 m. Also, if necessary, can be made to order items. Buying the products of the company, the customer receives a completely ready-to-install roof - complete once all the necessary elements are present. Sheets wrapped with a protective film, which prevent damage during transport.

The main difference from the metal cascade of other models - the correct forms, embodying the tradition of roofing and innovative design ideas. On the pages you can see detailed and smooth picture that is supplemented with decorative grooves. Thus, the relief like a conventional chocolate bar, it and the finished roof gives additional stability to the axial load.
Tags
See also
New and interesting
New and interesting