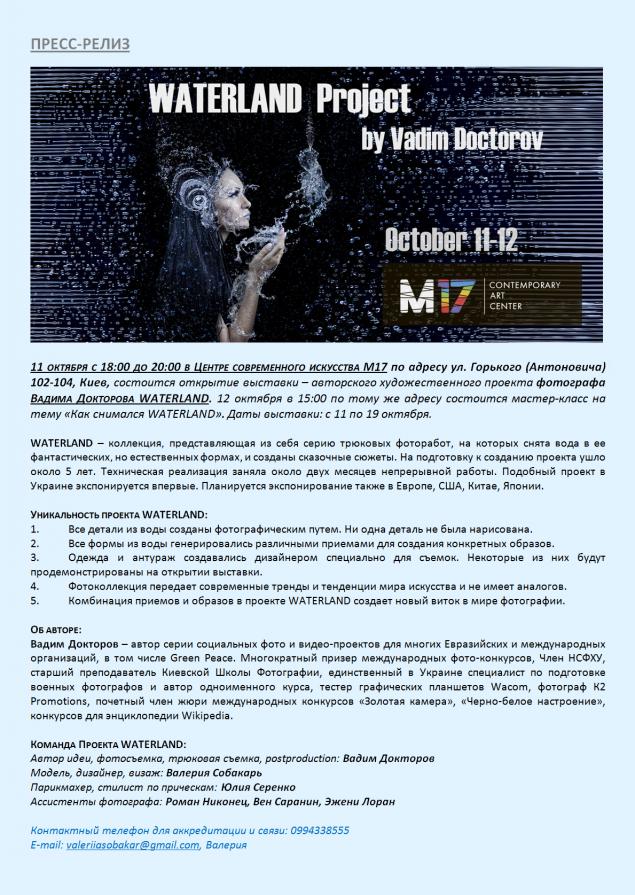 October 11 from 18:00 to 20:00 at the Center for Contemporary Art M17 at ul. Gorky (Antonovich) 102-104, Kiev, will open the exhibition - the author's artistic project photographer Vadim Doktorova WATERLAND. October 12 at 15:00 at the same address will be held a workshop on "How starred WATERLAND». Dates of exhibition: from 11 to 19 October.
WATERLAND - collection, representing a series of photographs of tricks, which removed the water in her fiction, but the natural shape, and created fairy tales. In preparation for the establishment of the project took about 5 years. Technical realization took about two months of continuous operation. A similar project is exhibited for the first time in Ukraine. Planned exhibition in Europe, USA, China, Japan.
The uniqueness of the project WATERLAND:
1. All parts of the water created by photographic means. No detail has been painted.
2. All forms of water generated by various techniques to create specific images.
3. Clothing and entourage designer created specifically for filming. Some of them will be showcased at the exhibition opening.
4. Photo Collection conveys modern trends and tendencies of the art world and has no analogues.
5. A combination of techniques and images in the project WATERLAND creates a new milestone in the world of photography.
About the Author:
Vadim Doctor - author of a series of social photo and video projects for many of the Eurasian and international organizations, including Green Peace. Multiple winner of the international photo competition, Member NSFHU, senior teacher of the Kyiv School of Photography, the only Ukrainian expert on the training of military photographers and author of the eponymous rate tester graphic tablets Wacom, photographer K2 Promotions, honorary member of the jury of the international competition "Golden Camera", "Black -White mood "for competitions encyclopedia Wikipedia.
Project Team WATERLAND:
Author of the idea, photography, trick shooting, postproduction: Vadim Doctors
Model, designer, make-up: Valeria Sobakar
Hairdresser, hairstylist Julia Serenko
Assistant photographer: Roman Nikonets, Wen Saranin, Eugenie Laurent
Contact telephone number for accreditation and communication: 0994338555
E-mail: valeriiasobakar@gmail.com, Valeria