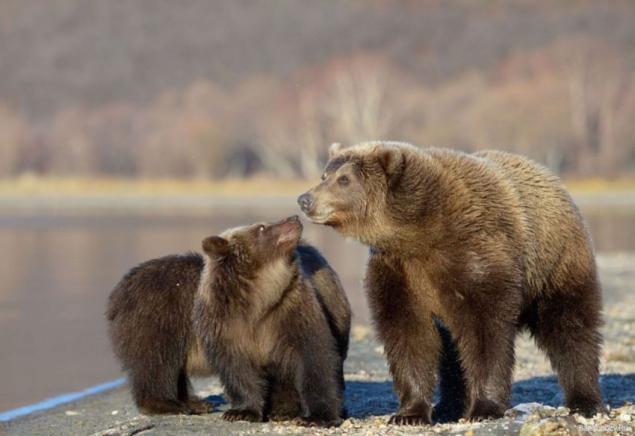 Nenaselenka. Suddenly we saw on the banks bear with cubs. Bear
looks at us. To the coast - about fifty meters. Human stupidity -
infinite. Feeling their total impunity, lifts, lift
paddle, enclose it like a gun and aiming at the bear, screaming:
Broads, broads !. Bear immediately thrown into the water and floats on
towards us. Yes, as floats! She swims butterfly style to us -
rowing with two legs, sniffing at every stroke. We understand that
this creature devour us, thirty seconds. Grabs the oars and
Grebe. Yes as rowing. As in the slaughter threshold when each
stroke - life depends. Moreover, the threshold may be lucky. And this beast,
fool could see, will not leave us no chance. The worst thing that
beast swims faster than us, despite our superhuman efforts,
the distance between us is slowly declining. So she and we ate, but
she probably maternal instincts (left on the bank of the poor kiddies
one) exceeded the thirst for revenge. At some point in time bear
turned and calmly doggy style swam to shore. We do not
stopped rowing in frisky pace, as long as the cheerful little family not
disappeared around the bend of the river. And all this was happening, almost
silence, not counting any sniff and lamentations. Minutes
some, after the race was over, we were still sitting in silence.
Then Sergei looked at me and, surprisingly peaceful said: Well, you! .. Then chuckled and said :; And, you know, why it
turned? We are so tension and fear that her breathing was
nothing.