Fashion Weeks season has just begun and the dynamics of the New York Fashion Week to be a British classic.
Marchesa Party in honor of the 10th anniversary of the brand
The favorite of Hollywood stars, creates an air outfits for carpet tracks - Marchesa designer brand was first organized their parade in London.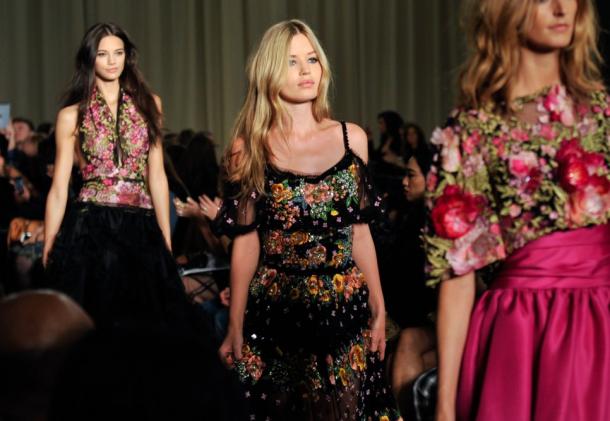 Figures from the collection of Marchesa, S / S 2015
However, London's trendsetters rejoice early because of the schedules of New York Fashion Week designer is not going to disappear in the next season will return to the previous location in the heart of the "Big Apple".
Two green activist, designer Stella McCartney and her colleague at the trendy shop Livia Firth together and demonstrated in London eco-collection called Green Carpet Challenge. The aim of the event was the introduction of ethical principles in the production of fashion. Firth has previously noted the cooperation with Vicky Beckham and Burberry. This time, the designers spent a large-scale action, presenting a whole line of products to attract even more attention to the problem. Loud party was held in the evening of the same day, and gathered at the Royal Institute of British star guests.
Iconic boutique Mayfair, located in the popular London Dover Street Market, this year celebrates its 10th anniversary, in which the world's leading brands were invited to express themselves in a characteristic manner. So French House Louis Vuitton presents pop-up boutique, which will run until the end of this year. Sacai, Simone Rocha and Rick Owens created a limited edition line of products specifically for the event, and Rei Kawakubo even tried his hand as a designer gift items.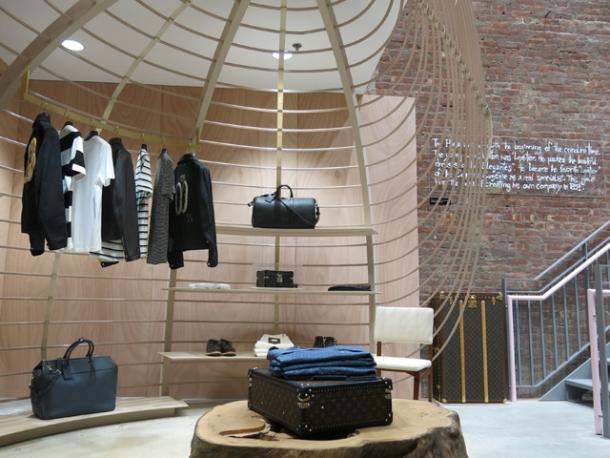 Pop-up Louis Vuitton boutique in New York
Thomas Teit - winner of the prestigious contest of LVMH - debuted as part of London Fashion Week. Fashionably-oriented public also expects the show brand Shrimps, and during the show from Topshop presented their collections "newcomers" - the designer Faustine Steinmetz and Danielle Romeril.
The popular mass-market brand Topshop has launched a social initiative through Facebook and Twitter, which involves placing a photo backstage with the network earlier than the images of the models will be showcased on the catwalk. The initiative also joined the UK's leading brand Olympia Le-Tan and Laura Bailey.