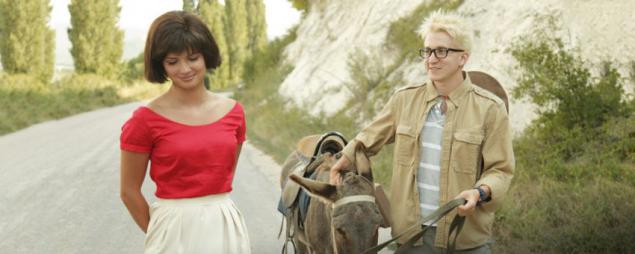 One and a half hours of the new "Caucasian captive" with an exclamation mark at the end, the experience proved to be not a little painful. In order not to run out of the room, slamming the door, or from stress to stay awake, I tried to think about something extraneous. In my thoughts, do not laugh, he is emerged Borges. Not that high art protection against low; Argentine writer was simply brought a delightful remake of the formula in his 1939 short story "Pierre Menard, author of" Don Quixote ". There, if you remember, the hero lives laid out not to alter, namely to re-write (word for word) novel by Cervantes, but more than a few pages are not mastered. But how much new content in them opened!
Each remake, no matter how accurate, says nothing about the primary source, or the time when he was shot, but it says a lot - intentionally or not - of our time. Everyone, but not a "Prisoner of the Caucasus!" Maxim Voronkov. Before us is a significant exception to all rules.
We learn about Leonid Gaidai, whose delightful comedy new Russian cinema is still a miracle get round that he was a genius, and not able meynstrimschikom and, as they say, "good professional". Geniuses are different from the others in that it can not be remakes, sequels and parodies; to do this in relation to Gaidai - the same nonsense as trying to reshoot the "mirror" or "Solaris".
It is reported that some of the time when the original was shot "Prisoner of the Caucasus": 1967 was a crazy era of creative freedom, in some cases, can replace political freedom. Invented Gaidai Caucasus was both biting satire on postottepelny USSR permissiveness of officials and carefully hidden savagery of manners - and escape from this territory somewhere in the mountains, the sky, the sea, the young wine and totally otvyaznyh humor for which, apparently, there are no taboos. No wonder that, in general, the only Gaidai comedy about love (not counting the short "Obsession").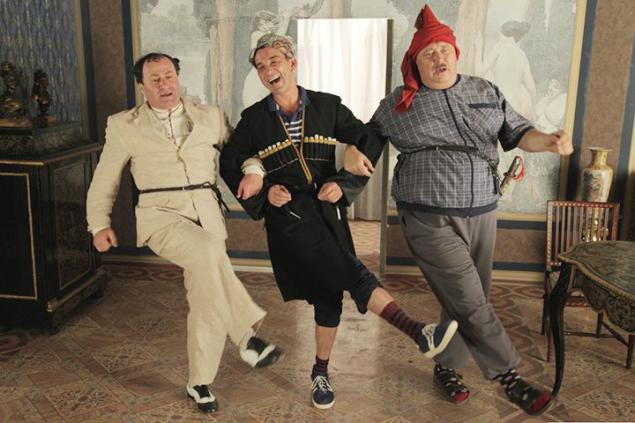 But the other day about our new "Prisoner of the Caucasus" does not mean absolutely nothing. And what he says? To answer the question is almost impossible. This film - not even void and sucks you into a black hole vacuum. Almost all the actors (especially the legendary trio, carefully but clumsily copying the gestures and facial expressions prototypes) look as if they were found in the doubles competition - but competition, which was held not in a big city, but in a random village, so they look like too . For a few celebrities - Gennady Khazanov in a white jacket or Stalin, Mikhail Efremov, with an emphasis in curly wig - just a shame. All the horrible grimace and often frightening smile, as if the aliens, who are trying to pretend to be people. Per person a little like a title heroine, she's Anastasia Zadorozhna, but solely due to the natural gift of nefalshivoy smile. Trying to repeat word for word the old picture, joking all the same jokes seem hour and a half session of rape - and it is not clear until the end who is raped Hyde or did you, sitting in the hall. However, there is in the picture and try to make a joke is something new. For example, Coward, Bobby and Experienced satisfied "foam party" with a fire extinguisher, and Shura escapes from a mental hospital by the method of the game Angry Birds. Although it does not make a modern film, shot as if in some sort of time capsule and still improbable that by the standards of 1960, that 2010's.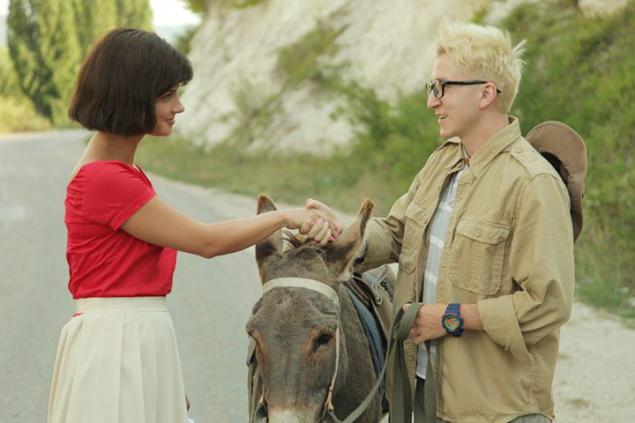 Above this spectacle did not even want to mock: too easy a target. It is interesting only to understand - why (NOT relevant leave the question "why?").
To earn? But you can not go to fortune-tellers - the film failed miserably. "Word" he will have extremely negative: if the nostalgic and go to a movie, only to run into the screen stockpiled Rotten Tomatoes, the young do not understand what's what. In order to fulfill the social and political order? But then I had to catch a trend called "Crimean prisoner" since shooting in Yalta. No, this is also a shot in the milk. The film even has shown the authorities the fig, although quite helpless: Saahova-Hazanova not put in the final, and justifies, and makes it his double in the mantle of a judge. But when the same character is lovingly strokes the portrait of the president on the wall, he's just going to open a hidden safe behind him, where he keeps alcohol.
Yes, the new drink "Caucasian captive" desperate than in the old - and it is clear: if you drink enough, you can forget what you do is shoot. Sometimes it seems that the authors got the budget, such as the painting "the Caucasian captive" to show it on TV, and then suddenly remembered that she and so color - well, rushed to master money. State, among other things. Probably, that is no reason to complain about the "misuse", but a good reason to question the appropriateness of state institutions such as the cinema. Or let him have added to the full state support censorship, rights of insurance against this terror.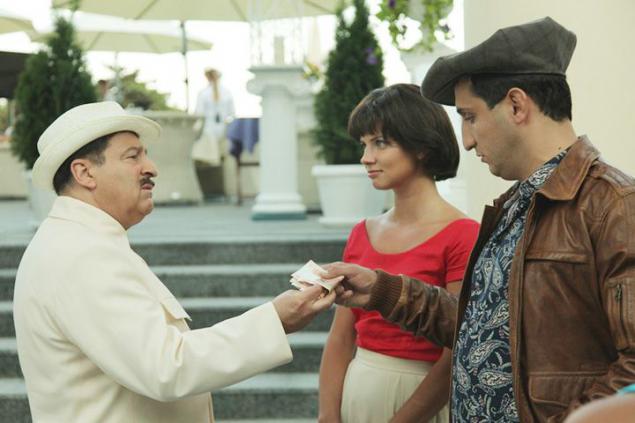 Censorship would not pass intrusive product placement famous Crimean champagne. It would not allow the mixing of marvelous and totally out of place here - but it causes the viewer, like Pavlov's dogs, the reaction is instant salivation - Alexander Zatsepin music with hits "Visitors from the future" and Timothy. Arranger of songs about bears and the Sultan, hopefully, censorship has given life to wolf ticket. Hazanova be dressed, combed to Ephraim, drove to vzashey Sharakois Dmitry - who readily believe, is organic in the "interns", but as a walking Shurika seems blasphemous. And the rest of the crew would have said, 'Guys, maybe we should not? Maybe you try to write your script? Turn on your own sense of humor? »
They would not have happened.
--img6--
Source: vozduh.afisha.ru