As the family lives, which was born just four children.
House of Mary and Vladimir Lukashevich noisy as in kindergarten. Two boys and two girls the same height scurrying from room to room, shouting, interrupt each other, showing the toys and take turns telling poems. They were born almost five years ago, and there were just four. When planning a pregnancy, such a gift waiting for their parents. The International Day of Families, we'll show you how they live those who have got children wholesale.
14 photo, via.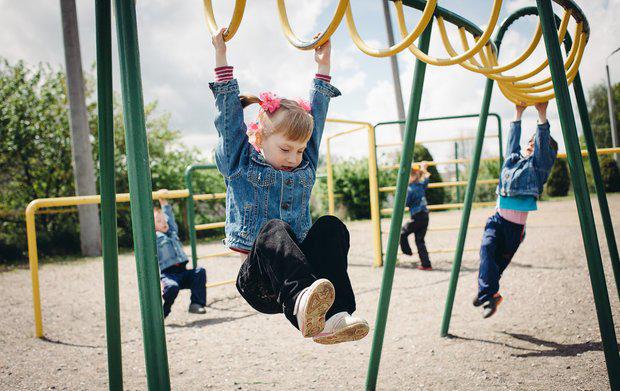 "Why are so few guests?" - Angrily asked the kids, meeting on the threshold of a journalist and photographer. They are used to big and noisy company. In addition to parents and four children in the 5-room apartment in Ashmyany (Grodno region) lives of their own grandmother. Regularly come to visit relatives and friends of Maria and Vladimir Lukashevich - willing to help a large family a lot. And the first few months after birth, doctors and journalists went in droves. The birth of quadruplets in Belarus rare. Last year, for example, across the country - only one case.
A risky move: "They told me that I risk not only the lives of children, but also their own»
Children sit in a row on the couch, and we begin to get acquainted. The oldest child in the family of Cyril. During pregnancy, it lay beneath all, and as my mother says, is closer to 8 months "could not resist." The birth was extra, November early in the morning. And although the plan had to take them four medical teams handled one on duty.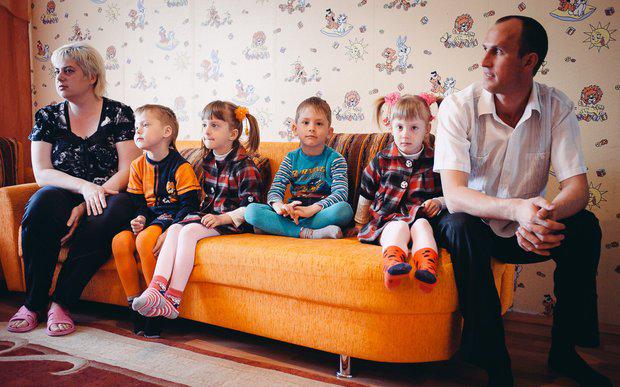 Vadim was born second. Then he was born Karina, and Ira - the latest. It is called "the younger daughter." The boy received a very different, and the girls are very similar to each other - differ only in color hair and eyes. According to Maria Lukashevich, she wore children still relatively long for quadruplets. Usually make "Caesar's" is already on the fifth or sixth month.
Doctors were closely watched Mary throughout pregnancy. From the outset Ashmyany warned her that the birth of quadruplets - a very risky move. In an emergency, would save or children or mother. Woman screened regularly in Minsk RSPC "Mother and Child", lying on the preservation of months. Although the state of health, said four mother was good.
It keeps your feet to the last, keeping his hands a huge belly. Although in the beginning and I could not think that will give birth to four. Until the last trimester belly was quite undistinguished.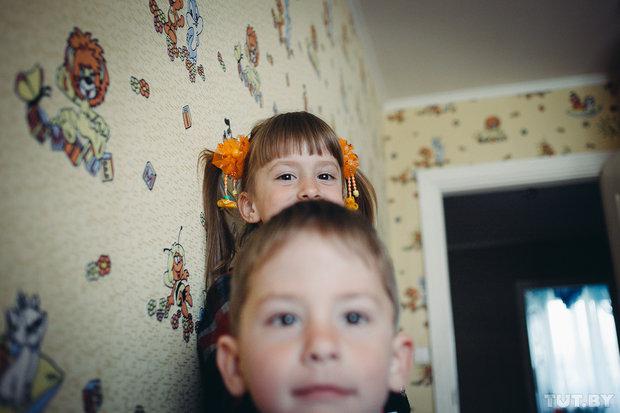 They wanted to "at least one child," got - four
At the first ultrasound spouses Lukashevich told that you need to expect twins or triplets. And again, the doctor start with the words: "No, no triplets." Mary thought that someone of the children managed to survive. And then she heard the unexpected: "Three children will not. It will be four! "At that moment, the woman decided for myself, that where the three of them out there, and four - do not worry.
 - I really wanted a child. My husband and I have been married for over a year, had planned to start at least one. There hear - does not work, then - does not work, that you start to think: if only one turned out.
Twins at the time were relatives of the line of Vladimir, so the news of multiple pregnancy of his wife, he was not surprised. But acknowledged that it is very worried about the health of the Virgin Mary and the children. I breathed only when he learned about safe childbirth.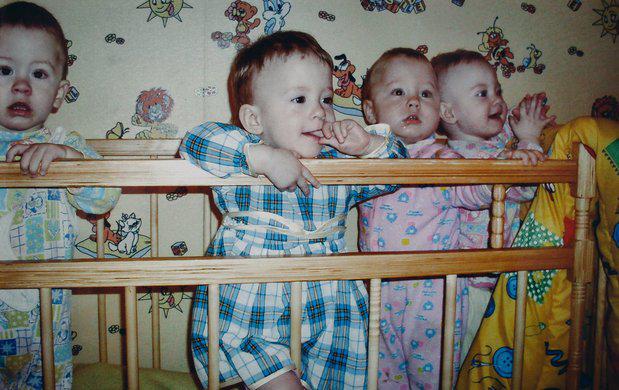 Children born very small. Senior Kirill weighed six hundred pounds, and the rest - a little more than two hundred pounds. Therefore, the first months of the kids spent in hospital. Even Mary saw their children only after a few weeks, in the hospital was quarantined, and the children would not let anyone. Toddler taken "a la carte": first, Kirill and Irina, and in a few weeks - Vadim and Karina. The girls were so similar that their mother, looking at the Carina almost turned gray, "As Irina here? She's at home! »
12 bottles, 4 beds and 2 twin stroller
Breastfeeding soon four, according to Mary, it was unrealistic, because she immediately went to the bottle. As I remember, there were twelve in the apartment - on milk, for juice and water. Every child - color. Four walker, four beds, two twin strollers - all this wealth family Lukashevich managed to place first in a small two-room apartment of mother Mary.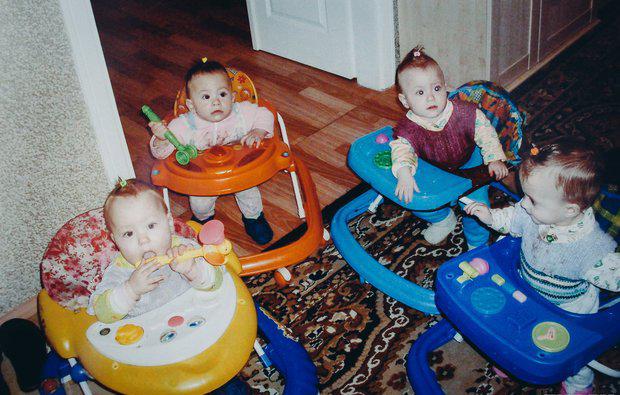 Behaved children the first months of remarkable: they ate and slept together on a schedule. But worries still were many. The process of bathing or charges for a walk is a real challenge. "One child is difficult to buy, and you try to turn on the four" - says Maria's mother Regina Romanovna. With the birth of grandchildren, she had to resign officially and get a nanny in a family Lukashevich (babysitting family have been proposed in the Oshmyany territorial center of social service).
 - When I see on TV that someone gave birth to twins or triplets, I think, "My God! That someone rolled a fortune, as we used to be, "- says Grandma. - Very sorry for these people. It is also good that we are on the hands of children are not taught to take, and would go nuts.
At first, the family could not understand Lukashevich who have children attending physician. According to Maria, every day for them to come new people. "It was a marvel to physicians. Seek out any defects, asked whether all fingers and toes. We could not believe that they were born healthy and full-fledged four children. Passers-by also constantly looked into the carriage: everything is in place? »
Free five-room apartment: "After listening to a lot of reproaches from the people»
Unable to withstand the long-togethers with reporters, the guys started to show us their toys with their parents a tour of the brand new apartment. Girls for two - one large room. It put two desktops computers, two separate sofas.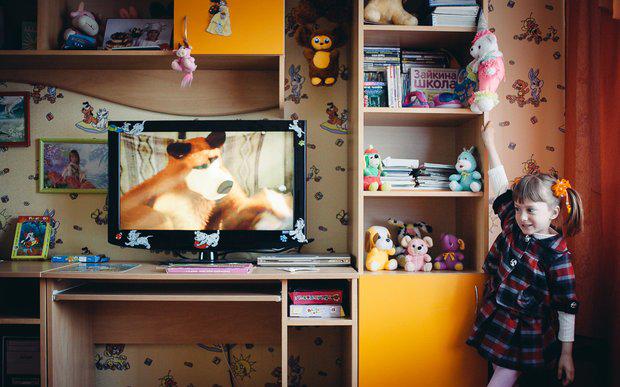 Each boy - the room, though a smaller area than the sisters. Future living room is empty without furniture and serves as a playroom for children. Add to this the parents' bedroom - just get five rooms. Initially, the state pays 70 percent of the apartments, and since last year - has taken on a commitment to 100 percent payment.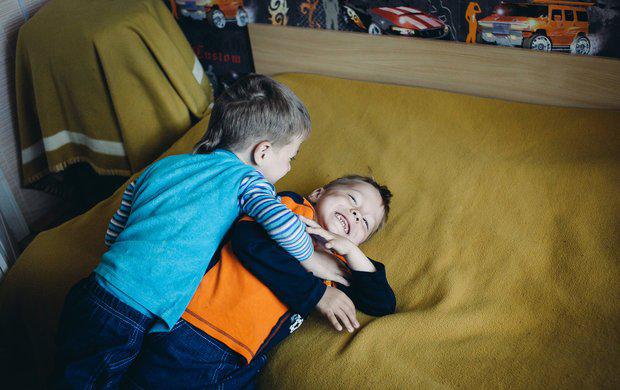 Maria says that a proposal to solve the housing problem called her on the first night after returning home from the hospital. In November, the boys were born, and in December passed the house in which the parents of large families have allocated an apartment. The woman had a chance to listen to a lot of accusations from those who stood in line to build before it. She herself could never have thought that in a moment turn of childless women with many children.
Step move (Spring 2010) is remembered as the parents of the most difficult of all time. Each of the children began to live according to your own schedule. While one is asleep - the second is eating, the second fell asleep - woke up the third. According to Vladimir, the first year he could only dream about, to get some sleep. But it had the heavy burden to provide a large family. At that time, he worked as an electrician, but then had to leave - "little pay." Now he works as a driver and goes to travel to Belarus. And the possibility of trying to earn overtime.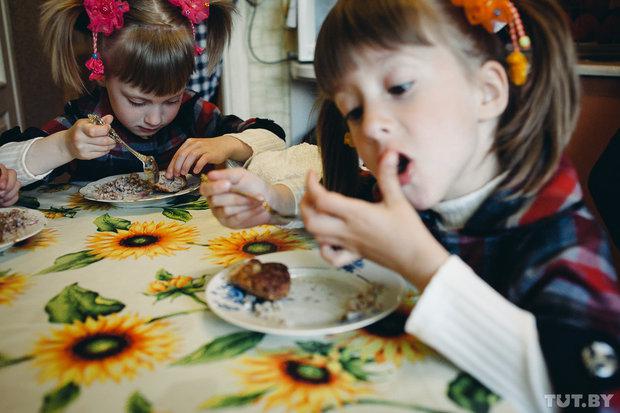 7 million in the six 'confidence comes largely refuse »
The first years after the birth of quadruplets wife Lukashevich felt good financial support from all sides. The state gave the apartment. The bank, in which Maria worked as an accountant - the car. In addition, about 20 million (at the exchange rate on the year 2009) a young family from the bank to deposit. From the executive committee went to the plasma TV. From the slaughterhouse, where the woman works today - freezer. Due to child benefits for three years, the couple were able to almost completely furnish the apartment.
Today, when the benefits are in the past, we have a much heavier. All the family budget of about 7 million a month. Children are leaving most of the money.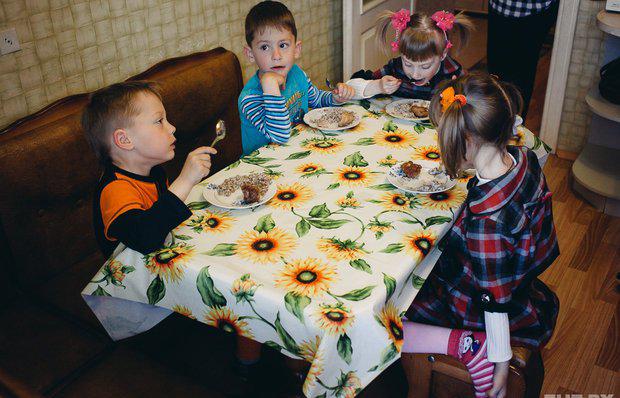 - Of course, you want to and the food was good - fruit is constantly on the table. Candy, we are not translated, the children - terrible sweet tooth. Clothes to buy, imagine: at one point it is necessary to buy four pairs of sandals, for instance. All children are the same height, so continue wearing each other can not. Of course, there have to deny yourself many ways to buy everything. Relatives helped grandmother. Kids Back to School - and was already thinking how to collect them. Free apartment - it's just a wall. Children need to be lifted to his feet, and it's a big responsibility.
For one another mountain, "to protect the native as scorpions»
But the rest of the children grown up with was much easier to tell the parents. The boys dress themselves, do veiled bed, even to get out of the apartment to help seniors. In a large family of children from childhood accustomed to independence and discipline.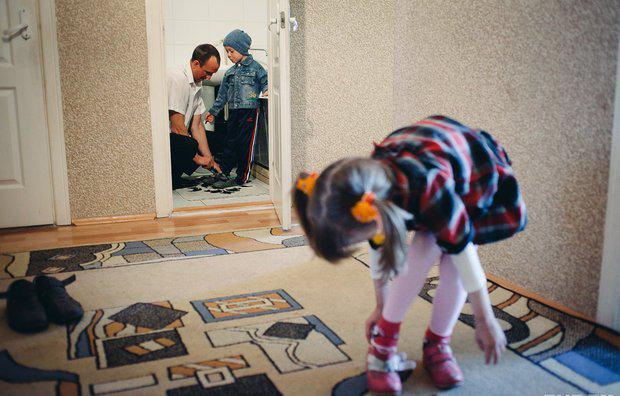 - Of course, with four children need a lot of patience. For example, when coming from the garden, everyone needs to be told how the day went. And for this, two little ears, you have at least four! In the evening, each must be dealt with, to hug, to tell you I have the best and most good - shares his experience Maria Lukashevich.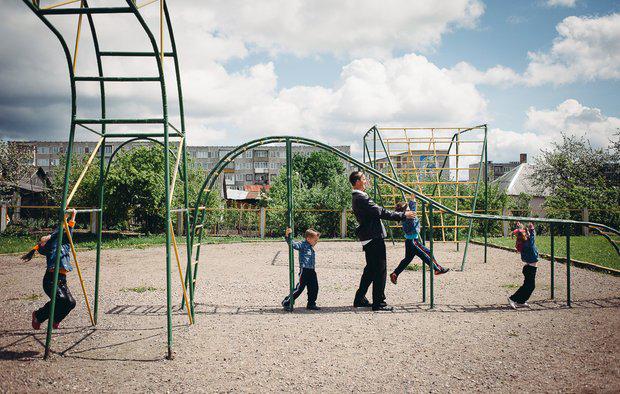 Father because of the work at home is rare. But when it is possible to allocate a few hours to spare, a walk with the children falls on his shoulders.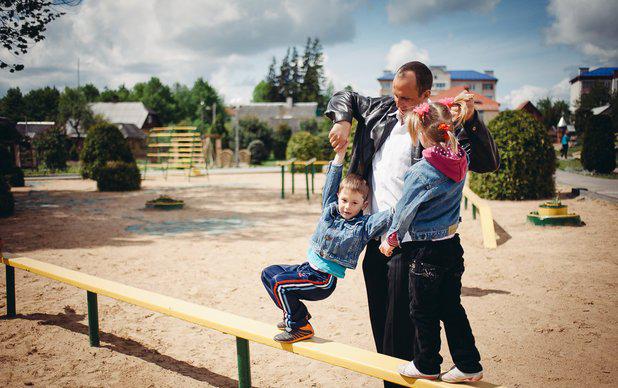 As we have seen, with four kids walk down the street is not easy. The children rush forward big and friendly company, and for them keep an eye.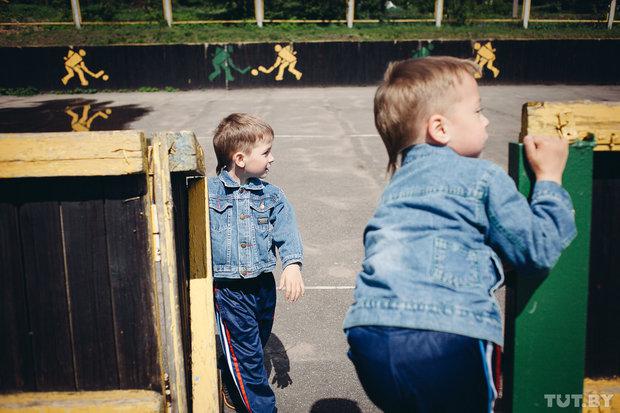 But Mary at this time, instead of relax from the noise of children's voices, experiences. "I'm so used to that they are next. I need them to see and hear. And when they leave, my heart is not in place, constantly look out the window. Many people ask me how I get tired of four. In fact, get used to it ».
Children, too, have for each other warm feelings boast adults. In the garden they went to the same group and try to always stay close. Houses may fight, but if the garden of someone from their brothers or sisters hurt, protect each other, like a scorpion. If you are going to visit on separateness, asking to call a brother or sister.
 - Of course, it is easier, perhaps, when the children are born one by one, - says mother active Quartet. - But we've got a different way. I believe that it is given to us from above - so many children. Perhaps we are very good parents.
This colossal work, having neither a weekend nor holidays. That sleepless nights when there are teeth and the chain reaction to wake up to each other, and then try to lay me to sleep all !!!
And mom and dad are not looking at all the difficulties, lack of sleep need more attention, love and affection to give baby!
respect and admiration !!! happiness, health and patience !!!