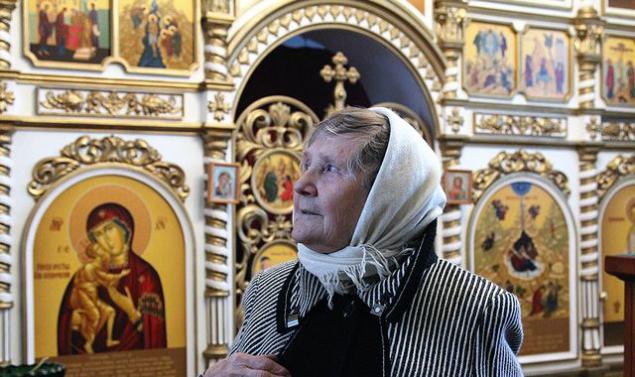 75-year-old Zoya Popova took seemingly for the impossible: to restore the lost village temple. Seven years fundraising for a penny, problems with builders, and for several years the small church is open to parishioners.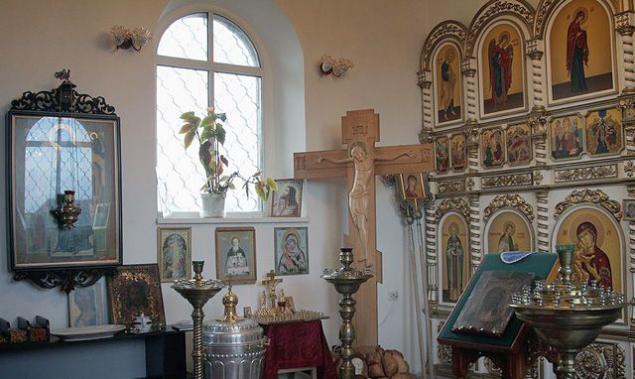 On the hill of the village on the route Rybinsk Artemyev - Yaroslavl is a small Church of the Nativity. Passing by did not immediately believe that the church was built the village grandmother. Seven years Zoya Popova collected funds to different cities, people and organizations - took seven months to build a temple.
"Value to live life, to know how much the world of good people. I've always been a believer, but that's your old learned that miracles do happen - says Zoya Alexandrovna. - Temple - this is my second child ».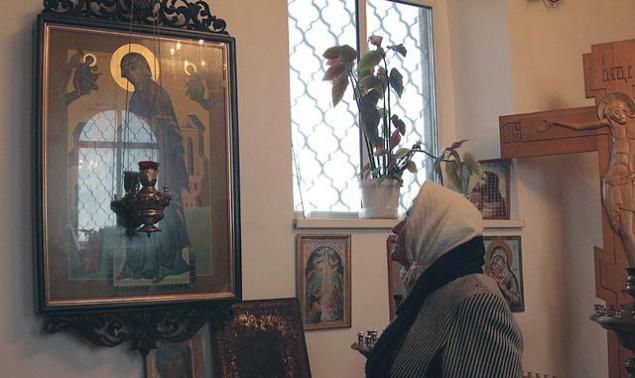 "Bolder to someone»
75-year-old Zoya Popova worked all her life as an engineer-economist at one of Rybinsk. In retirement, along with her husband came to the village Artemyev.
"In the neighboring village used to be a temple of great beauty. You go on the bus and can not wait, when you see him, meadow, stream, high mountain with Christmas trees. And on top of her church, as though raised by forest. Already breathtaking - says Zoya Alexandrovna. - He came to our village once father, confessed. Then he said, "Lord, even if someone built a tiddly church. After burying not incorrigible. " All were silent, and I thought ».
After these words Zoya Popova, at that time the youngest of all the villagers began to dream dreams about the temple, which was destroyed in 54-56 years, about its interior decoration, although she has never been there. Finally, the decision was made - to build.
"She Metropolitan Kirill, the church saw the project, said:" Oh, my dear, to whom bolder. You do not build, "- says Zoya Popova husband Anatoly. - They knew little about it yet! I can not imagine someone more lively ».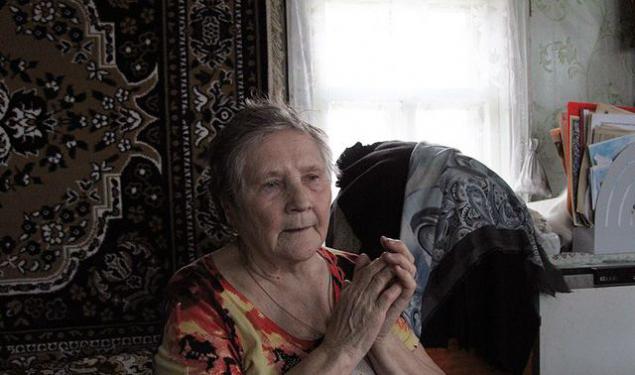 Holy money
Enlisting the blessing father, grandmother Zoe start fundraising. It was 1999. Local gave much as they could: at 10 rubles, 50 from the neighborhood for four years managed to raise 7632 rubles 6 cents - the amount is not enough. In Yaroslavl, too, failed to collect a lot of, numerous appeals to various authorities have not given effect, and Zoya Popova decided to go to Moscow.
"Where just not go. And all the banks turned to the guards: "son, let go, for God's sake! Now I have the guarantee of the lord that I have the right to collect donations. " Misses, write a petition, sitting, waiting. It's nothing. Only one bank, someone donated 3,000 rubles out of his pocket, apparently believing - bitterly recalls the pensioner. - And throw, and swindler obzovut, one expensive restaurant vzashey pushed ».
But, as recognized Zoya Alexandrovna, from harsh words and "cents in the face" did not cry. But the act of one family etched in my memory.
"I went to a house nearby village, and then three small children, old grandmother and a young woman. The house is clean, neat, but such poverty! I say, excuse me, do not go there I went on the temple gather - tearfully recalls grandmother Zoe. - A grandmother she pulls out a cloth and wrapped it 4 rubles 96 kopecks. 2, 96 I held, and currently only 2 rubles left. "Take it, take it, we have a pure heart! One of these days will be a pension, and we have crackers. " I came out of them a week cow roared. This is the richest gift holy money! »
And this was not an isolated case: Zoya Alexandrovna remembered about his grandmother at the cemetery to pay their last 2, 20, and return home to the village on foot.
Calculator head
In Moscow churches help than they could: $ 100 donated father of many children, 300 - in the Georgian church, the Cathedral of Christ the Saviour - 50 000 rubles. Yes philanthropist Victor Taryshkin - $ 2,000. In all the years Zoya Popova gather up 182 thousand rubles, they bought a brick at 4, 90, got there just before the three-time price hike.
The pensioner was sent back to Moscow. I went to the little chapel at the church under construction, saw priest, who exclaimed: "Oh, not my prihozhanochka. What do you dear? »
"I said to him: come out of the wilderness, go to Moscow, collecting money for the temple, there are no forces, thirsty. He brought me to the refectory, while sitting, talking, people ran around the cook and gather up to 3600 rubles. For me it is a lot of money - says Zoya Popova. - My father has promised to find a sponsor. And he kept his word. Calls after a while, says, come soon. International Charitable Foundation gave me a 4, 5 million ».
Zoya Alexandrovna shows photo book in which there are pictures of the construction of the temple, from the first to the last pile dome. During the construction of the family Popov had to face the dishonesty of the chief engineer, easy to run your hand in the money to the temple. Although Grandma account for every penny spent. After the case has decided to direct all by herself. The temple was built in seven months, even a couple of months were cast in Moscow Dome.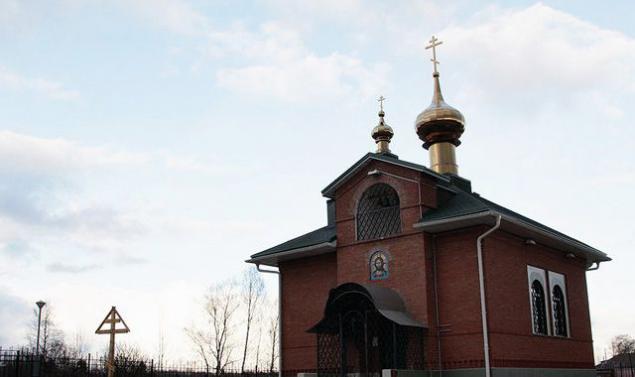 "Domes of 550,000 rubles, the roof - 450 000 iconostasis - 400 000. This is a reinforced concrete piles for the foundation we were lucky, gave only 10 000 rubles. Dedicated enough money to build the temple and buy utensils - in terms easily digits (affects work experience), says Zoya Popova. - And in the attic of the church, I decided to make a refectory: sheathed clapboard, set the table, people have presented dishes. The holidays put 45 people ».
"Temple - my child»
Zoya Alexandrovna opens the door and begins to show the area around the temple. "That pine planted, talk to them, to care for, they are growing rapidly. Here, here we worship the cross, we have his monks from Karelia did ».
Artemyev village is big enough, but uncomfortable, constantly living in it only pensioners. It seems to be close to the road, but the buses are rarely still and stop moved per kilometer. The village has no gas, no water. But with the construction of a well in the territory of the church keys were found at a shallow depth. The water is so clean that pilgrims take away her along liters. Dig a pond, and the water in which the consecrated every year - it baptize adults.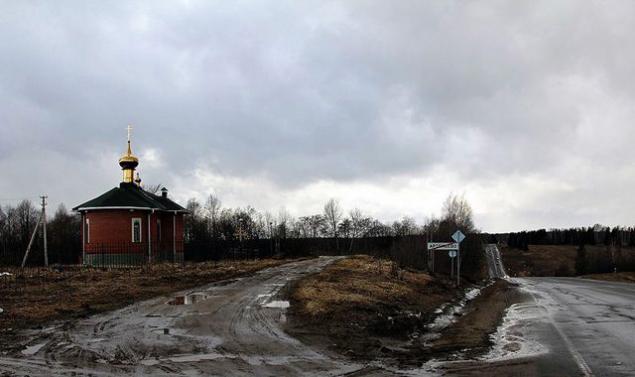 Despite the fact that the temple was built, a lot of trouble with him. Gather firewood for the stove in winter to remove snow, mow a hectare of grass in summer, clean up, polish the candlesticks, podremontirovat porch, toilet handle. Of all the assistants: Grandma Zoe and her husband - both disabled the second group, their daughter and her husband, a grandson and a parishioner from Moscow, so fell in love with a small temple that goes here almost every month.
And recently there was a new problem: smoke began to fall apart, and a stove. Well Metropolitan Kirill (formerly was the head of the Yaroslavl diocese, now - the Archbishop of Yekaterinburg and Verkhoturye) helps.
"He that is in our area, be sure you done. Come, sit in the temple, said: "The grace, then what have you, Zoya." And my soul rejoices, - says Grandma. - He helped us with the stove, put a new one, the best. Icons gave, gave money to build a well ».
The temple is open on weekends and holidays. Yaroslavl was visited by many of the other cities. But local - only one parishioner.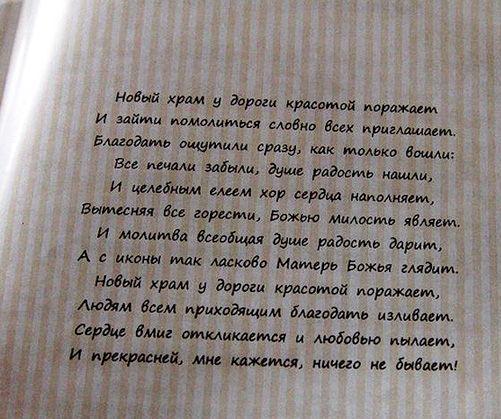 Miracles on the hill
According to an elderly couple in a small temple constantly miracles happen.
"My sister brought the icon. Dark does not understand a people of saints, no inscriptions. Put in a temple in Kyoto (frame icons), she shone all. Another case: back Rybinsk doctors from the forum, told them about my church. It was the end of November rain. I laughed one of them well, and where grandmother temple? Drive up to our village, and a rainbow shining over the church - says Zoya Alexandrovna. - A year has passed, brought from Moscow domes and crosses. We arrived to put them. We turn around to face the temple and then "royal doors" of the rainbow! We ran to the village to tell people. From 11:30 to 15:30 was a rainbow over the temple. I then tell the lord, and he told me: "My dear, gracious place" ».
Last year, Zoya A. cope just two anniversaries: the 75th anniversary of his and emerald wedding - 55 years, they live with her husband.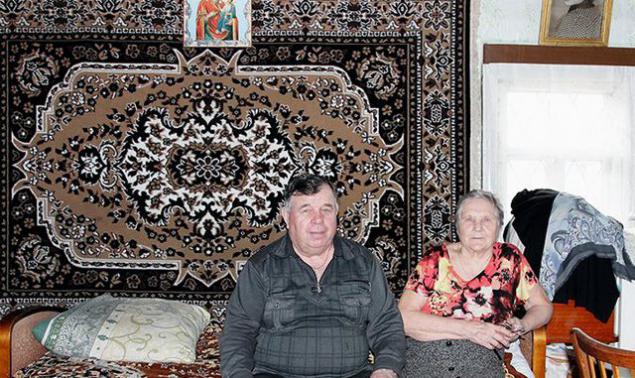 "I have become old, confused me a little. How much energy I still have left? But once undertaken, it is necessary to carry the cross. Temple - my second child - sighing, says Zoya Popova. - But as the soul of light, when they come to our village temple and feel the grace. They leave with a smile and always come back ».
--img10--
Source:
www.aif.ru