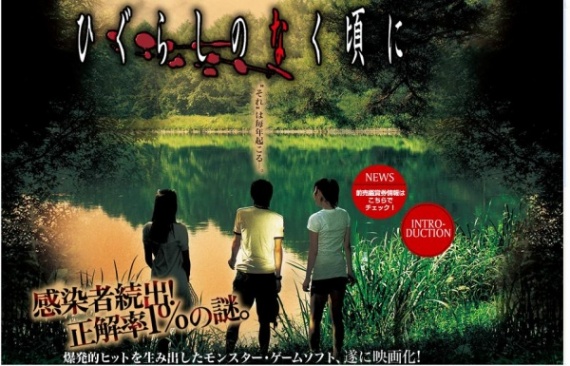 Production: Japan
Director: Ataru Oikawa
Type: full-length, 105 min.
Genre: Horror, Thriller, Drama  
Cast:
* Ike
* Asuka Rin
* Ayako Kawahara
* Maeda Gokey
* Airi Matsuyama
* It Eran
* Sugimoto Tatty
* Kotaro Tanaka
* Masashi Taniguchi
Description: Japanese teenager named Maibara Keiichi moved to the village from Tokyo, but in this village something strange happens - every year during the festival "Oyashiro-sama," people are dying, who, for one reason or another, have been associated with the construction of dams or support it construction 4 years ago (at the same time, villagers oppose construction, since this could lead to flooding of the village - "Cicadas"), or those who have encroached on artifacts, armor and weapons for the sacrifice "Oyashiro-sama." At this Keiichi gets involved and tries to understand - what is happening in reality ...