Part 1. How to soak hunting
Hunting, comrades, there is the capture of the animal for later eating. For hunting necessary agility, skill and catch the animal.
Since the dexterity and skill of labor a person does not hold, the case for small - to animals. Due to the fact that Orange has long waged a people shaped hohlomor, now in the cities had already eaten even dogs with cats, not to mention the pigs.
Therefore, we provide below the basic information for catching and cutting only those animals that can catch without any problem.
1. Rat.
Rat has a major street and basement animal has valuable nutritional properties. The rat is easy to recognize - it has a gray color, mustache, long tail and a brazen face.
Rats are 2 types:
• Rat common wild
• Rat food.
Rats generally live ordinary unattended and regular care. Catch the rat ordinary extraordinarily difficult because it vёrtkaya and sli as Tymoshenko. And Navara with a little common rat.
Therefore, trudari, we recommend that you eat a special rat food. They are fat, clumsy, stupid. Unfortunately, they are not found where no hitting. Rats were food grown in special factories, cellars.
Political Council PDRS recommends purchasing certified food rats at Dnepropetrovsk, w / m Kommunar, 5a (ask janitress Elizabeth). Rats from Elizabeth - a guarantee of taste and quality!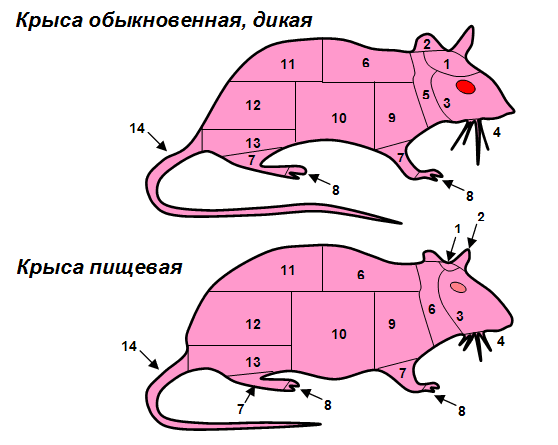 scheme butchering rat (recommendations for use)
1 - Brains (from rat food - sweet, little wild gorchat)
2 - fish soup (to dry it is necessary - and a beer!)
3 - Muzzle (messing around with her a lot, Razz which is to put jelly)
4 - Moustaches (zhudko nasty, mouth schikotyatsya)
5 - The neck (you can eat!)
6 - Scruff (hides a lot of meat a little. But skin is strong, can be sent to the bots)
7 - Shank (in the cold - already running!)
8 - Paws (low-fat, schikotyatsya stomach)
9 - Shoulder (the most delicious and Zhinkov fool, says that rubbish)
The rib portion 10 (rat food - mmm, Yum!)
11 back part (fleshy, cooking at the time)
12 of the hip (pure sirloin, comrades!)
13 Flank (delicious! They say the rat kings Flap did not disdain!)
14 Tail (the correct thing, multifunctional. But tastes like sawdust cal)
2. Pigeon city
Bold, brazen, but stupid animal. It is the bird. Color varied. From other birds dove can be distinguished by a particularly nasty kurlykane kuchkovaniyu and monuments in the area. Caught easily - conducted in Galimov "ghouls ghouls," and a few bread crumbs (or semok).
Taste average, worse than a rat, but much easier to catch pigeons.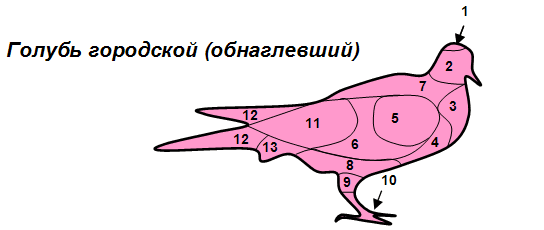 Driving cutting a whole pigeon
1 - Brains (very tasty, and you can fry and cook!)
2 - Head (tasty, but you need to chew for a long time)
3 - The lower part of the neck (so rubbish - you can give Baba)
4 - Flap (zhirnenky)
5 - Shoulder (bony, mother-in can give)
6 - The ribs (she is a beer - if the beer will be. But not - add in the urine alcohol)
7 - Neck (so-so, just aspic)
8 - Leg (not zhirёn, but protein is abundant!)
9 - Shank (small, yes richness!)
10 Lapa (the taste of stuff, but ezhli dry, it can scare women.
It is ridiculous to be)
11 Sidewall (skinny, but dityam descend)
Feathers 12 (completely rubbish, it is better not to eat)
13 Guznov (a dove Guznov not something that triggers Guznov - neither taste nor Navarro. But if the shit to clean up, then you can eat).
3. Cockroach apartment
Cockroach has a medium-sized pet, having a mustache and prytkost. From cats by the absence of a tail.
A valuable source of protein and chitin.
He likes bread crumbs, but "Ghouls, Ghouls" is not conducted. Although agility cockroach, it is easy to catch. The main instrument of murder cockroach - sneakers (you can use or Teschin Vietnamese shoes, soap dish)
Note: Cockroaches are very tenacious, so do not forget to check punch!
Recently, due to the anti-people actions of the authorities sharply reduced the number of cockroaches. But we believe that you have at home, friend, so full of them.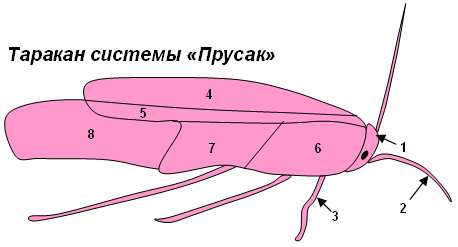 Driving cutting a whole cockroach
1 - muzzle (no brains, and do not look)
2 - Moustache (delicious, but schikotyatsya in gourds)
3 - Paws (suitable only for broth)
4 - Elytra (Note: a valuable source of chitin!)
5 - Wings (you can chew, as the bones had hammers)
6 - Shoulder (very rich in protein!)
7 - Flank (tasteless, worse than rats)
8 - Capsule (only in females, but very tasty, like caviar at shprotin)
4. Citizen
Man is a bipedal animal that already understands talk (well, much like you). Humans are divided into three categories, depending on the nutritional value and ease of capture:
1. Intellectuals
Catching intellectuals requires the least effort, however, and fat from them is small. Intellectual trusting, but cachexy. A distinctive feature of the intellectual - glasses and hat (winter - nutrievaya cap). Hunt it can be even alone. Leads to the "hey man let a cigarette!" In a dark alley. When intellectual climb over their "Priluki", immediately on his head - bang! - And butchering.
2. Working
It's people like you, comrade. Meat tough, stringy, smoky. A distinctive feature of worker - overalls. Hunt on working hard on the "hey man let a cigarette!" Can give no warning in the snout. And even worse - you yourself strelnet couple "Note».
Hunt at work difficult and dangerous.
3. Bourgeois
Bourgeois thick, nourishing, but hunting them is not easy. Incredulous, seldom go through the dark alleys (and rarely go), the largest. A distinctive feature of bourgeois - cylinder. Bourgeois need to hunt for a pack, podkaraulivaya it in the morning near the casino under the guise of tax inspectors.
Unlike other animal species, from the citizens, except miyasa and leaver, you can fuck and other pickings - odёzhu, things are different, purse. In addition, people - a large, fleshy. Hunting is beneficial. However, we must warn - hunting for the person is prohibited by law. Therefore, while hunting for men, make sure that the police were not there, and all sorts of cameras!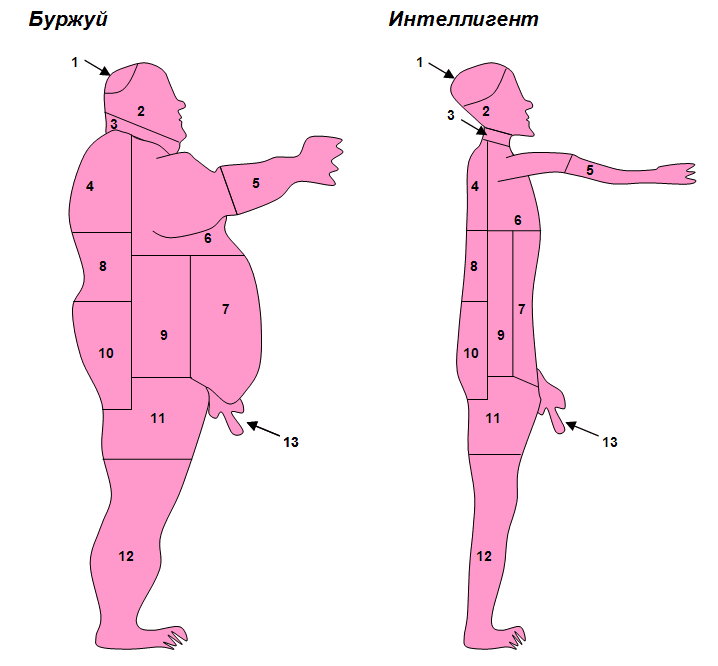 Driving butchering citizen
1 - Brain (vkusnyuchy; recommend taking at intellectuals)
2 - Suitable for all (you can drive to the football and throw jelly)
3 - neck of pork (the most delicious barbecue; note: to take only from the bourgeoisie!)
4 - The blade (carefully, teeth !!!)
5 - Shank (rich miyasom)
6 - Breast (Kostomakha - on the jellied, lёhkie - Baba)
7 - beast (gut tightened at the intellectual and richness in fat bourgeois)
8 - Butt (here kidneys, they have a lot of alcohol)
9 - Tripe (most-presamoe delicious! Although eat raw!)
Ass 10 (a valuable source of fat and protein, to take advise from the bourgeoisie)
11 Knuckle (used for making roast beef, if you know it is sho)
12 Shank (gelatin-rich bones and brain. Very tasty)
13 beats and pudendal nuclei (so-so taste, like the wings of a cockroach; Baba her give)
14 Shuba Mihov (sometimes only the bourgeoisie. There it can not, if you are not moles, but can be greasy and worn as work clothes)
15 Handy (there must be a bunch of different useless wait - cards, phones polyubovnits already worthless evryi. You can throw)
16 Hat-type "cylinder" (not for food; can not wear too. But you can pull from the cylinder of this rabbit and eat - see. Diagram cutting rat food)
Pindzhak 17- (Baba shtob floors give them soap)
18 Points (thing completely useless. Throw away immediately)
19- Cap nutrievaya (a very good thing. If you put it, you can hunt for intellectuals all night and fish soup froze !!!)