Volume figures on the pavement - this is a special area of ​​street art, based on the perspective and optical illusion. This picture - anamorphoses - can be seen only from a certain point, with only her intentionally distorted image takes the right kind.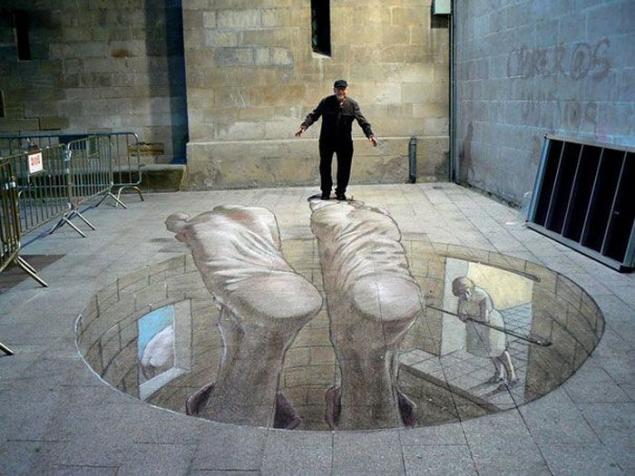 Historically, the first graph on the pavement appeared in Italy in the XIV century, then the self-taught artist roamed from town to town to entertain the people images of various religious subjects directly on the medieval square.
Today, the technique of creating a three-dimensional image plane and at the same time, based on the distortion and prospects are widely used in advertising, which forced us to pay attention to the most famous worldwide artists working in this genre.
Edgar Mueller
44-year-old Edgar Mueller (Edgar Mueller) was born and lives in Germany. At 25, Edgar realized that he wanted to devote his life to street art. Since illusory drawings on the pavement - it is for artists and hobby, a profession and a way of earning a living. Edgar Mueller draws its 3D drawings oil and spray paint. The area of ​​his paintings can be up to 400 m2 (almost area basketball court). Creating a 3D-art masterpiece from the artist takes an average of 5 days.
Ice Age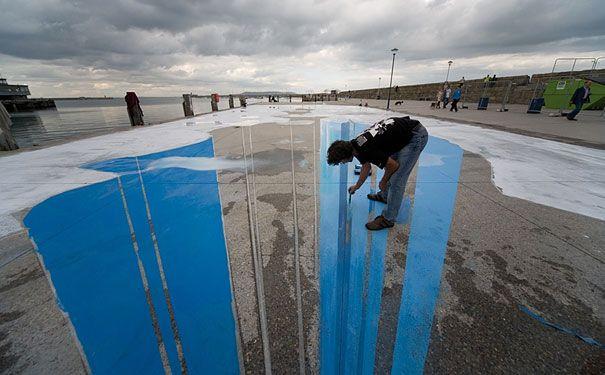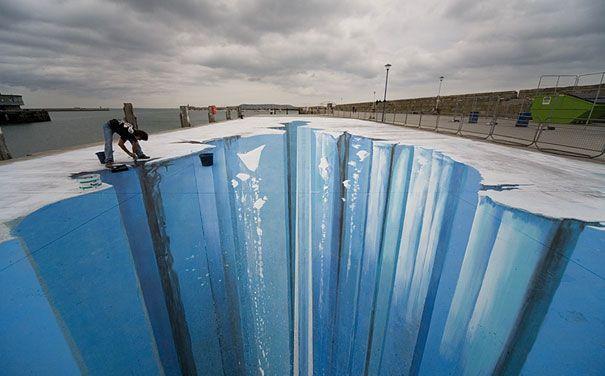 Waterfall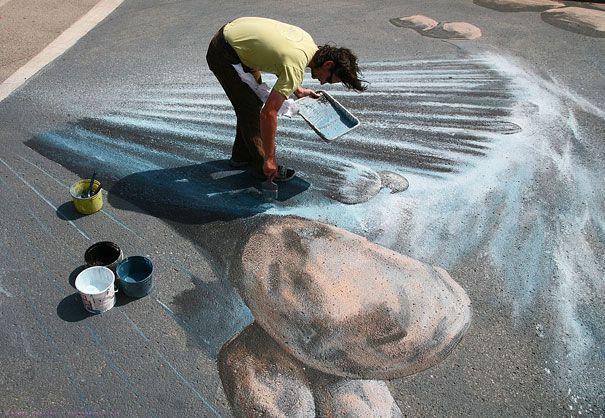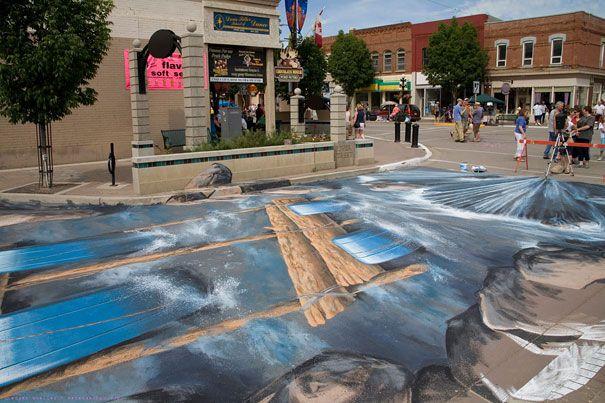 Lava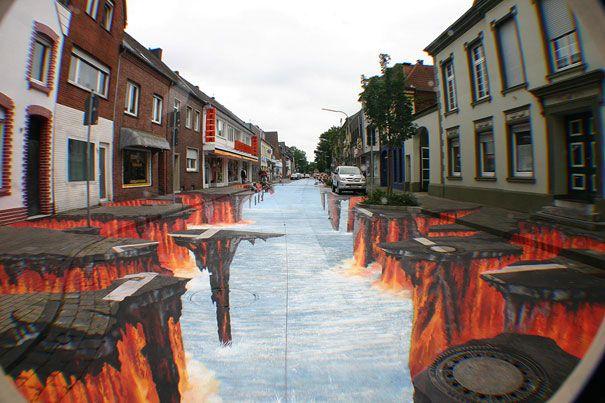 Mysterious Cave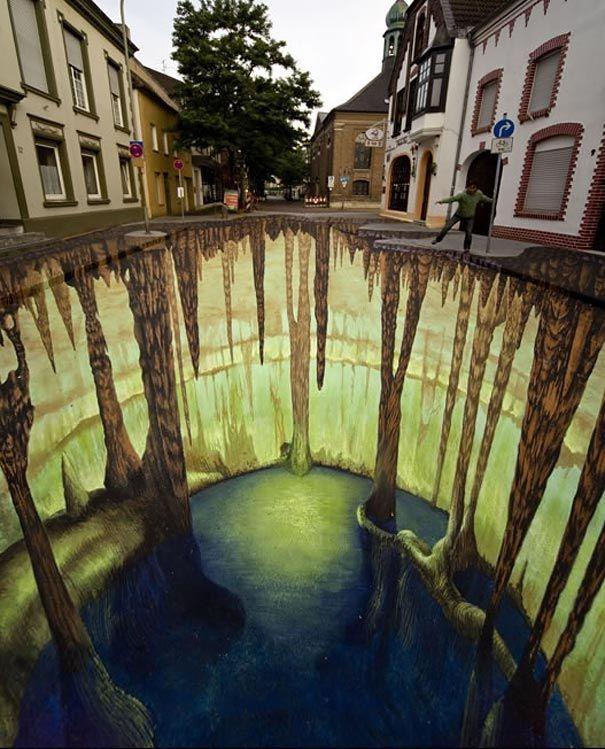 Eduardo Rolero
Eduardo Rolero (Eduardor Relero) - Argentine artist, temporarily residing in Spain - creates photorealistic paintings on the streets. Unlike paintings of Edgar Mueller and Julian Beever works of Spanish colleagues are of great social and political burden. Each figure of the artist is filled with meaning, satire, criticism or philosophical implications, forcing detain look at the picture and think.
Large rogues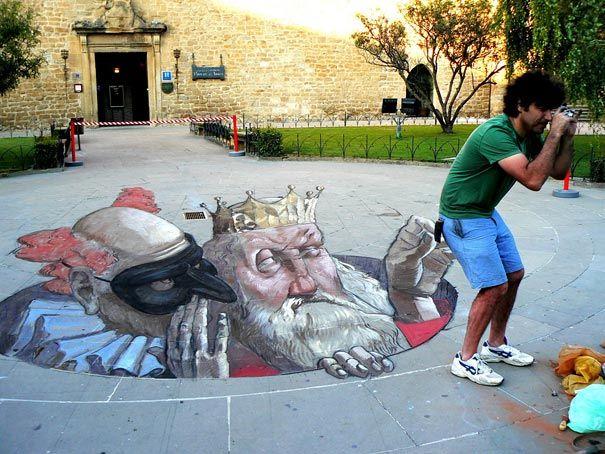 The absurdity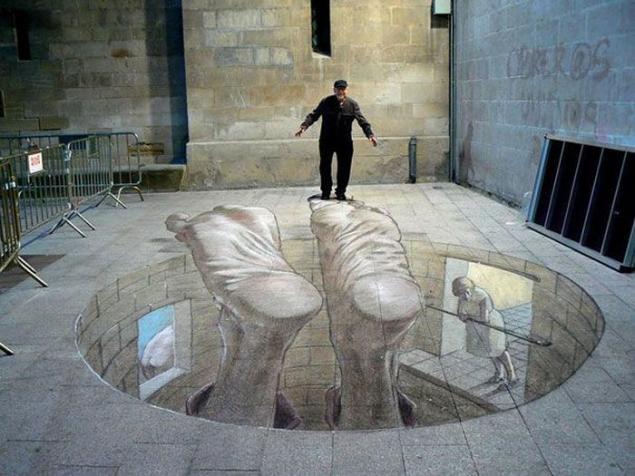 The great guru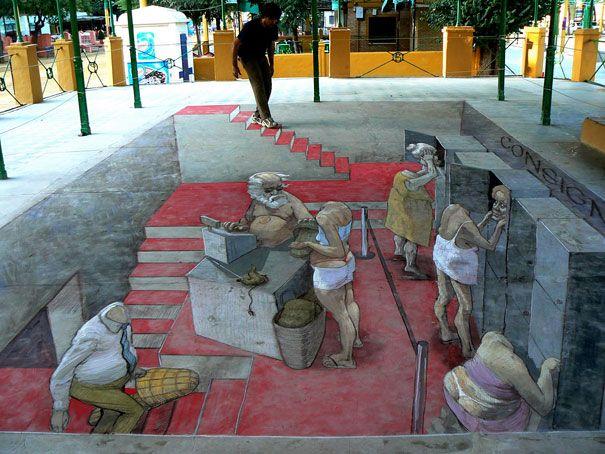 World top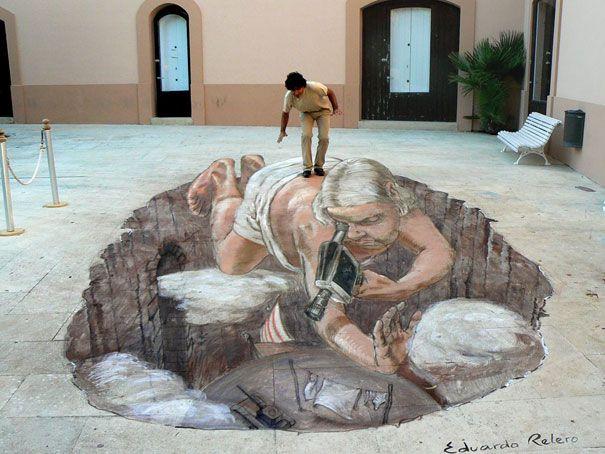 Durango 1937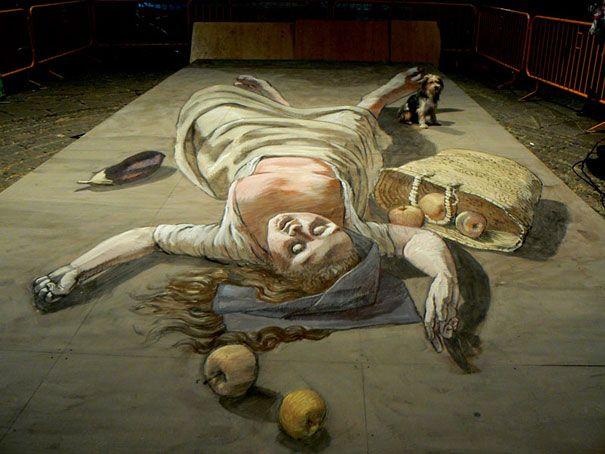 Broken dreams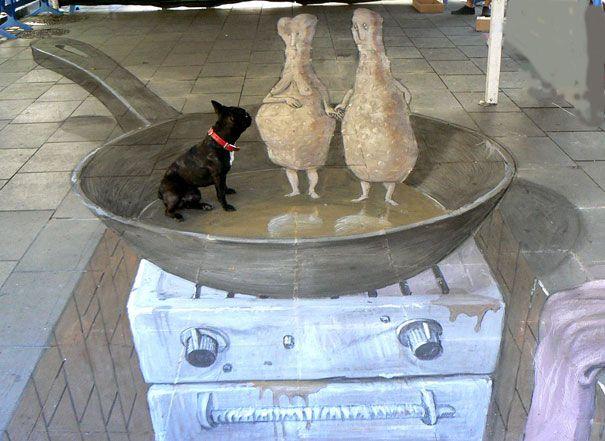 Julian Beever
British street artist Julian Beaver (Julian Beever) - a well-known painter of chalk on the pavement, and the most popular of all the artists of this genre. Over 20 years of creativity for creativity Julian has repeatedly attracted and advertising diverse brands - he even Russia, to this end came, not to mention the United States, Britain, France, Brazil and other countries with the highest level of creativity in advertising.
Pool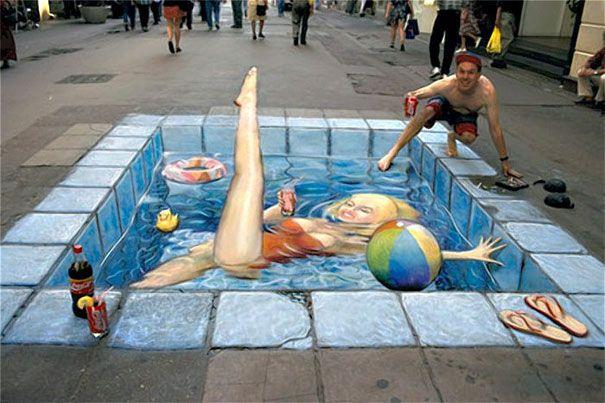 Self
Publication Daily Mail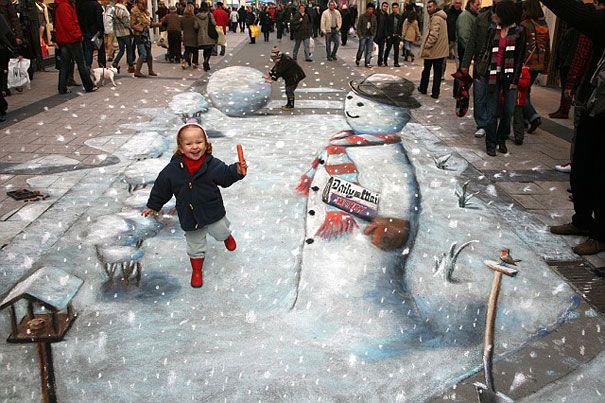 Delivery service DHL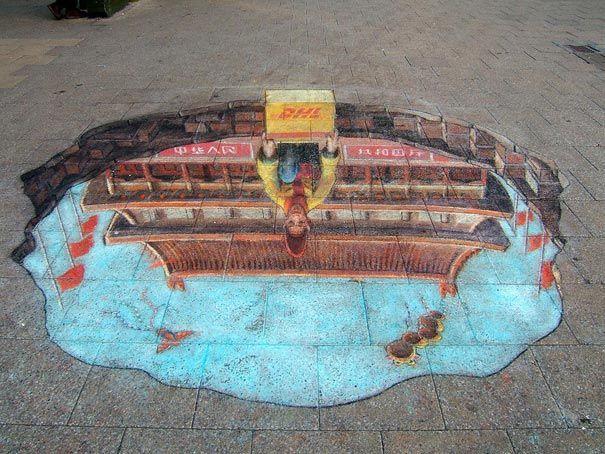 Coca-Cola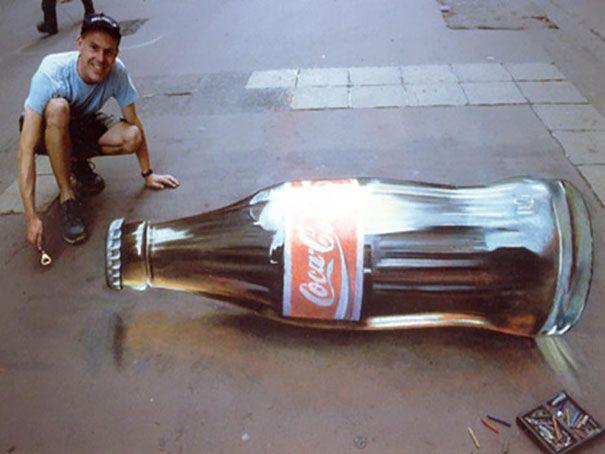 Whiskey Ballantine's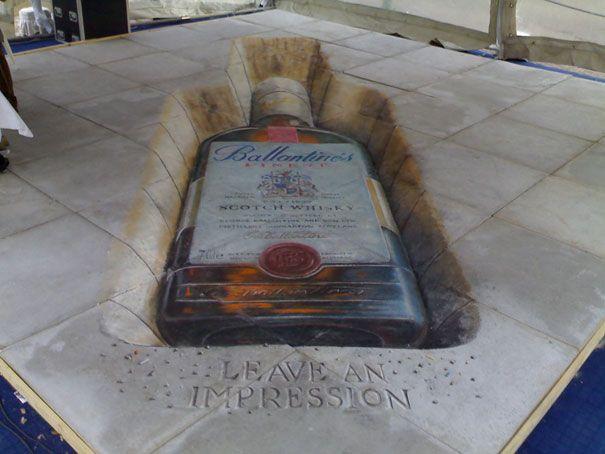 The accident at the construction site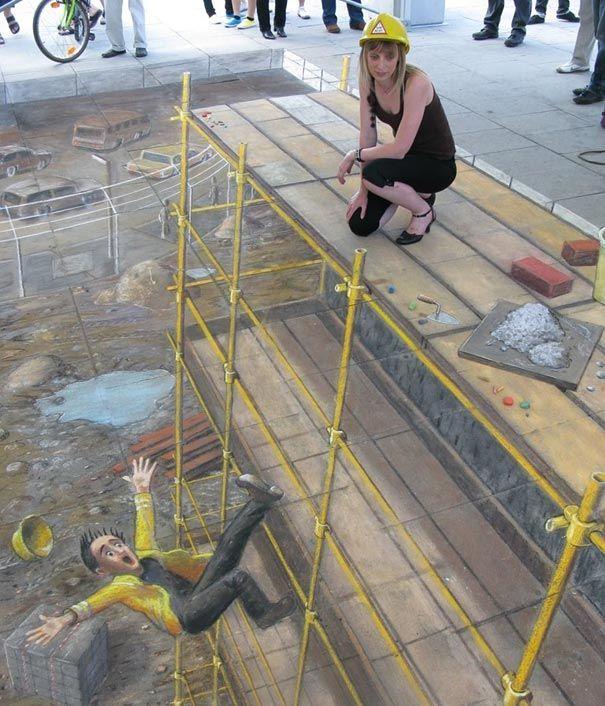 Rafting on the White River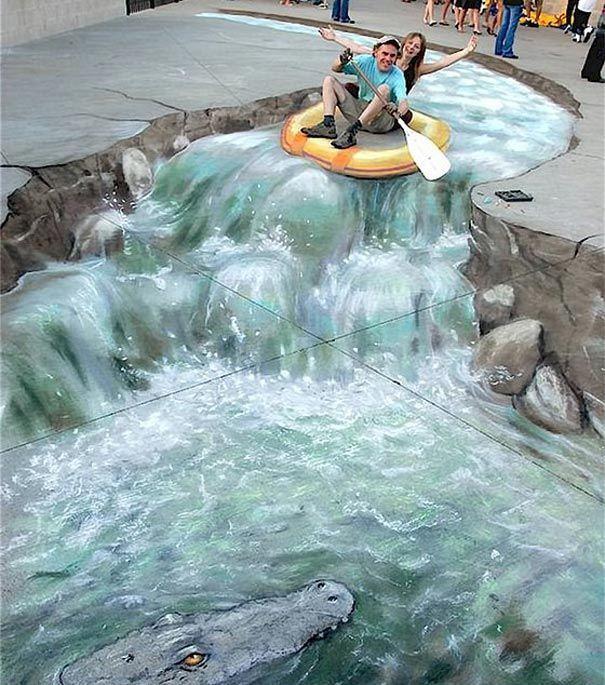 Manfred Stader
Manfred Stader (Manfred Stader) first tried painting the asphalt in the early 80s while studying at the famous School of Art Städel in Frankfurt. In 1985, he was an acknowledged master of this rare genre. Manfred Stader draws optical illusions on sidewalks and walls of houses.
Costa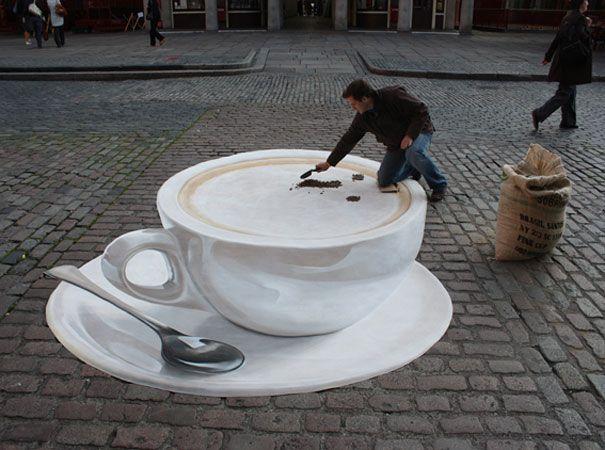 Smart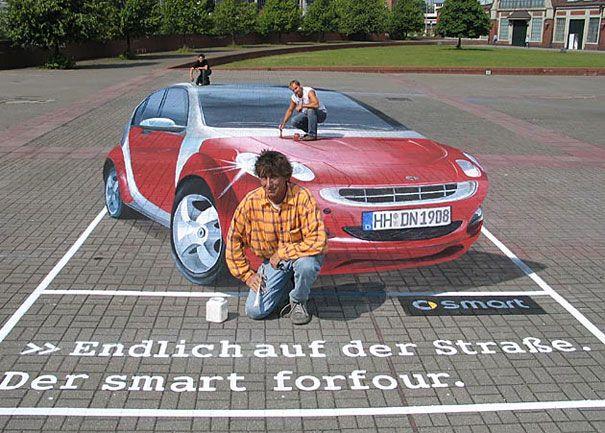 Star mild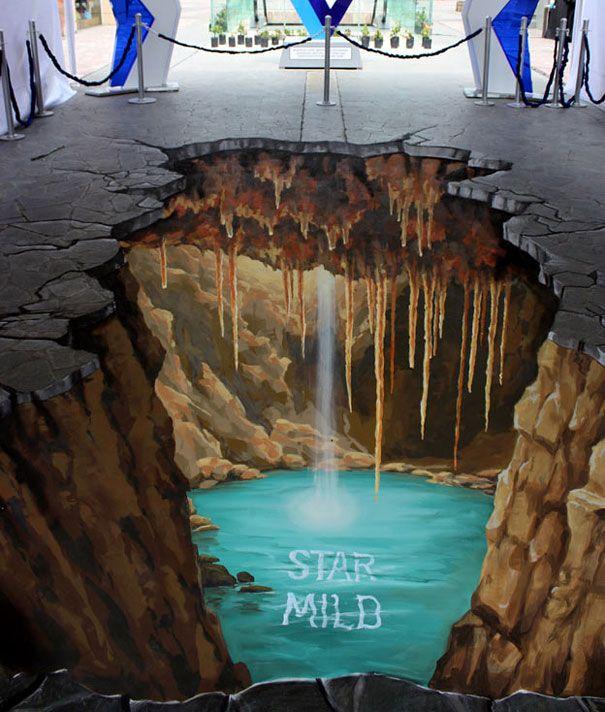 Grant's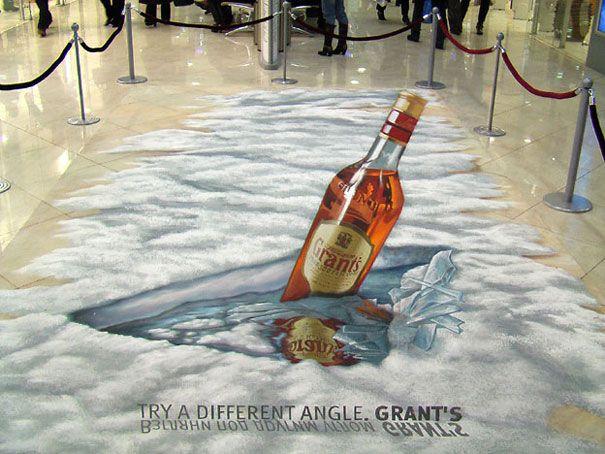 3D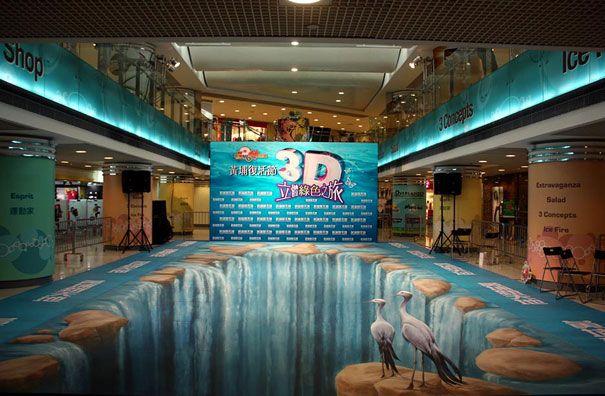 Jinro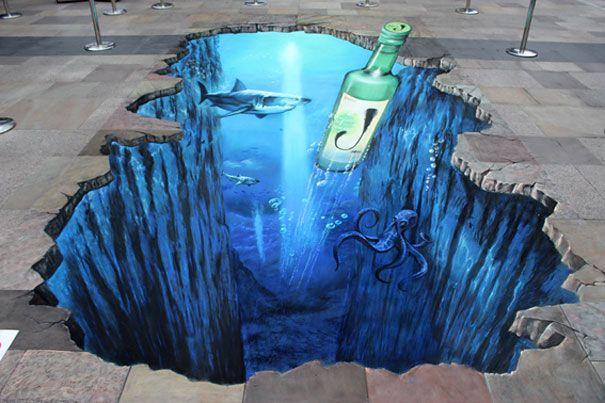 Kurt Wenner
Kurt Wenner (Kurt Wenner) - skilful artist chalk on asphalt and cobblestones. He began his career in Rome in 1982, where he went, leaving a job in NASA, to study art. The work of Kurt Wenner in Europe in 1987, National Geographic made a film «Masterpieces in Chalk» (Masterpieces of chalk). In addition to drawing on the pavement Wenner also create oil paintings, monumental painting, sculpture and architecture worked on state and private orders.
Doomsday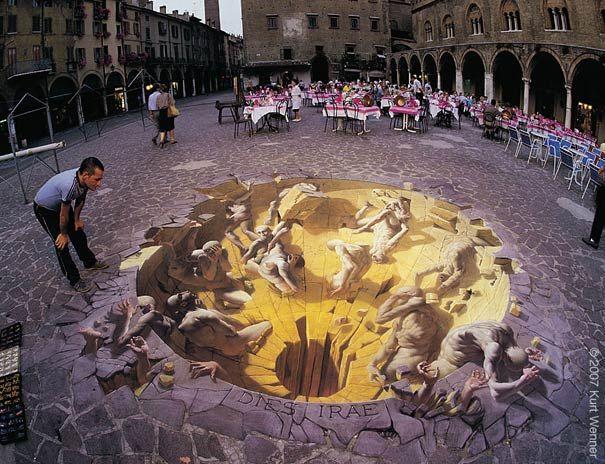 Beowulf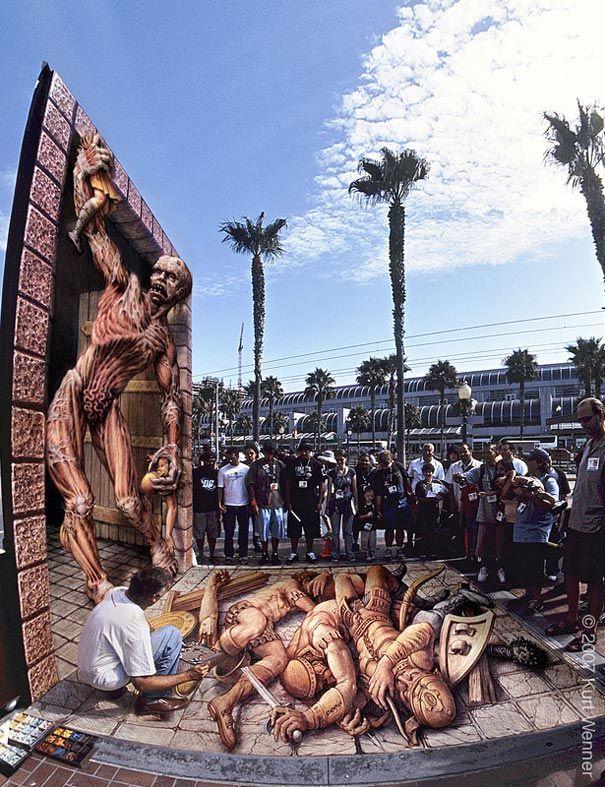 Phaeton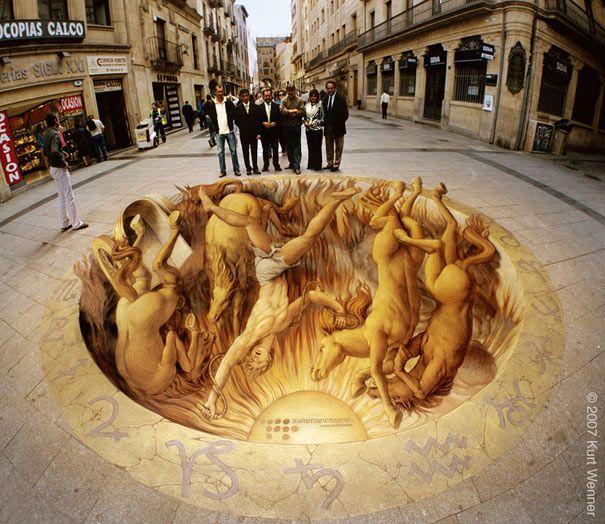 Giant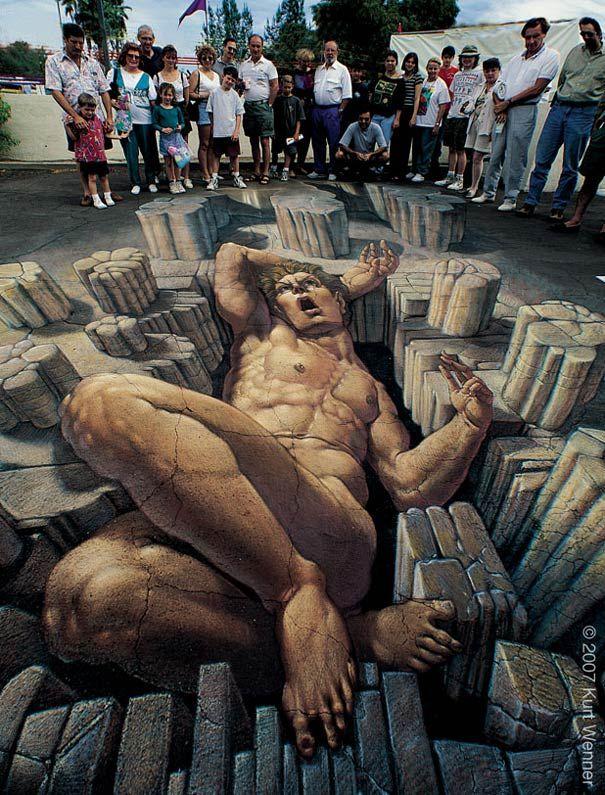 Advertising Smoothie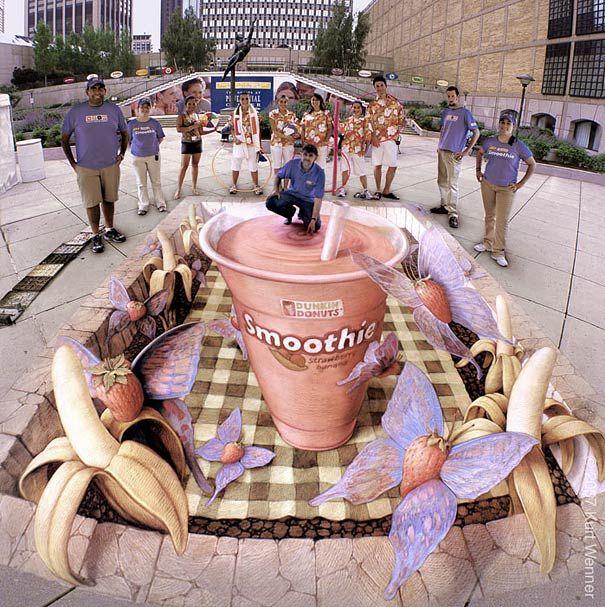 Advertisement Party Poker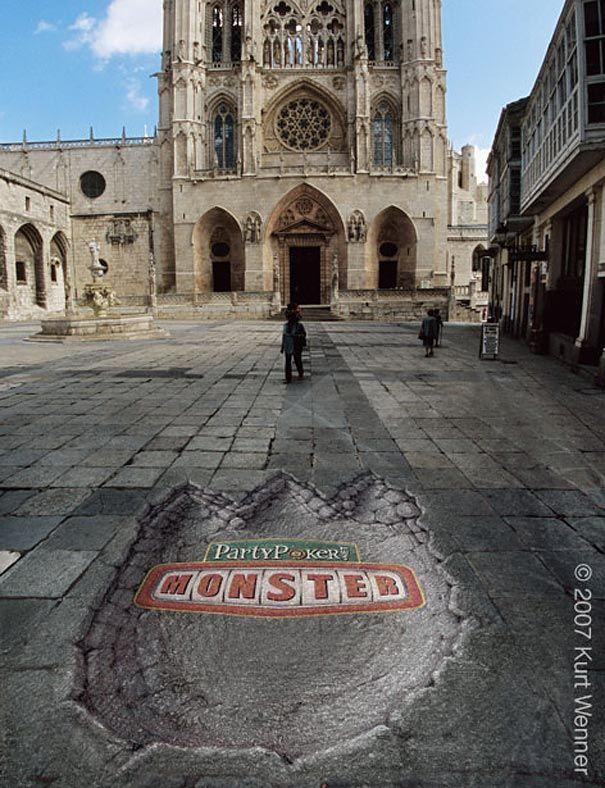 Russia
Among Russian artists in the art of illusory 3D paintings on the pavement succeeded Philip Kozlov Volgograd. His portfolio includes work for Nokia, the radio station "Europe plus", Citroen and other brands.
Philip Kozlov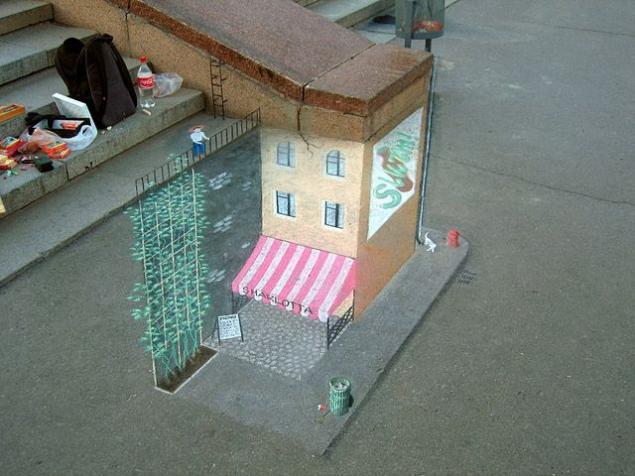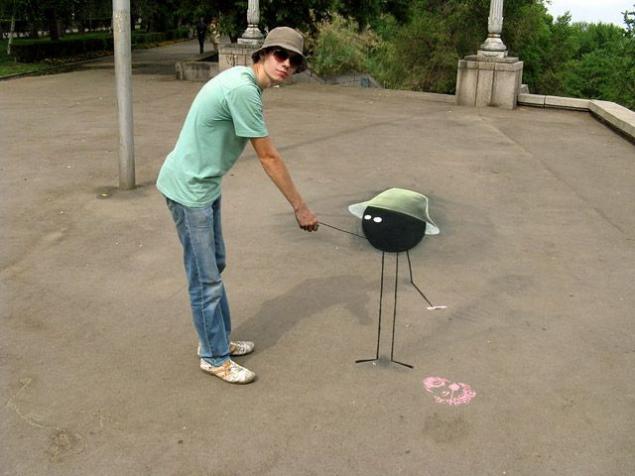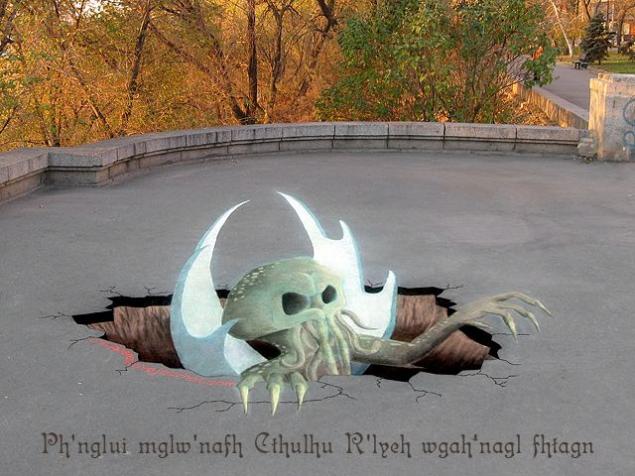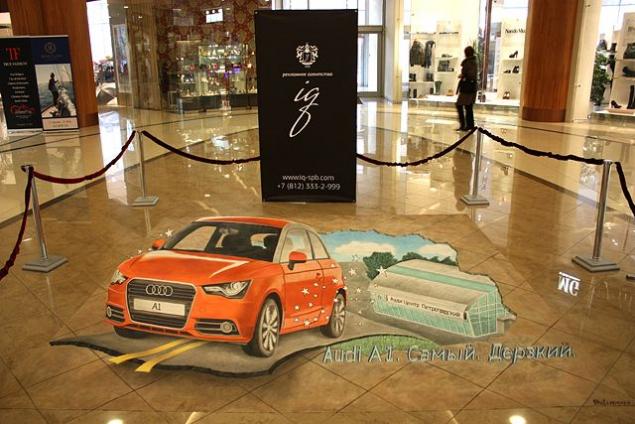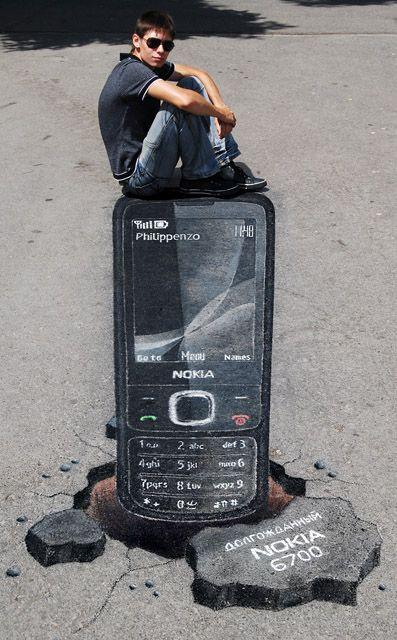 In Moscow, 3D-advertising agency asphalt does Pavlika, although they use the prints rather than chalk or paint. The advantage of print advertising is drawn from the fact that it will be held on the tarmac and stay bright all season, regardless of mechanical damage and adverse climatic conditions.
Source:
www.adme.ru