An excellent report from New York prepared ZhZhistkaalasca. Next, the text and 18 photos on its behalf
____
Preface.
For the first time in New York, I ran to the sights and put a tick in a notebook: Brooklyn Bridge - there, the Statue of Liberty - is, Times Square - is. There were a lot of tourists, we in good faith opened their mouths and stared at the skyscrapers, is tacked between us with curses people hurrying for. The second time, I was just in the role of most of these, cursing.
First, I had the opportunity to work for three days with the Mexicans. I hope, of course, that this short episode is not repeated in my biography, but benefit from it came a lot. In my piggy bank to add some familiarity with the life of Brooklyn slum, well, yes, 160 bucks. Secondly, it was already bored to go where they all go, so I remembered the old Andrew Lochak report about the New York garbage eaters, found them and went to the trash tour. About homeless people by conviction or freegans - under the cut. And attention, a lot of text and many photos.
The necessary explanations.
For information on freegans, in fact, very easy vyguglit. In a nutshell, it is the young and the whole life is not offended by the lives of young people who do not like the situation when in New York, guzzle, and famine in Africa swell. They say the Americans with fat rage, and it should stop. But generally frigana peaceful people, and the main resistance to the hated capital of the world lies in their special way of life.
Beginners are limited to "junk diving» (dumpster diving). The most radical sew clothes from the fact that they find at the dump, the master himself from discarded bicycle parts, looking for edible plants in parks and live in abandoned houses - the latter because all people should have the right to free housing. Now, my friends, try to find ten differences between freegans radicals and homeless. I found three: persuasion itself, then access to the Internet, and of the homeless eat meat when you are lucky to find, and often frigana and vegans to rhyme.
Think about how the system balances itself. Medics forest frigana. This is only possible in New York - as soon as it becomes too much of those involved potreblyatstvom (the word is not my mules), and there are those who deliberately makes himself spartan conditions. Shopaholics against zhopogolikov, I thought up yesterday.
Freegans gather at the appointed place at 9 pm, when they begin to close grocery stores. Those who walks trash-tours often have large bags at the ready, and in bags - more bags. Food is usually a lot.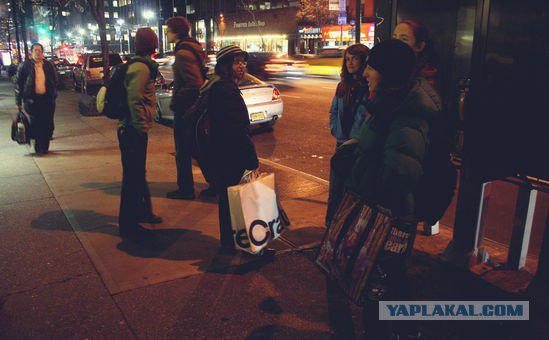 There musorok of actually how frigana and say, is not dangerous. Products look cheerful, most of them - in the packaging, unopened, and the shelf life expires somewhere towards the end of next week. That girl eyeing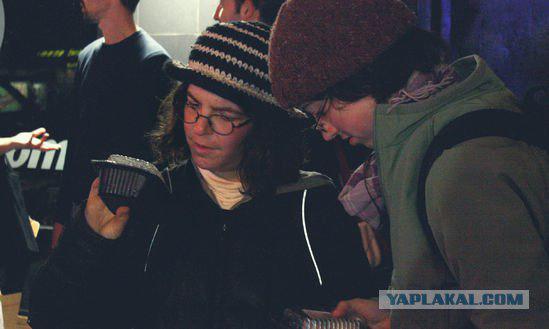 But if anyone thought after Loshakovskoy transmission (like me), that fresh, say, apples, climbs straight from the package to meet freegans and glow of Happiness - is not, in order to get them, we have natural, hands digging in the garbage.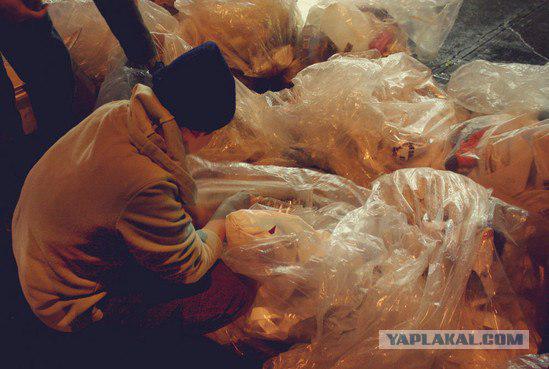 This is immediately obvious professional. But this is not freegan, not ideological. This Manhattan vagabond life, he delves into the garbage cans every day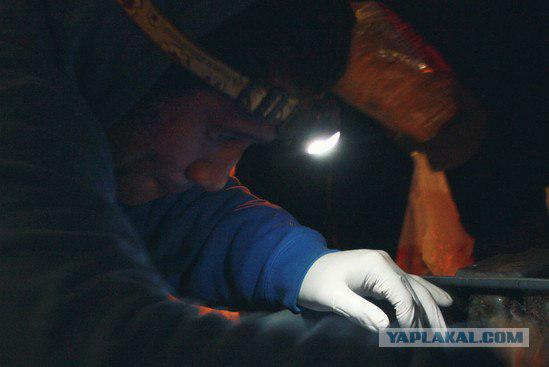 The girl does not have gloves, but a lot of enthusiasm.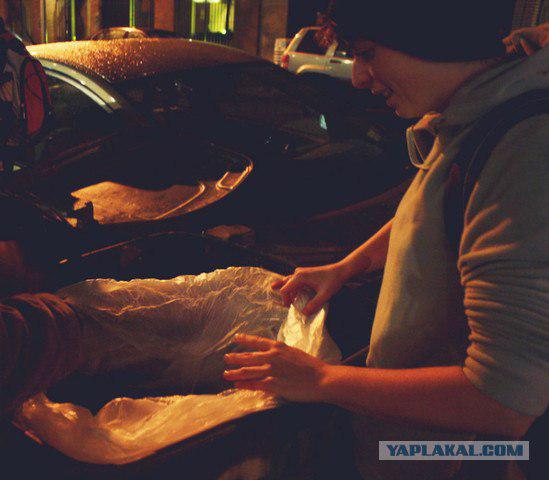 Very often shoot freegans comes the press. Crank press interest. Here, apart from the mule, we have visited all TV channels in Germany, Italy, India and Finland. Today came the Japanese, who, in general, too Crank for life. Filmed for a reason, and the front of the camera is constantly shaking a little puppet. Interestingly, for the transmission of (puppet, apparently, it is).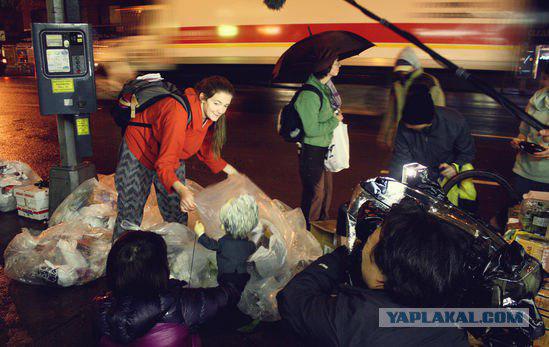 Especially to the press it was not afraid of what he saw, frigana carry with them glamorous boxes and pretty laid back most products. In general, of course, I overdo with irony, because the findings are actually very personal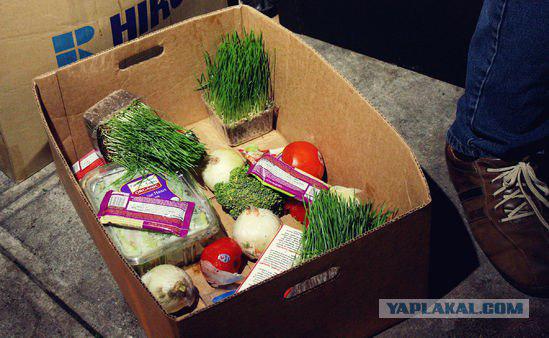 Here, for example, we found an unopened box of chocolate and ate with houmless lady in half. Past were passers-by, they also offered a chocolate bar, but no one stopped.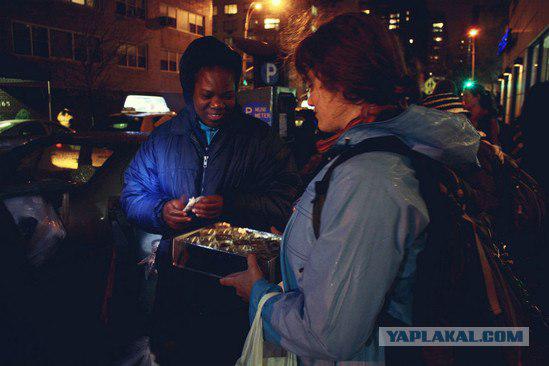 Or, say, bread. In some of its rules of Jews eat a certain type of bread on a certain day, for example, on Friday. That Friday evening this Friday bread do? A lot of it! From shopping in the trash from the trash - freegans. I also tried was delicious.
UPD: I have said here in the comments, I'm confused with the Jewish traditions, well, then let the whole situation would be purely hypothetical. The fact that it is bread, and fresh, throw a lot.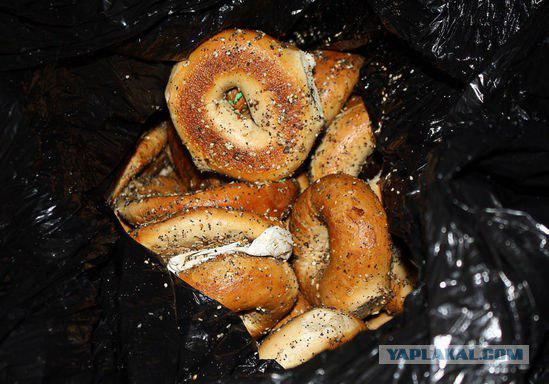 When all the planned landfill searched, frigana begin to make "Display" - spread found so that the audience could see the horror of the capitalist system, which is good disappears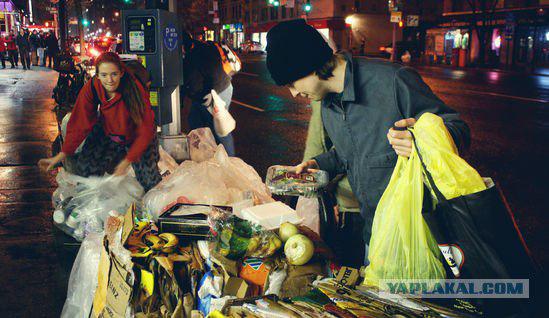 That is good.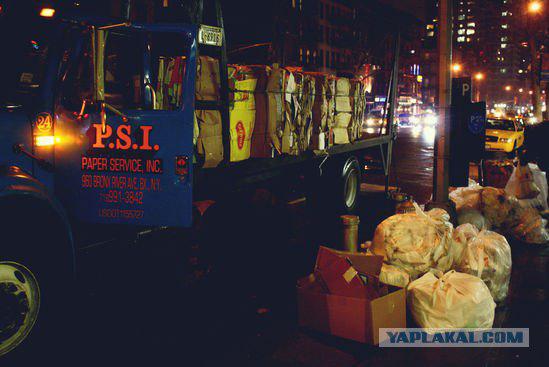 But then came a garbage truck inappropriately, and "display" had to quickly migrate to a different location.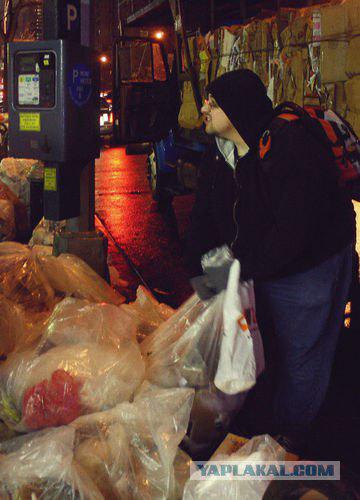 Here uncle hurries friends, we must also unleashed all packs neatly tie again. It is their right not to like dirt.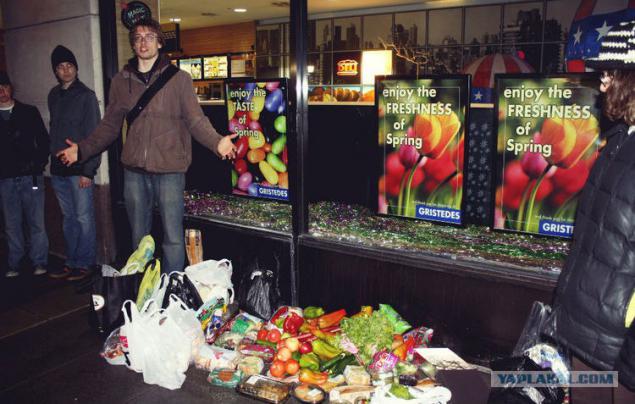 That and "display". The young man, pale, expressed fears over the future of the world and according to the latest statistics from Africa. Well he said, with feeling. So more clearly than in a lecture.
Then, at the expense of "three", all rushed to dismantle the food. It was fun, I got a piece of some exotic radish and some ham (who promised not to spoil right up to the end of May, but I still did not have).
And then what? Where once a month frigana meet and prepare dinner together products found. Mostly vegetarian, of course. And then again on the trash tour.
Well, friends, someone was awake to go hunting ransack the nearest trash can?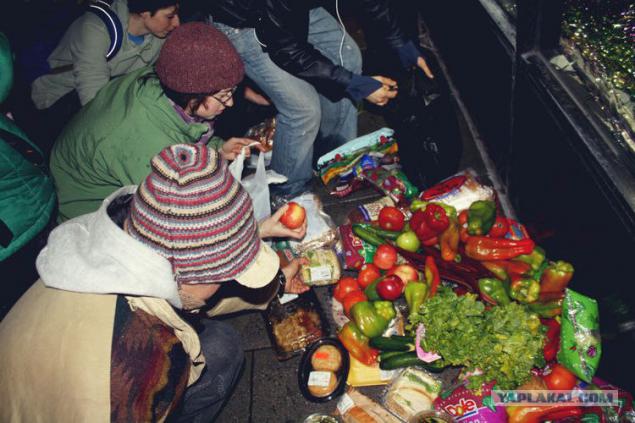 Source: