I am poking around here the other day in the old papers and found a lottery ticket in 1941 release.
I wanted to throw much, but the look caught on the list of prizes and their prices.
Very surprised that the permit to Crimea / Caucasus for 10-12 days worth while only 250 rubles, while a set of tennis - 125.
Then I give another letter about this lottery history so to say, well, too lazy to read, you can just go and look at the wins and compare the price ratio "then" and "now».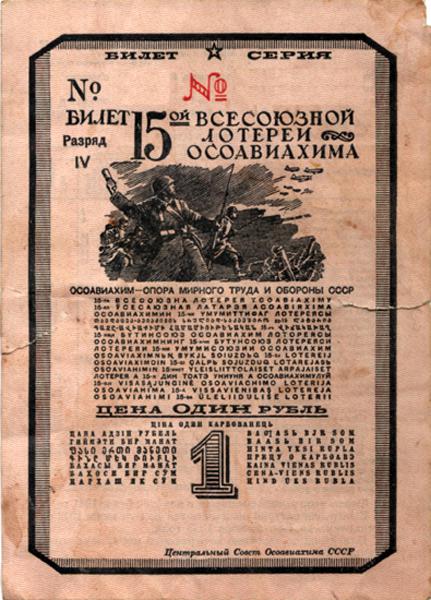 [next]
In 1941 it held the 15th All-Union Osoaviahima lottery. August 8 next year, tickets were drafted 16th lottery. As in the preceding their scheduled release in denominations of 1, 3, 5, 10 rubles each their color, and 1 and 3 rubles to one pattern, and 5 and 10 rubles - with the other. But the plan did not materialize: the state has been organized monetary and clothing lottery in wartime presence of a second, parallel, apparently, it was considered inappropriate. Thus ended the story of the most popular Soviet lottery of those years.
Shortly after the outbreak of World War II dealt with the issue of state lottery money. November 23, 1941 were printed on Goznak projects its ticket of 10, 30 and 50 rubles, brown, green, and blue with a protective net, batch number and ticket red. Paper white, dense, with a watermark "shadow squares." Format 97x70 millimeters, the outer frame of circumscription of 86 x 60 millimeters.
It was planned to establish the amount of lottery 500 million rubles, 100 thousand to make a series of tickets for the 5000 rubles each, and inside a series of numbered tickets with №1 for №500: 10-ruble tickets with the same number, 30-ruble - three and 50 -rublevye - five. Circulation was to be held no later than February 23, 1942. Number of wins 742,000 worth 100 million rubles. All income was supposed to send to help the wounded soldiers of the Red Army and Navy.
However, the November 27, 1941 Council of People's Commissars passed a resolution to hold a - Monetary and tombolas. On the proposal of the People's Commissariat of Finance of its amount was increased to 1 billion (taking into account two additional issues, it was 1 billion 400 million), the tickets face value of 10 rubles. It was the first of the four military lotteries have made into a national treasury of victory over the enemy more than 13 billion rubles.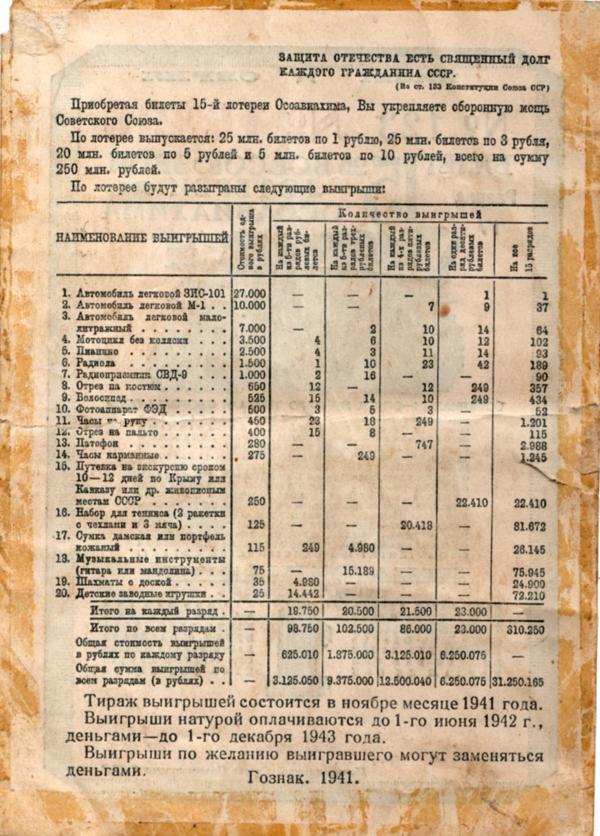 text via bonistikaweb.ru
Source: