Writes blogger fima-psuchopadt:
I love the layout, deceptions, kidka hidden trust sale or suggestion man confidence in his public and private misery. There is in them something indescribably wonderful: greed on both sides, confidence in the intellectual superiority alternately one side or another, courtesy invitations and winter - warm offices. In most cases. Because reading on the wall at the entrance to this wonderful announcement, I decided to take a chance. Moreover, there is the impression that these people do not repeat twice. And the range of free joy too greatly.
Letters +5 photo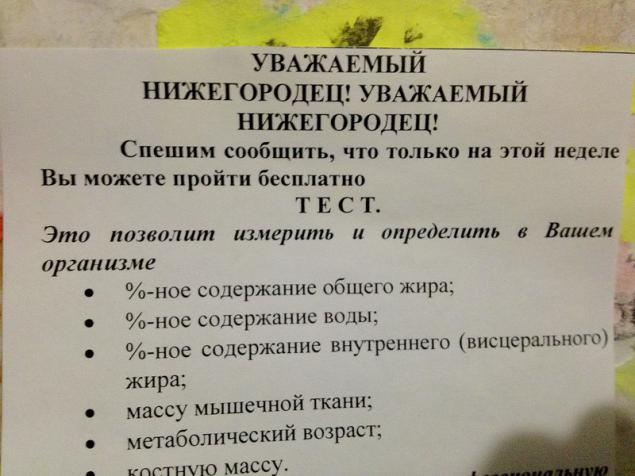 And the curious: that's metabolic age they think of a formula or is a unit shows ?! A lot of muscle tissue ?! Rang - he said that the Japanese unit removes all these intimate numbers directly from the nerve endings on your heels. Either way, I think we should go: to go to the nerve heels - this is ohreneesh.
The ride turned out to be close. In Nizhny general almost all close, and these (I'm well aware that "gerbalayfschiki") sit in a warm office (see. The beginning of the post - winter!) On Gordeevskoi that from my "real luxury" Mescherki 10 minutes. If you are interested: the second floor, office 216.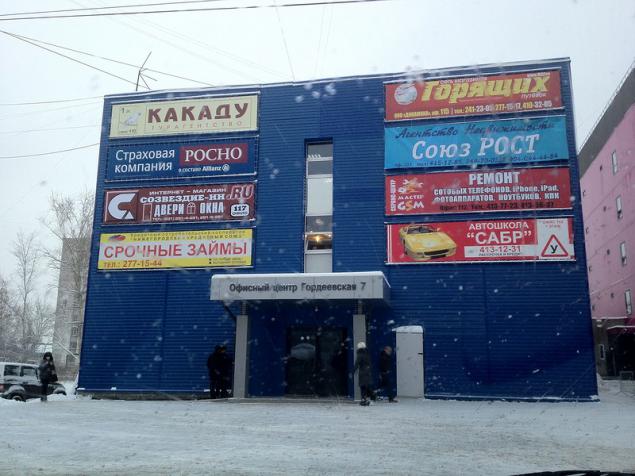 ahozhu. The room is - this little room twenty meters, pasted over with posters about diets Herbalife motivate daisies of colored paper written in felt-tip pen defying them slaves quotations, posters with the Americans in shirt, tie and a smile, and - here's ...
Even daisies caught in the lens ... There's just shoot it was impossible, the queen's office sat aunt over fifty with the shoulder in 10 - 15 years old, and I had to simultaneously combine the roles and moron, believed in a free test, and the owner of the iPhone.
As for the combination of roles that this task I decided. But to close the pig theme, say, when, bleat, this rabble was the last victory ?! And some victories "new" they feel sick with vomit of the can ?! No coincidences, everything is logical.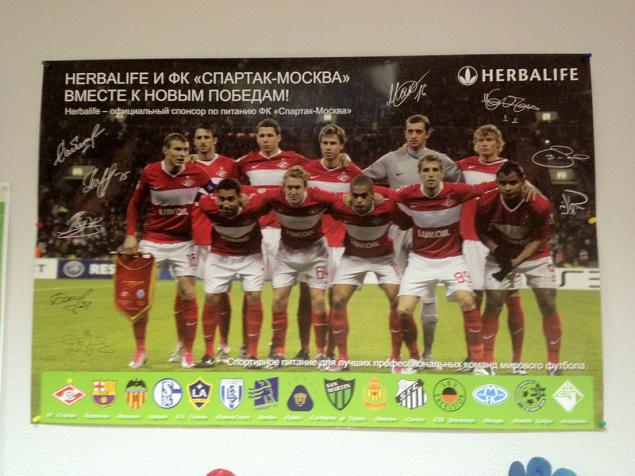 Undressing, hello. Hello loudly: "Good morning!". And rub ointment on the cerebellum that I - who was fired from the Navy midshipman. And now I want to check your health. Bone mass, too, but more - fat. The aunt looks so suspicious, but agrees.
There is some difficulty in communicating with the people who work on their path have learned to distinguish between 150 shades to the phrase "I went on the dick!". You should not underestimate them. Moreover, they do not stand on the spot, too: all such vebdvanolnyh plakatiki, instead of the icon "Do you want to lose weight - ask me how!" On his chest greens "Your personal consultant on nutrition." But it seems like the entrance to the chamber zahavali. I sit, I drive snout around, admire quietly, surprised that on a poster with the pigs do not see Onopko ...
 - Are you sick of Spartacus - asks. Well, I think there is no such witnesses, and fall, and so any longer - I was in the office Gerbalayfschikov, because I agree. - Yes, - I say - in football, I am pleased to win! A Onopko I like most of all. A good striker.
Profile, look, pulls. "Looks like a moron, okay" - himself already think. Aloud I ask: "And you have a diagnostic apparatus, not Russian?". Answer it did not even, and asked to fill anketku went under the table for instruments and equipment. Uncomplicated so, I should say. In Russian this shit called "scales". Just get up there as a starting weight after the run on the scoreboard imitation download and then write something like «Full parameters». Wherein the Heel feel nothing and therefore - not affected. And you're going to wear socks, and she - squat and some her to a table record. Next - lechilovo. For what I actually was.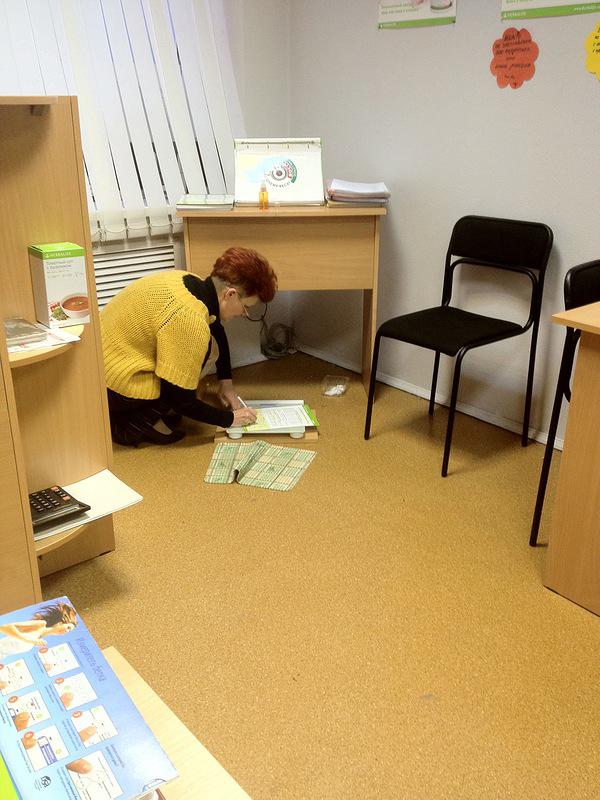 She sat down opposite me fill out the form completely, periodically checking the checklist in thick stamp folders, then turned it and pulled up to me. We sit in silence. Auntie looks and said:
 - That's what you have.
I must say that at that time I had not even had the notion that I had. What she said immediately.
 - How could you not see something ?! You obesity of the first degree, and one kilogram of fat - that's 1, 5 kilometers capillaries!
Damn, that somehow I have not really noticed is for any degree of obesity and weighs 90 kilograms and height 182 cm. I always was about. That did not smoke two years - grown fat to 116 kg, now it is back. I feel comfortable and I do not care in the capillaries.
Only now these words did not want to talk. Clarify about the capillaries, to speculate about the heart load. On the fat, "in which all the toxins and waste" (quote). And that I was "fat unit plus it gives." Quotes at such meetings are generally very important because trying to record what he could.
Yet I am told that I have "calcium begins to decrease," because the machine alone gives its coefficient. there are not any products to do the usual. so quietly, in their standards, they fed me stupid for future purchases. A rate of calcium wear it at all afraid, there urgently needs to respond.
Few postenala it on Biological age. not calculated, but also - shows the apparatus. Break away from the soles, can say. And it 38 when my passport, I - 36. too bad, because she - 35, with the actual 50 (again carefully at her, I looked). Asked, of course, how she manages so well outperform devices ?! Leaning back in his chair, I was told that "four years of special meals and - I do not think to stop».
I omit further discussion and hidden advertising. We argued a bit about "reducing my muscle mass due to cell dehydration," since I doubted that from the cells belong. Muscles, bones, tendons - is that these know only confessed. A fiber - is, say, in fungi. You know how it is for me to prove that I am a member of the 100 trillion cells ?! For one it cost her to buy something ...
Then I said that I understood everything. And I need a nutritionist ... And here I was skazano6 that nutritionists - is the last century, the future of the "Nutrition" and he - in front of me. And - it all out to us. Namely: a set of aloe juice, tea and super-cocktail, which they called the "King of the table." From then on, I was sorry that I could not write on tape.
It was not a story, and drama. Aloe juice was found to heal "the wounds and fissures of the intestine." Due to what ?! It's simple: because it "aloin has been removed." A woman with a car factory in the past year, the ulcer healed this juice and here's her portrait hangs on the wall in the wall newspaper. Besides, since it has been said that even a moron would be clear - further evidence is required. And clean even aloe. They have a special program.
Tea is generally - a miracle, "non-aggressive caffeine works wonders." And the most important miracle - "support the tone of the same statistical level for 12 hours." I asked, regardless of the frequency of urination? He says out. Well - "the king of the table." Oh, these tables with minerals and life-giving stories about soy protein. And examples - "yes, you look at me» ?!
I am broke. I asked the price tag, that "there was to inform relatives." A set of food a month to buy her for 3770. If no tea and juice, but a cocktail - the 1440. But it is not recommended: the cocktail just for 21 days, and "system it is on and the system." You understand. But "if I can not afford," and then "just shake - out." Some urgent measures should be taken.
Before the long-awaited moment of farewell, when I listen to Jam and reached for the jacket front, I was asked if I love giving gifts. With ottyazhechkoy agreed. And then I was informed that "I have the opportunity to give the same test 10 to friends and family", having entered their data in a special form. I gave up and went out, noting that, in principle, I now have this opportunity.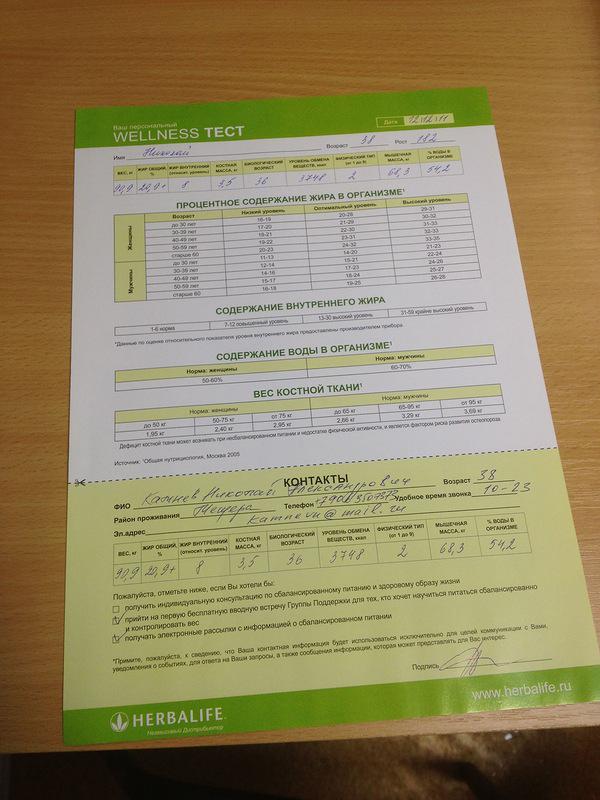 Source: