The original blog post macos
In February I was in Sochi twice. More than half of my friends, too, were at the Games: to work or on their own, going to watch the competition. From the side it seems that for most Russians get to the Olympics was not a problem, who had the desire - that went. Is it so? Yes and no. After I talk with a certain circle of people who are somehow connected with the media sphere. But visitors to the Olympic Park was a lot, really a lot. And the story of the empty bleachers, too, is true only in part.
Today will talk about their personal impressions of the Olympic Games.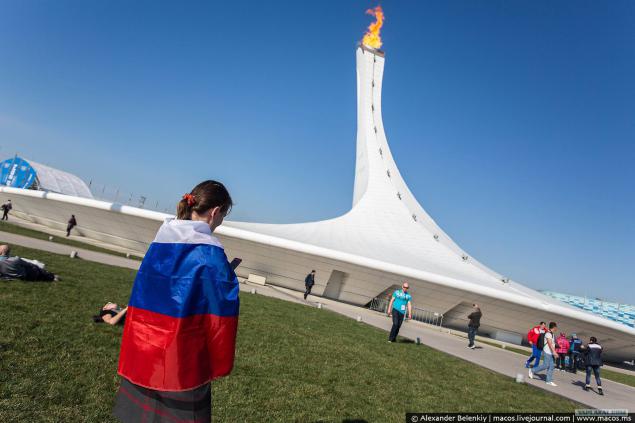 1 The reality was such that even the newly constructed road is not saved from Sochi jams. But here is a classic case of a single-lane road: once someone is woven in front of him all polznut. And, although laden dump trucks no longer drive on the roads of Sochi, Gazelle-snail missing. And in the left lane it is impossible - only to Olympic transport. Forward-citizens enjoy the train (even more so during the Games, they became free), but they help only when traveling long distances between areas of Sochi - the longest city in Russia, if someone forgot.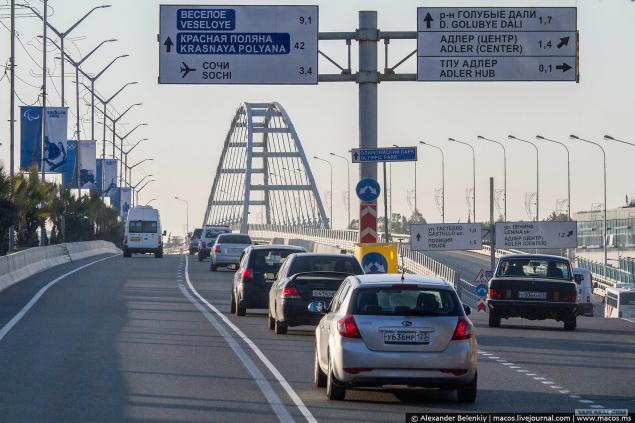 2 But we are yet going by car, in Krasnaya Polyana. Nor was there the last time, I wanted to see the Mountain Cluster Olympics. And at the same time that they built. Before getting there was not easy: one lane in each direction, in the flow of trucks, raising dust from the roadside: for all three times that I was in Polyana in preparation for the Games, never less than one and a half hours not worked. And it is to the airport of Adler.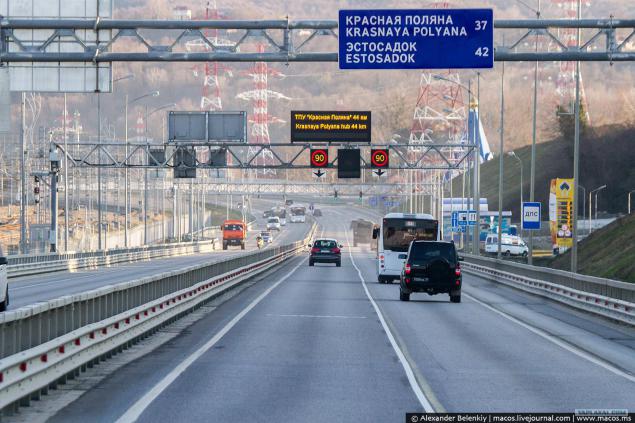 3 By the way, passing the airport, I saw the beautiful: a parked private plane Putin. Everything is under the personal supervision, he was more than a week here bezvylazno. Interestingly, the other presidents (who came) is also still in the game? A samolёtets something interesting, I checked it on the tail number. It looks modestly, gray, even quite unattractive. But a look at interery.Putin got him to a second presidential term. Yes for only one such aircraft should run for a third! But for my taste, so the interior - a complete lack of taste. It's like a leopard wear!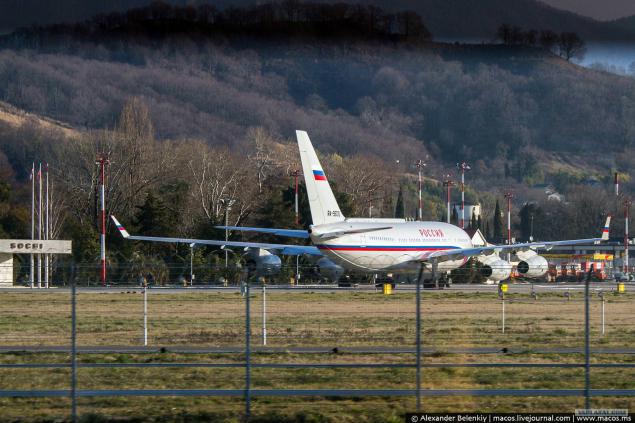 4 Where to live more austerely those blyudёt calm at the Olympics. In such houses are not inhabited by Tajiks, and the police. And not an ordinary structure, and it is currently officers kommandirovannye from Moscow. Pay attention to the barbed wire fences and video cameras.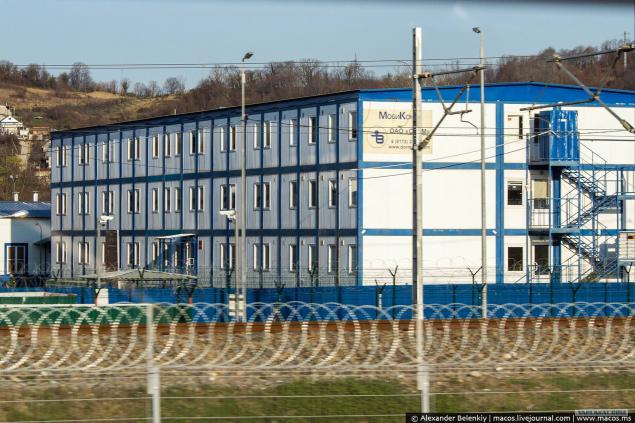 5 On the good: the road to Krasnaya Polyana now also a modern and wonderful. And empty. Machines on it almost does not go: and where the road a dead end, once removed the trucks from Sochi.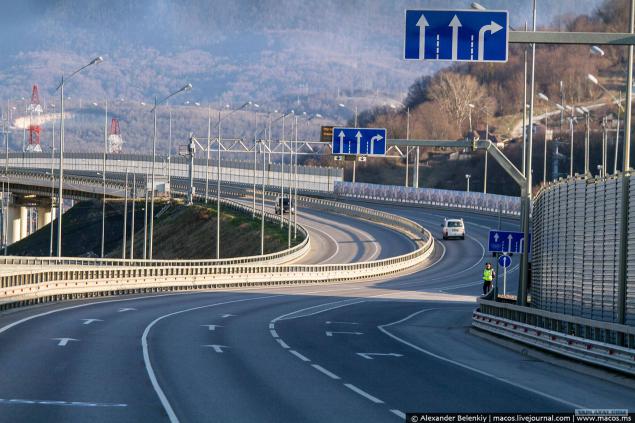 6 But when the Games end - and this road can get in a jam: for some reason, then the highway to the previous image disappears, and begins again odnopoloska. But looking at the signs, I somehow glimmer of hope that just an old, long-standing way in the Glade be allowed in one direction, and a new one in the other, and never cross streams. See locomotive Right?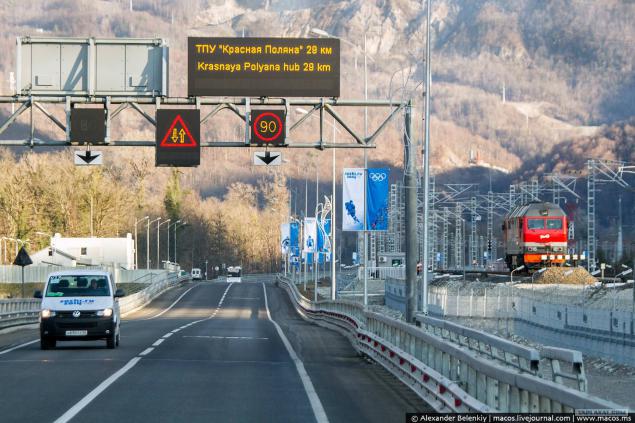 7 In this way a great feature, it is combined, road-rail. In essence, two separate roads, but they fail simultaneously and in parallel. Earlier in the Krasnaya Polyana went to the bus, you can now to swallow, even after the Games: somebody still riding there on skis?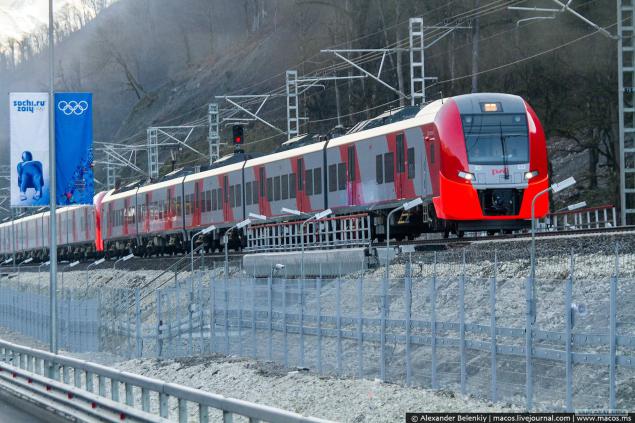 8 On the way to the Glade cut through some unreal amount of tunnels, also 15 pieces, both road and rail. Four years ago, I even had to build one of these tunnels, maybe even this.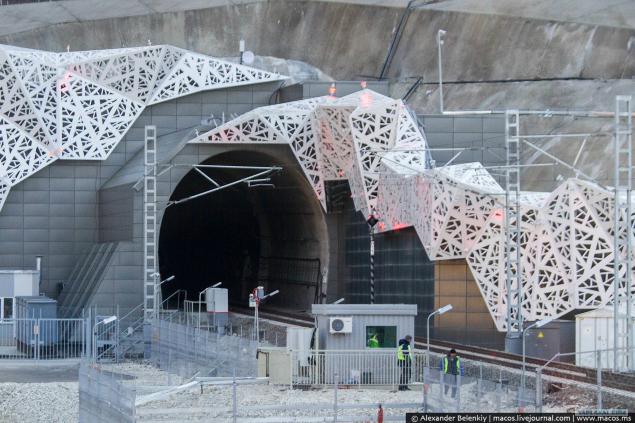 9 The feel of cool little road spoil Russian officials, who even in these bright days for the country can not show off and live like human beings.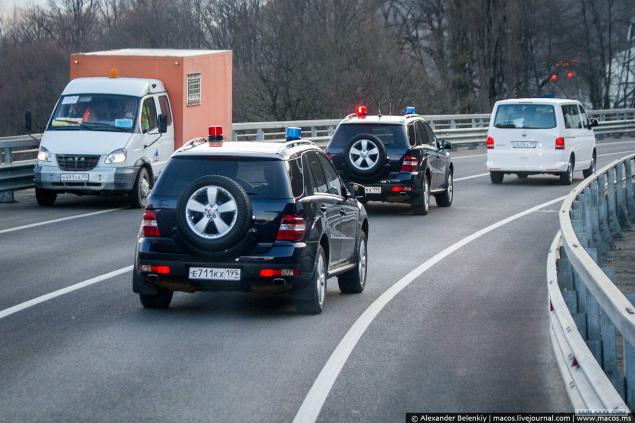 10 Yes, you sit in the "Swallow" drive away the same time, that with its flashing lights, just quietly. You get to something like this constant quacking and jerks when you rebuild? Or every chlenovoz built on a package in the back seat?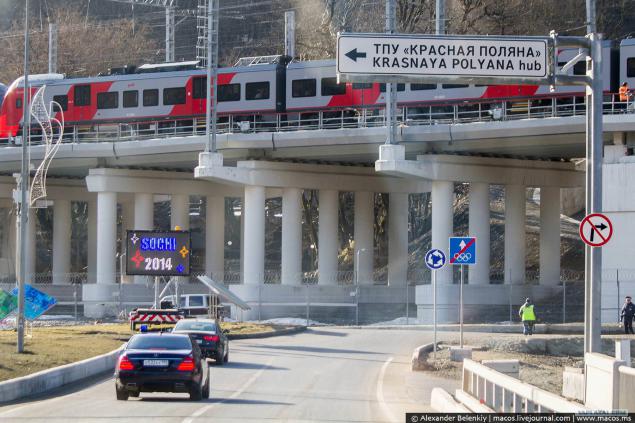 11 in the mountain cluster, too, things have changed, I will have a separate post about it. In fact - what they did with the "upper" park, namely the Roza Khutor, I really did not like. Build-built, and give life forgotten. The "bottom" of this life a lot more, and there are chances that she will be gone then. And everything is good, but not enough snow.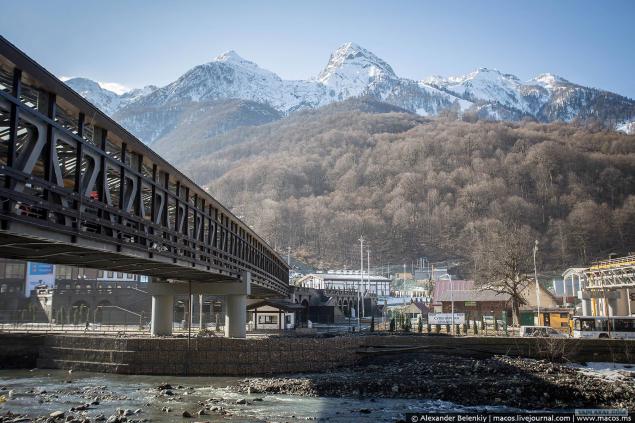 12 Snow about this much.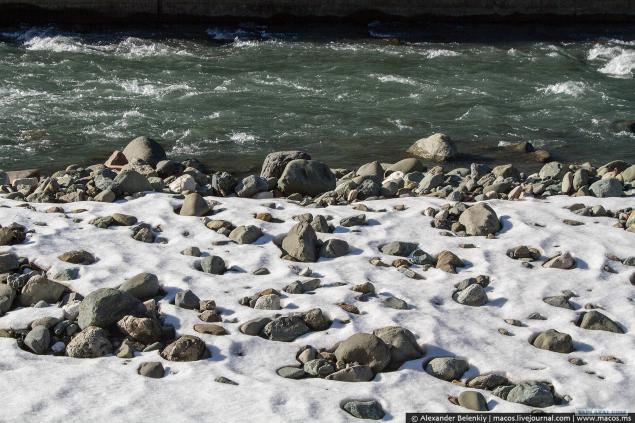 13 Olympic guests can sfotkatsya memory against the backdrop of snow-capped peaks. To get to the embankment of the river Mzymta - please. But you will not get any of the stadiums and ski resorts without special passes or tickets to events. Needless to just wander: can not be prohibited and not allowed. This upset in Olympic Park, something you can walk freely.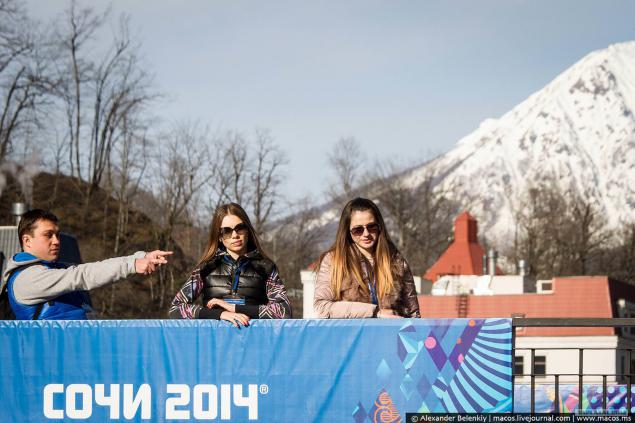 14 had to be content with what we have, from the bottom. This is a mountain with a lift leads to the resort Laura seems. No snow at all. But that does not mean anything in the area of ​​field is a mountain at a height of three thousand meters when climbing on the Mountain Carousel two years ago, he praised.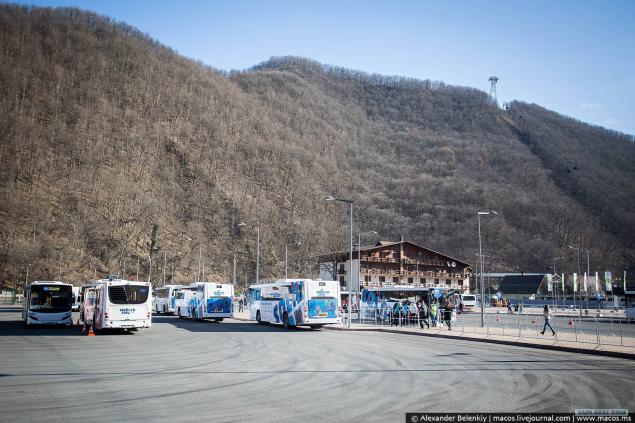 Source: