In the spring of 2014 is gaining huge popularity style preppy, especially modest school skirts. Yes, the ones that could be seen in the popular TV series "Gossip Girl." Many talk about this style, try to meet him, but few know where it went and what direction to combine these clothes. So familiar with this spectacular style, we study the images of fashion bloggers, stars and trendy combination with a skirt-preppy.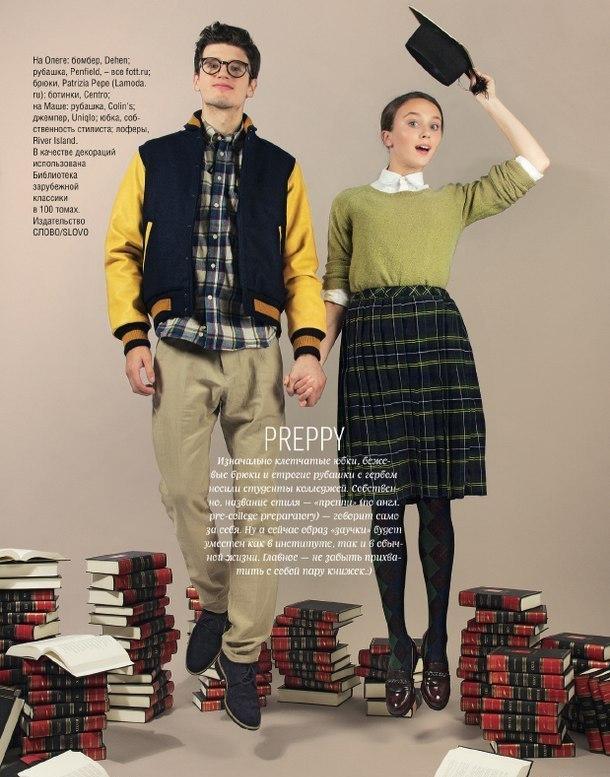 The origins of the style Preppy
The history of this peculiar style abroad has more than one decade. Initially, the US preppy was the whole youth subculture, to which the students of elite and expensive schools. They were called preparatory schools. From there, in fact, gave the name of this style. And, of course, all its characteristics and peculiarities.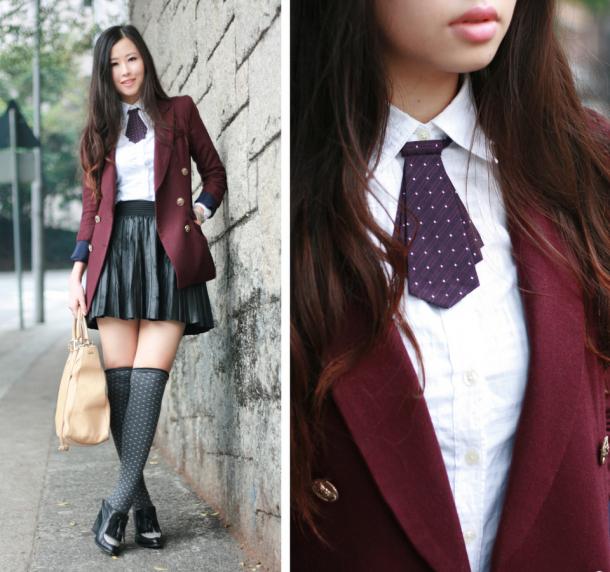 It is clear that the members of this subculture was a true "golden youth". Therefore, they were only the highest quality and bright clothes stood out from the crowd. The style of clothing began to take shape in the 40s of the 20th century and originates from the prestigious Ivy League.
What is the style Preppy?
In a nutshell, preppy style that is somewhere between formal and casual style. Here, look through the elements of the business clothes (after all, the style takes its roots from the school uniform), and details of bold style smart casual. So this style is very comfortable to wear and looks great in everyday life. The highest prevalence deserved skirt - both universal and bright elements of the modern wardrobe.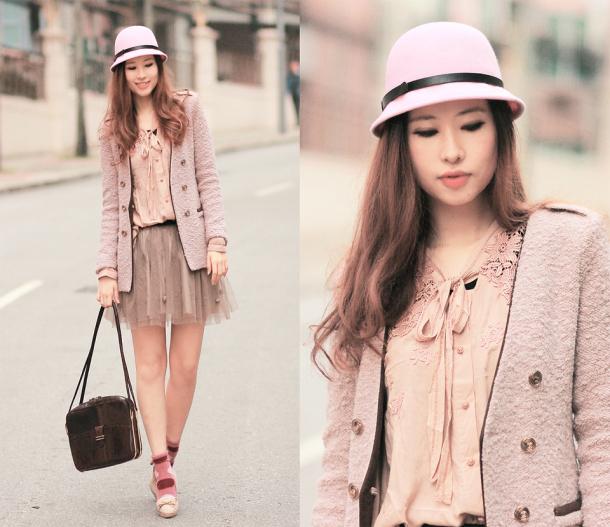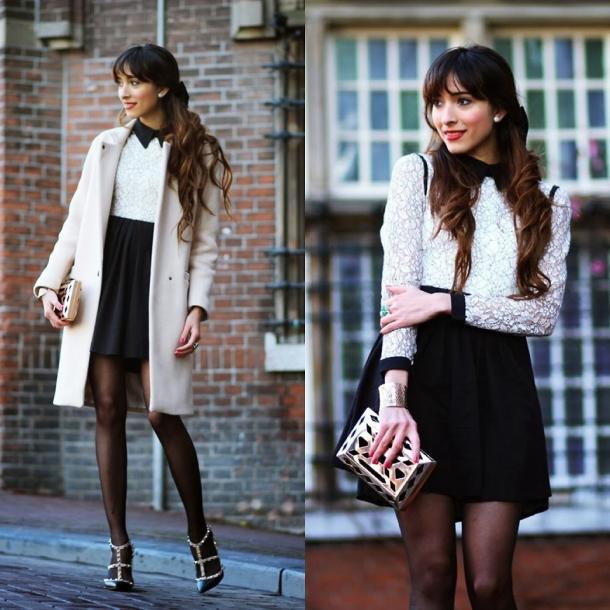 Shoes in this casual comfortable welcome: loafers, oxfords, Laufer, boat shoes with low heels, boots or ballet flats.
Accessories of this style - small neat jewelry, ties, sunglasses, scarves, hats, ribbons, or headbands hair.
Bags preppy style is, most often, leather briefcases or backpacks, small models without an abundance of decorative elements.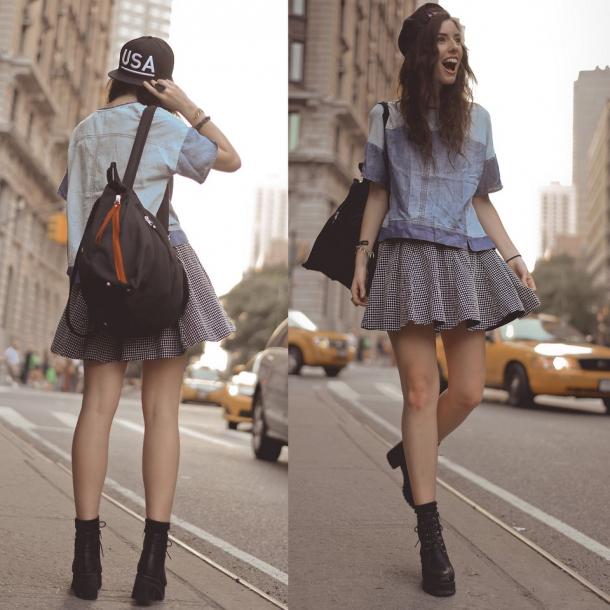 Skirts-preppy: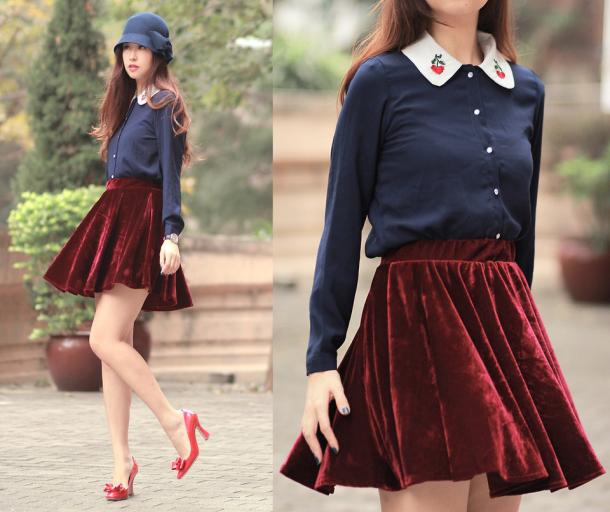 Flirty glamor skimpy skirts with strict pleating became hits this spring. Traditional form element of America's youth is now one of the main trends of the come the warm season. Perfectly combining two popular styles: official + smart casual, these skirts will become a bright accent your image.
For example, trendy skirt from the latest collection Karl Lagerfeld take a look, what and how to wear a skirt-preppy this spring:
Option №1: classic
The classic version in the tradition style preppy - this shirt with a round collar, strict blazer, vest or jacket and of course our bright school skirt. The standard solution is usually designed in the image of blue or purple colors, clothing decorated with large gold buttons or some strict stripe in the spirit of school uniforms. From shoe heels more often not, but something on a flat sole. This spring a wonderfully fit Laufer, oxfords or ballet flats. Eye for detail - high socks or stockings, school cap or strip of hair, tie, briefcase leather bag over his shoulder.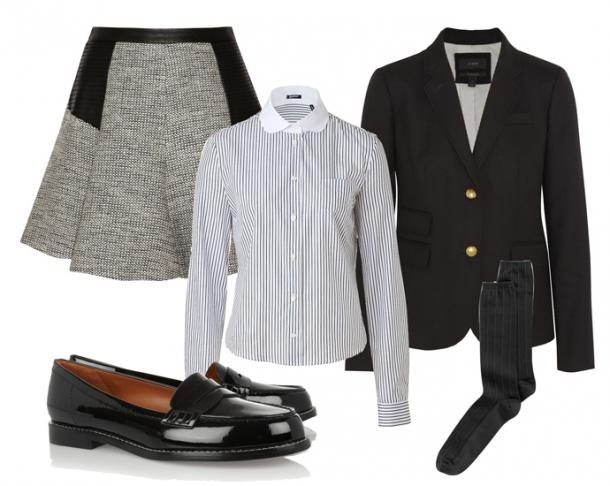 Shirt Jil Sander, a club blazer J.Crew, socks GAP, Loafer Mulberry
Option №2: girly
The image of the preppy style in trendy pink pastel shades - the choice is very feminine and delicate. Almost girlish image will look perfect on a date, formal occasions or just walking through the spring, flourishing city. Such a gray tweed skirt with leather inserts looks very impressive in combination with this romantic shade, the main thing that all the clothes and accessories were under one theme. This image can be used very successfully trendy cropped tops, large glasses or tights with print in color.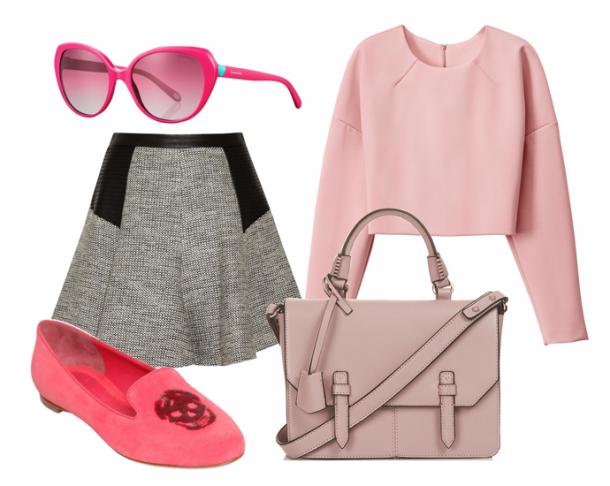 Top H & M, Bag Topshop, sleepers Alexander McQueen, glasses Tiffany & Co
Option №3: in the best traditions of 90th
Stylish gray skirt preppy tells a lot of interesting ideas for spring, and one of them - is a vivid image of vintage style fashion is now 90. Universal schoolgirl skirt perfectly complement the excellent pupil baggy tops, svitshoty, leather jackets or bomber jackets. Massive grunge boots can be replaced with a stylish shoe wedges. Also beneficial supplement and dilute the official style of baseball cap, massive sunglasses and a leather backpack.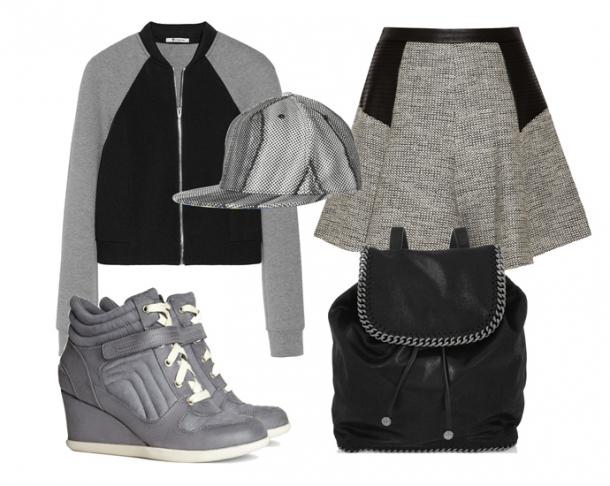 Blazer T by Alexander Wang, cap Asos, backpack Stella McCartney, sneaker wedges H & M
Option №4: bohemian
This new dress, as a skirt-preppy also a good chance to apply in the wardrobe trendy poncho with ethnic patterns and embroidery, stylish black hats and long leather boots matte leather. All this together will give a spectacular and memorable image in the bohemian style. In conclusion - leather bag over his shoulder, massive sunglasses and leather accessories, gold and silver.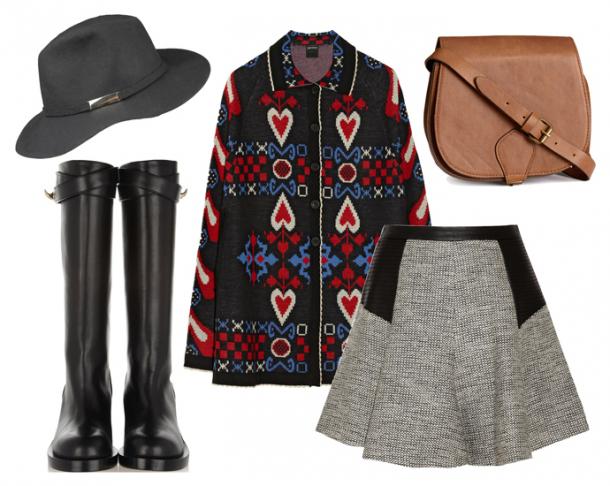 Poncho Anna Sui, hat Berschka, boots Givenchy, bag H & M
Skirt preppy in images of stars: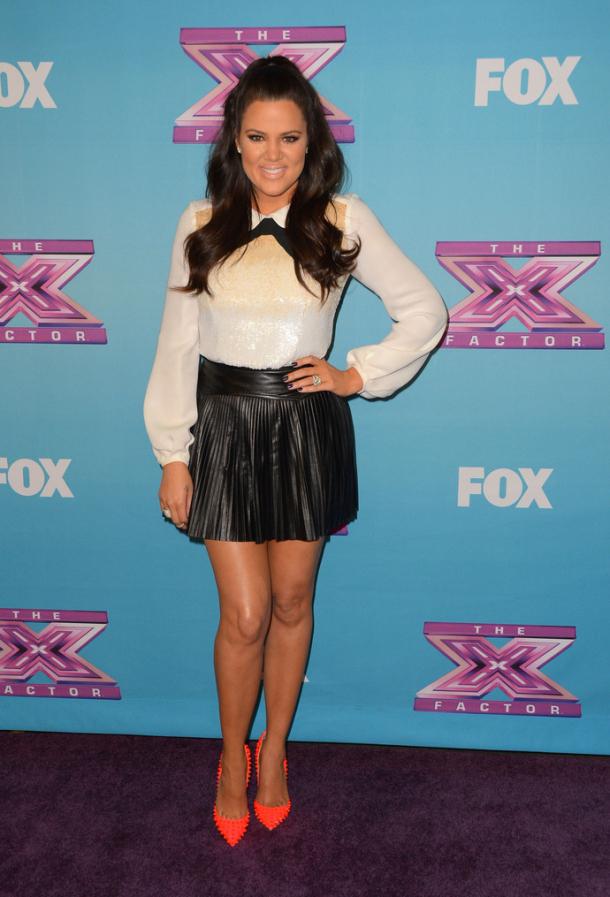 Chloe Kardashian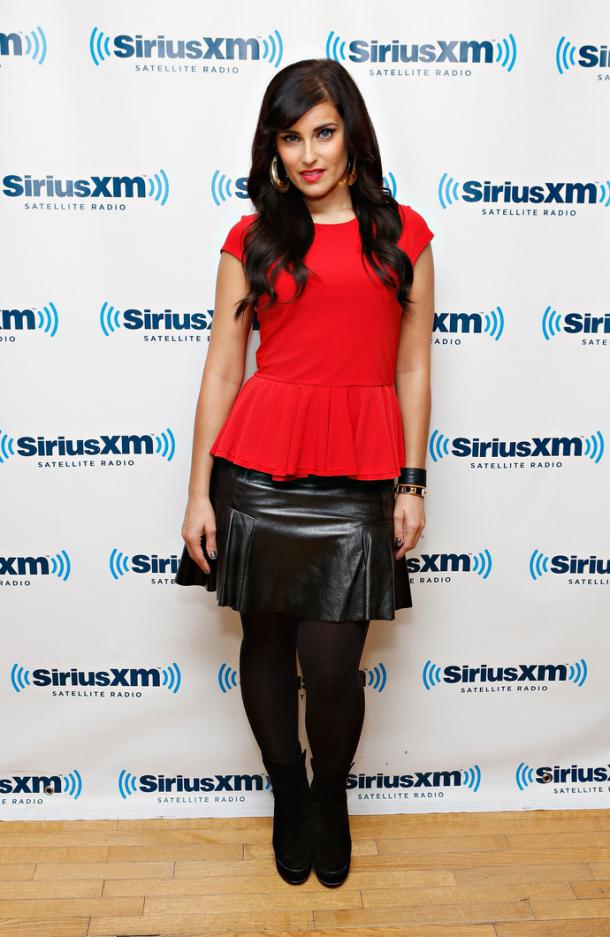 Nelly Furtado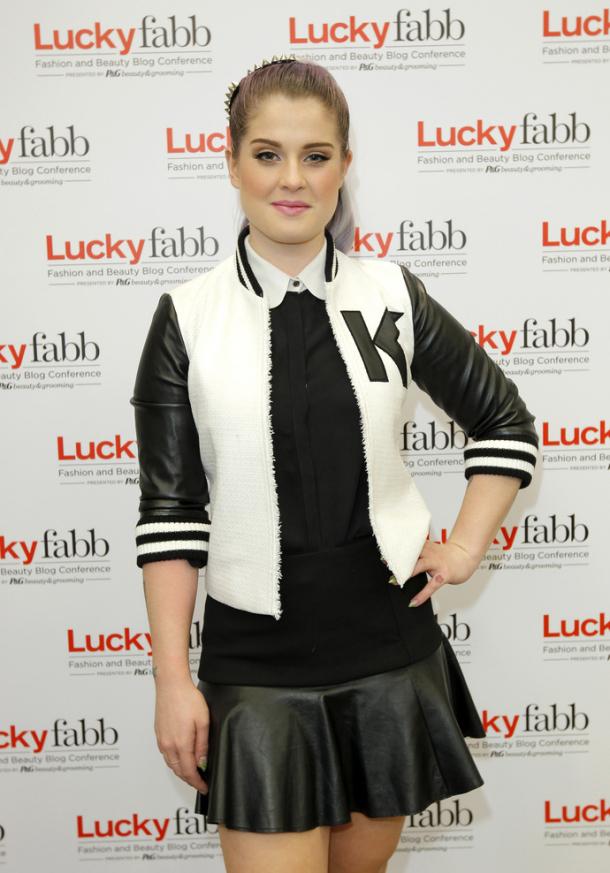 Kelly Osbourne
Nicky Hilton