Urgent Room.
Horror. Live scary ... No words. Only news bulletins.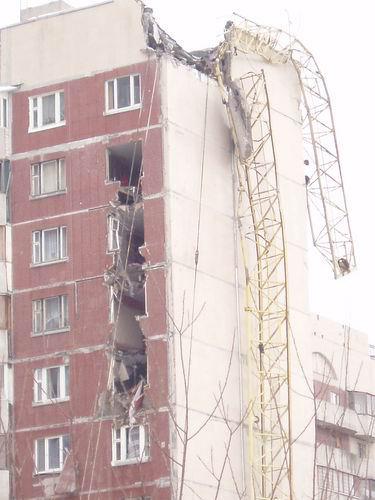 On the 12-storey residential building in St. Petersburg on Tuesday morning fell crane. Three people were killed, reports "Interfax".
As a result, damaged the building structure from 8 to 11 floors. Crane literally cut the upper part of the house. Four apartments crane punched through, and two partially destroyed apartment. But the threat of collapse of the victim is not at home.
In the devastated residential areas found three bodies: a girl at the age of 1 year, 4 months, 54-year-old woman and 31-year-old man, whose identity has not been established. (It is known that the dead man lived on the top floor, an arrow fallen from his apartment he was thrown into the apartment on the floor below).
newsru.com