Sparrow Hills residential complex covers an area of ​​almost 5 acres and is located in the south-west of Moscow. One of the high points of the capital, more than 300 meters above sea level. Total 7 buildings, the highest body of 47 floors. With special viewing platforms offers a breathtaking panorama of Moscow.
The top floor - technical, equipped with a special lighting system at night. Located just below the three-level penthouse (43 floor button in an elevator, only works with a key). And low - specially created observation deck. I have been here at sunset. Look around:
Mosphilmovskaya street Luzhniki sports complex can be seen in the distance.
Road interchange at the intersection of MG and Mosfilm streets. Yet in all areas including street lighting. Gradually going traffic jams.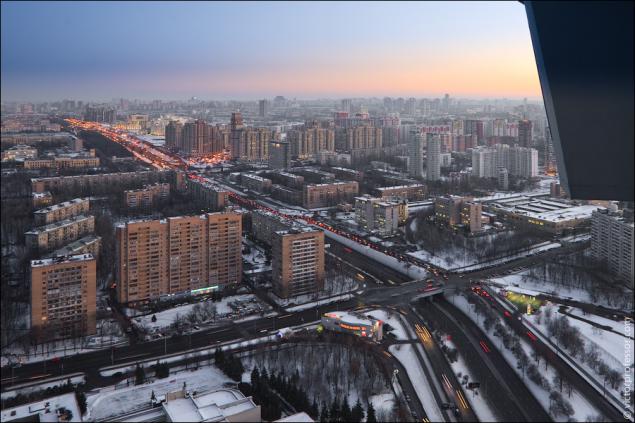 Tri-level penthouse adjacent tower and views of the Moscow City and Kutuzovsky Prospekt.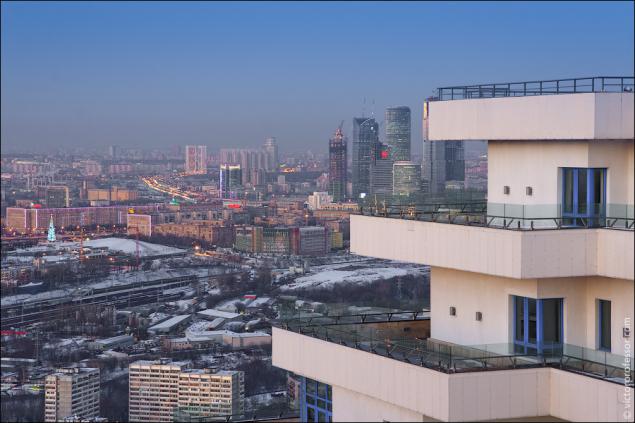 In the foreground is visible areas of the Kiev railway line to the station Moscow-sorting and Museum of the Great Patriotic War on Poklonnaya Hill.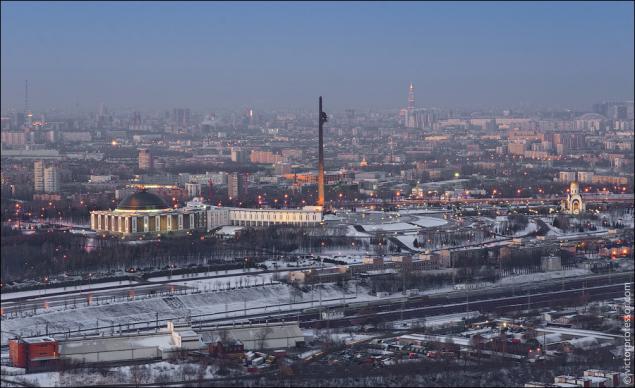 By the way, here's an autumn view of the station and the residential complex "Sparrow Hills".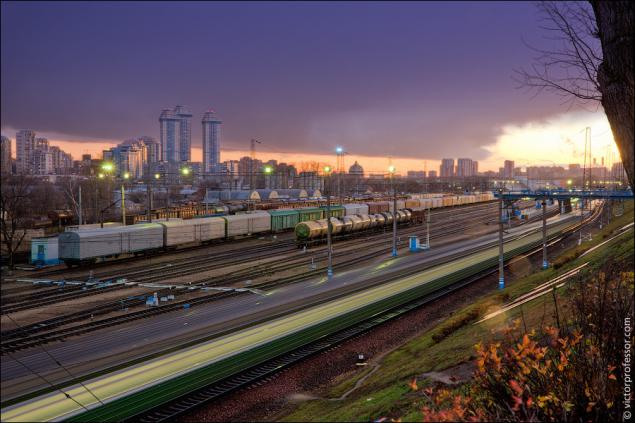 4th district Ramenky and Moscow State University.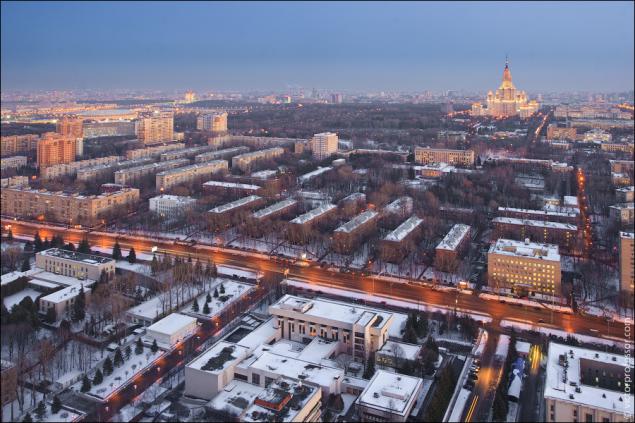 Species in the center. On the left one can see another high-rise residential building - "House at Mosfilm".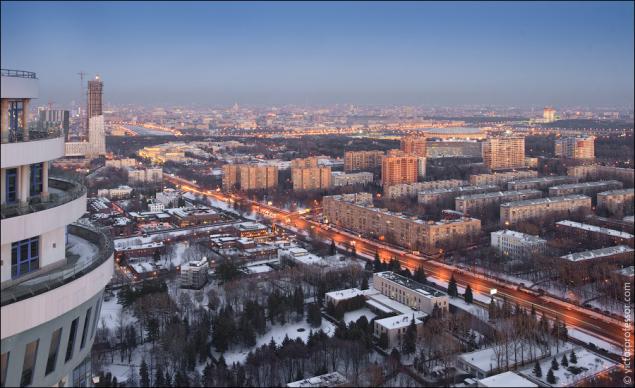 The traditional view straight down.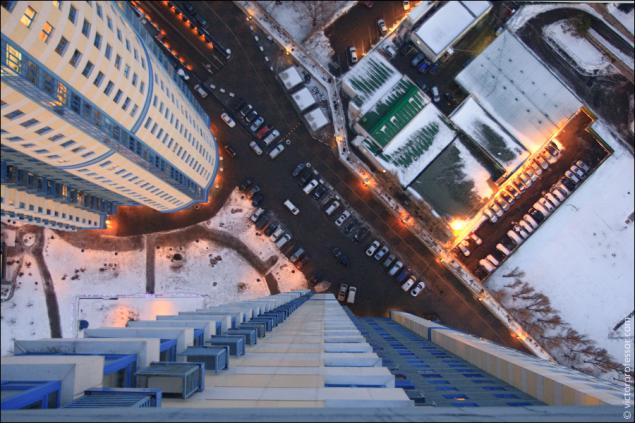 Moscow State University closeup. The left is the construction of temporary jump.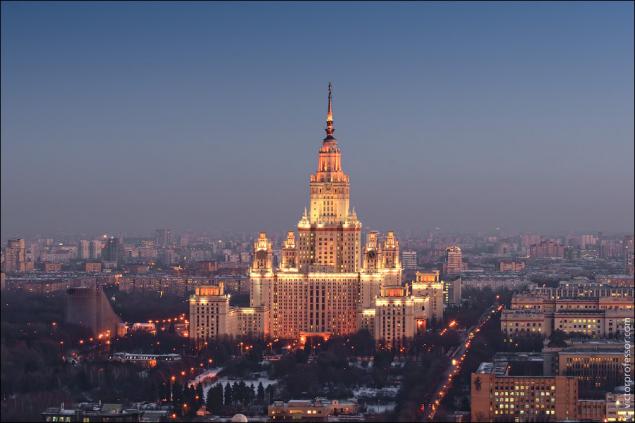 In the background is visible TPP-20, the right building of the Savings Bank of Russia, the left can be seen the city of entertainment Korston and left large ski jump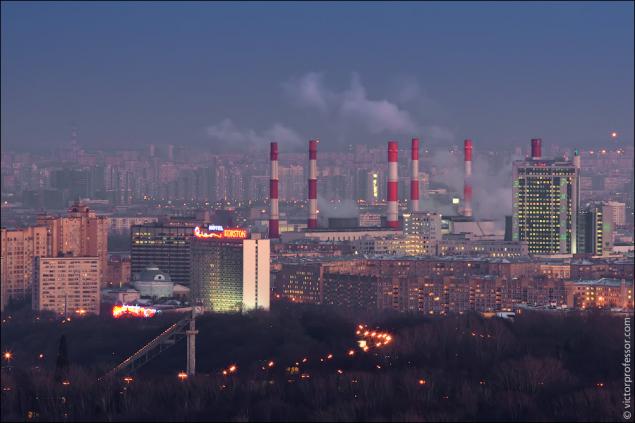 Type in the center, perfectly visible skyscraper "Paveletskaya Plaza". A little further - Swisshotel Krasnye Holmy.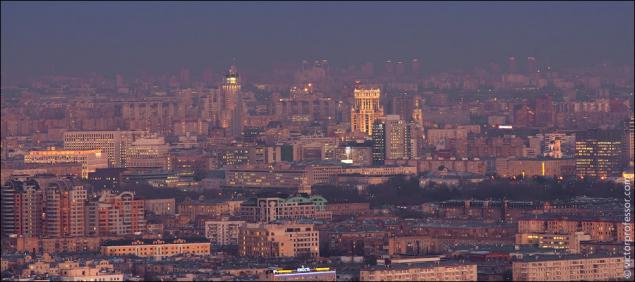 And it is very close to a residential complex "Golden Keys". It is home to our president - Dmitry Medvedev, and even prevented from entering the territory on domestic cars.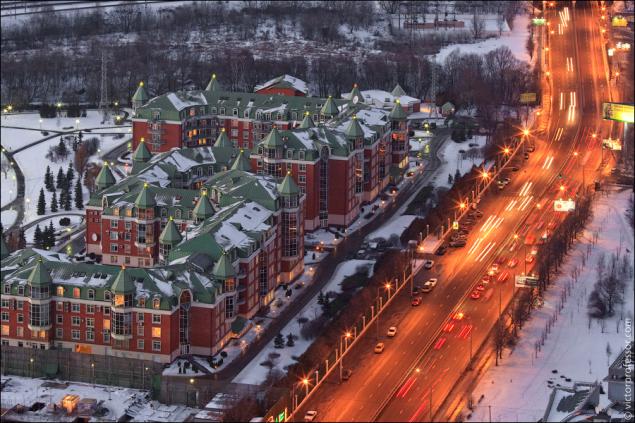 In the foreground - "North Tower", part of the complex Moscow-City. In the background, two queues "House on Running". Bright lights illuminated the third transport ring.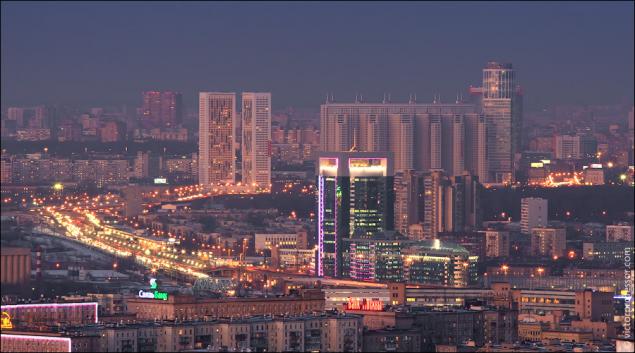 Minsk street goes into the Lomonosov Avenue. On the left are still visible chemical and physical faculty of Moscow State University, Moscow State University main library on the right, followed by the construction of residential complex "Dominion" about m. University. In the foreground, Institute of Mechanics, Department of Bioinformatics and Bioengineering, and MSU.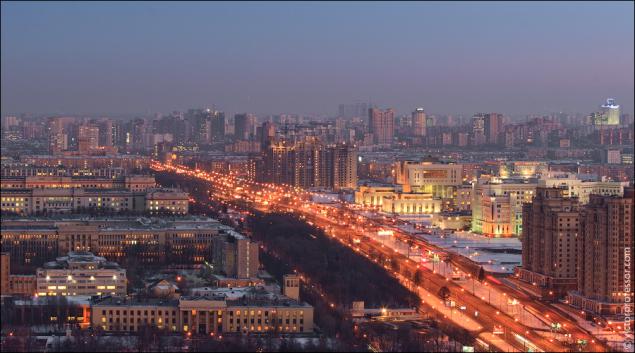 It's getting dark, the lights are lit at night. Suddenly wide looks Moscow River near the Berezhkovskaya. In the foreground is seen Cinema concern "Mosfilm".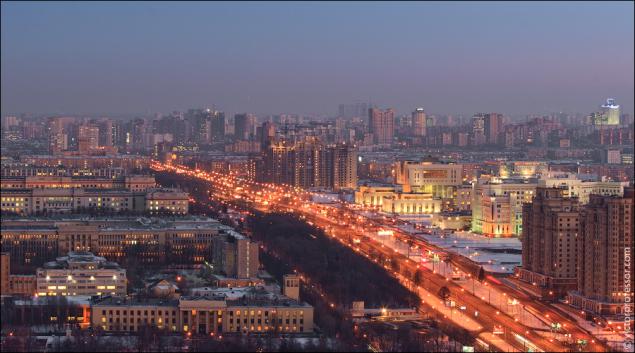 Residential complex "Kutuzov Riviera" with an interesting light installation on the roof.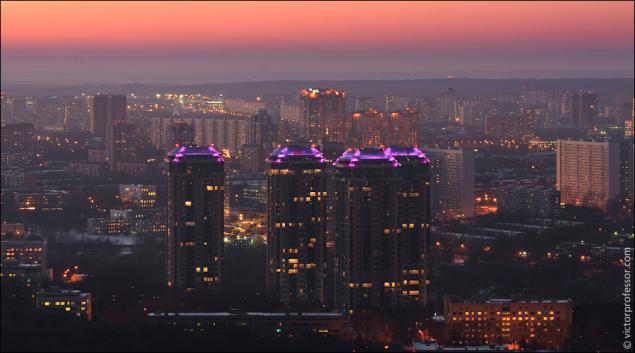 District Ochakovo-Matveevskoe. Left railway platform Matveevskoe away pipe CHP-25.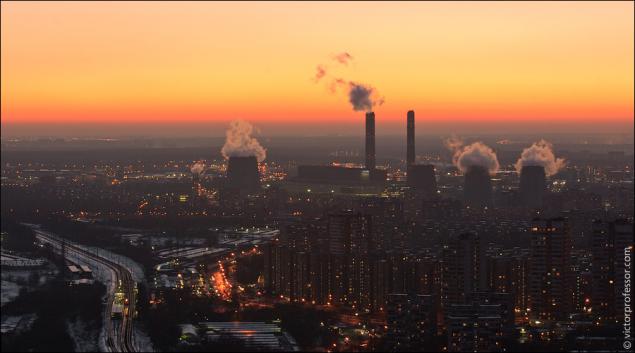 And here is the trace of a passing train, and in the foreground you can see a residential complex "Golden Keys 2" was built on the site of a huge landfill.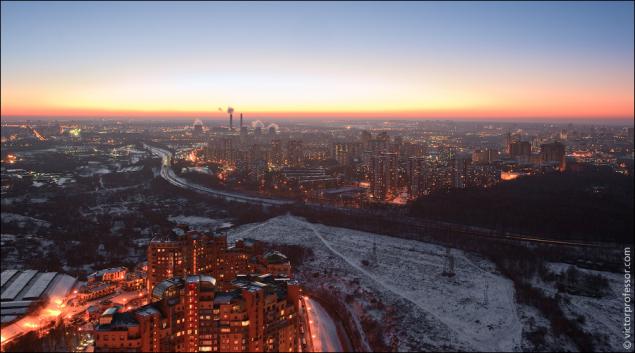 5th and 6th districts Ramenky area.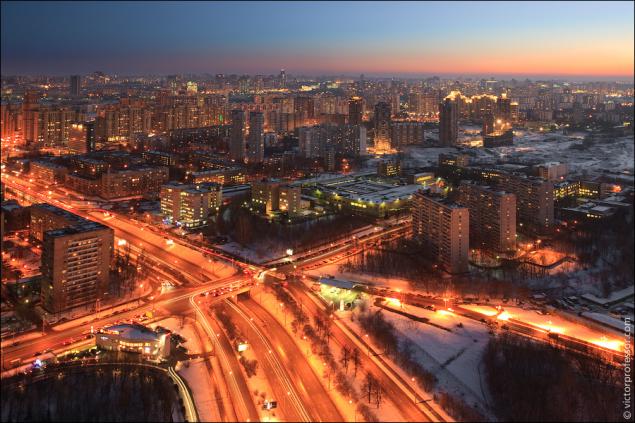 in the direction m. University.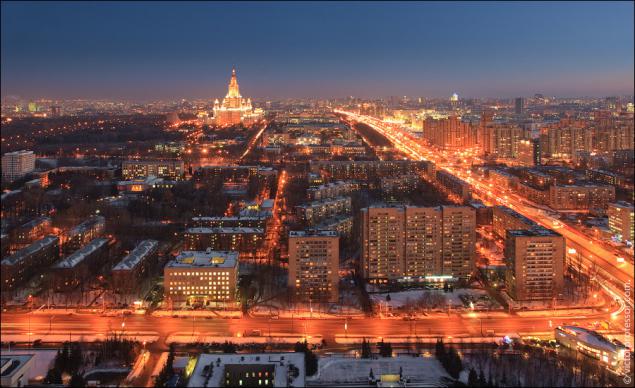 Luzhniki Stadium and the TTC.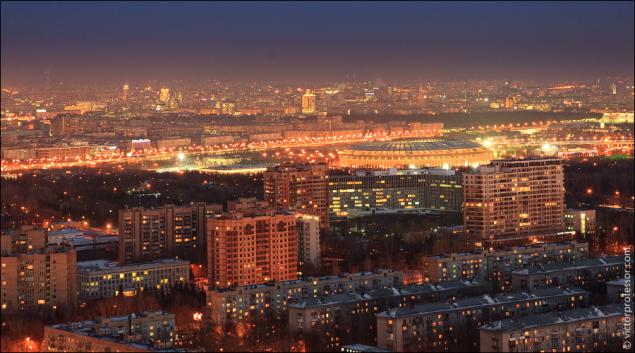 View to the observation gallery.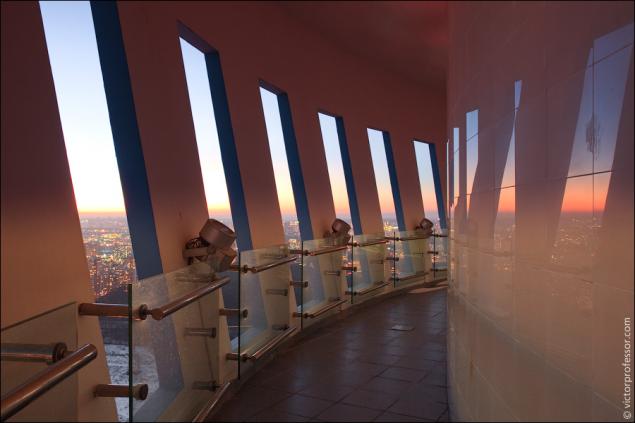 General view of the residential complex.
© victorprofessor.livejournal.com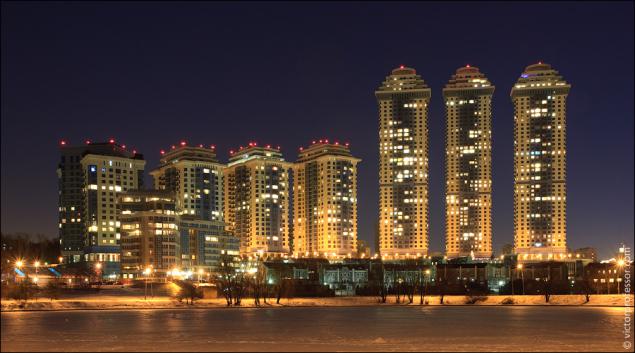 Source: