Sale Ford Bronco 2, 4x4 volume of 2.9 liter engine. color dark silver '87 release. Power steering, cruise control, central locking, electric windows lifts, suspension seat, serious audiopreparation thresholds, sunroof,
alarm,. Very good condition, mileage 90 TM customs cleared, Moscow numbers, insurance, inspection.
Price: 170 thousand rubles
It looks something like this:
************************************************** ****************
In order not to waste time on phone calls about the status of the machine, I tell all here:
Especially impressionable into believing everything is not recommended.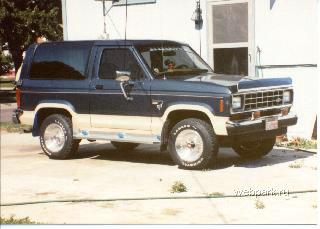 This Bronco with a washed-up a three-stage machine,
the rear seat is hell prolezesh,
pozhiret and motor oil,
and a single-point injection nichrome not work and nobody knows how to fix it, and lock does not work, and the coupling of the front axle does not work, and the new cost 400 bucks apiece,
and besides:
bald summer tires,
washed-absorbers,
Power flows,
Brake disappear periodically,
brake discs shine through on a strong lamp,
Crossings require replacement, not original does not happen only in the original gimbal assembly for 800 bucks,
All electricity snot, stranding and insulating tape, buggy constant and unpredictable,
washed-door seals,
the windscreen must be changed,
rear window heating does not work,
Loose seat and gobies are burnt in many places,
at the dry cleaners have to spend 100 bucks, and then ceases clear that it would be better interior remained dirty - I would not have seen it all ...
And running! Yes, it's another story! Actual mileage 290,000 miles to the fortuneteller do not go,
the first 20,000 miles traveled stupid fat American housewife, dirty all around the sauces from McDonald's and then went no less blunt, but not fat American girl - another 30,000 miles, it is all the time does not change the oil, shoes, belts, rubber and etc .,
following 50,000 miles driven Mechanical maintenance of refrigerators, serviced the car itself, it is terribly choked superzhaba he bought on sale the cheapest mineral oil, Chinese aftermarket pads and candles, and then he sold the car to the Arabs for 1000 green.
slaves tied speedometer podmandili little car and shoved him $ 1,800 per student. Underage bastard drove it 25,000 miles and have traveled farther if stoned Colombian cannabis not uebalsya rack smoobsluzhivaniya Dunkin Donats. Wildly fearing such irreparable kosyachily (the car was not insured), man knocked home. The car was arrested and in this form auctioned Newly Russian emigrants that's just once again needed by the whole ass Bronko2 (they already face've stole). Repair and painting took only 4 days - have not regretted peppers fillings. On svezhepochinennoy car they drove more than 50,000 miles - carried contraband caviar and vodka from Brooklyn to Atlantic City.
In 1993 the car was asked to go to Russia for the fabulous price. It once again podmandili, twisted speedometer and sent to the container.
In Moscow pepelats to prikuplyu Mytishchi bandits fine tailoring, suggests formidable SUV horror on larechnikov - even 40,000 miles. On 42 th of thousands naebnulsya automatic, peppers have touched it in the garage with clutch from LiAZ 677 and tucked Veretenko due to reluctance pizdovat in the 12th hour of the night for some unknown oil. Then again tied the speedometer and sent Ford to the market.
In the bazaar glittering cesspool was purchased from chrome kenguryatnik ohuevshey married couple who came to buy "four". After another box pipelats eksplutirovalsya bulkhead in the tail and mane 3 years, including a trip to the cottage in the Ryazan region - 150 km of the road is not very good. More than 50,000 miles. At the end of the motor began to devour oil, tapping suspicious and rumbling bellows and the machine, after a twisting of the speedometer has been put up for sale.
Bought Armenians - coveted kenguryatnik essno. Motor pawing with rings of M412, slightly modified in the grinding bar, caps put Zhiguli, compress them beforehand pliers. A year later, the Armenians lost the car in the cards. For a year, he managed to drive 25,000 miles.
For gambling debts taken away the car Azeris. She was at the moment not in the best shape, so it began to carry out the cabbage Voskresensk in Moscow.
One day in late autumn, before reaching Lyubertsy, Ford skidded on prichiine seriously intoxicated driver and, having flown the oncoming lane, he found peace under the poplars. Poplar nihuevo stuck in the middle right post. Recovering, Azeris handled the rotten cabbage in drove six and began to pull a Ford tractor. The ditch was deep and dirty, Ford sat down on the hub, so the tractor frame bent, but pulled out.
All winter Ford stood in the courtyard of the local Azeri, haggling heroin, hashish and grass. In spring 2001, recalled about the car and decided to renovate. The body was removed from the frame and vyyagivali it with a rope and a GAZ-66. Bend of the frame was cut and welded in its place a suitable electric welding pieces sill. Then Ford painted entirely in the garage, using a balloon with carbon dioxide. Accumulated dust zapolirovat manually. Then as usual - twisting speedometer. interior cleaning and bazaar. At the market, but not sold. Sold by the announcement in the IRR. I arrived at the old 893 "FIRE" on the monitor with the crazed eyes and took the Ford by proxy, after walking around for an hour or propriety, ride and pozadovav intelligent questions.
Over the next 2 weeks Ford visited all Moscow services specializing in American garbage dumps. I cursed the day when hooked himself vydelenku and published on avto.sru your mobile.
In general, Ford reluctantly went another 10 months, until he tired.
The current state of Ford described in the original message))
who are interested to buy this car - write or call.
with respect, raccoons.
fireblade.ru