Amazing artist who creates fantastic products from debris and pieces machinery, became known throughout the world. The meaning of his work is not the desire to stand out from the mass of artists, and the good idea. Nemo wants to show people how beautiful the world in which we live, and what a pity to pollute our land.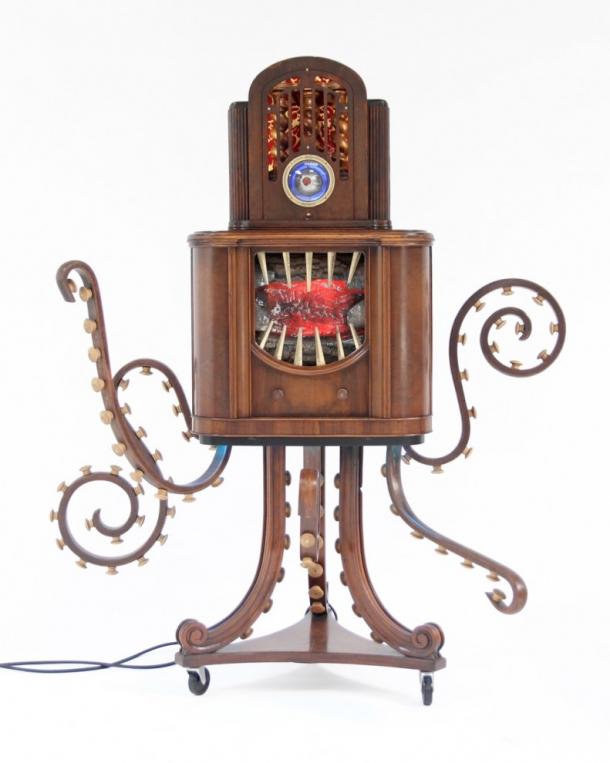 Tsikloktopus - Cyclops and octopus, all in one (radio, spare rocking chairs, clock elements, handles, wallpaper, wheel hubs, LED, foil)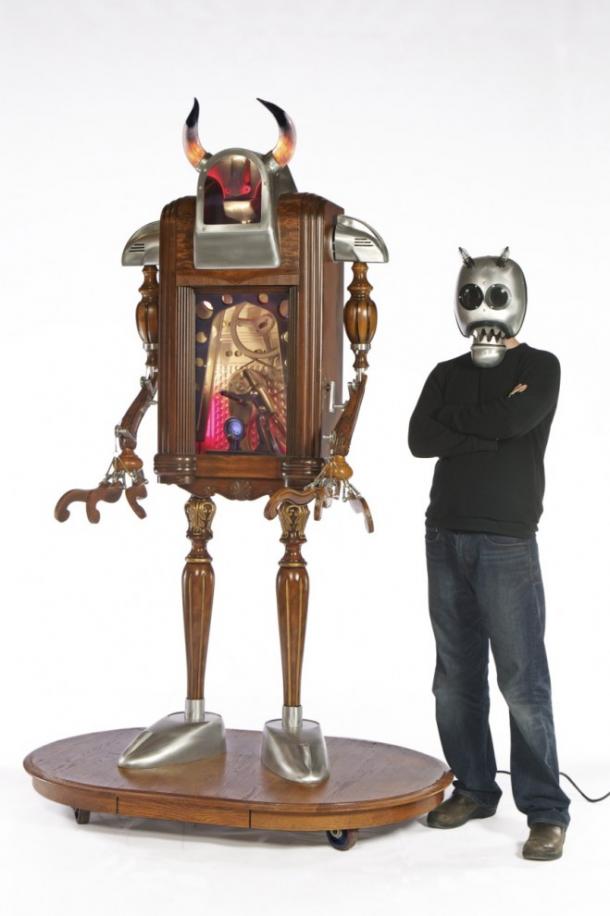 Minotaur - a bull-monster. Complete mask fleeing from the Minotaur (bull horns, grinder, table and chairs, light-emitting diodes, the refrigerator, CD, springs, screws, aluminum scrap)
Nemo Gould was born in 1975 in Minnesota. He was named after comic book hero, the boy Nemo who fall in fantasy worlds. And predicted that the fate of a talented genius designer. From childhood he loved to collect bits of iron and something of their design.
Armed and dangerous (radio, table legs, coffee, pipes, shovels, truck parts, wheels, parts of the stretcher, LEDs and others.)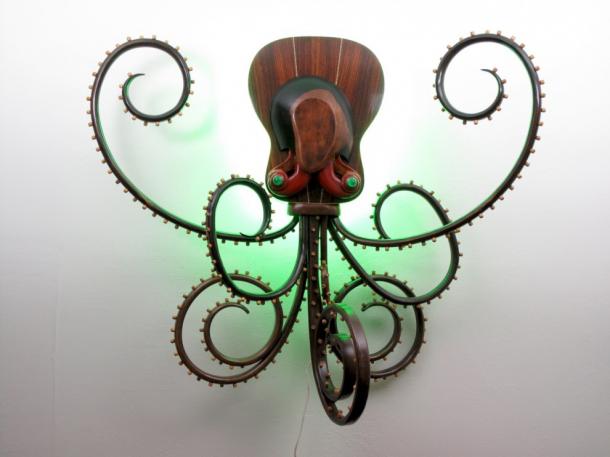 Akustapus-lamp (acoustic guitar, LEDs, armrests, beads, light, brass screws, aluminum)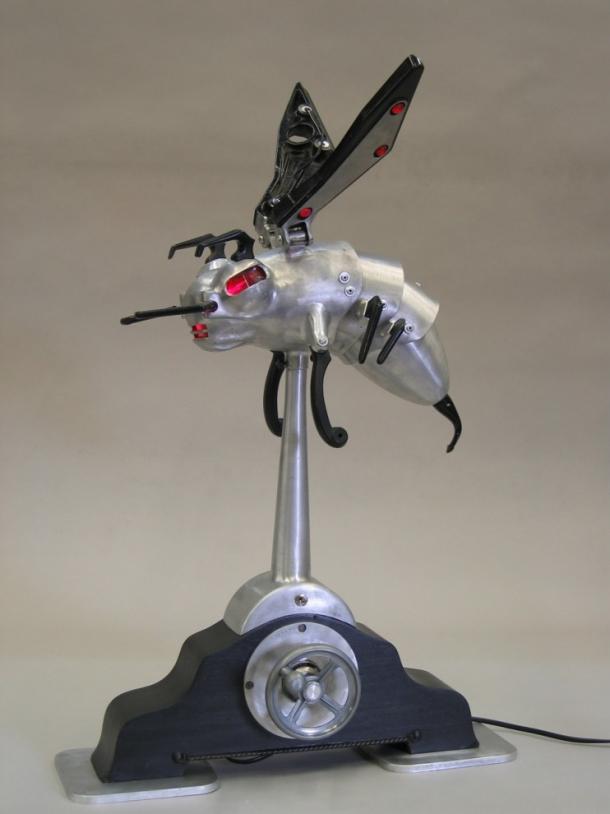 Bug (Eng. Bug - a bug, small insect) - a common name among programmers errors in programs (hours, pieces of a baseball bat, lamps, motorcycle parts, coffeemaker, lamps, saucers, pot)
Realizing his destiny, Nemo graduated from college of fine arts in Kansas City and received a master's degree at Berkeley in the same specialty.
"I still have in my heart is still the same seven year old boy. Most adults have forgotten how to be surprised, and I try to create things that awaken adult children ».
Halloween Mask
Devil's Advocate - two masks based taxidermist design, sealed in foil. Antlers bolted screws. We would be especially on Halloween.
Nemo and his wife on Halloween masks homemade
Quick as anybody (elements of rocking chairs, vacuum cleaners and parts, optical test equipment, baseball bats, the lamp and so forth.)
Cat with heart monkey (pieces of chairs, saws, vacuum cleaner, kitchen ladles, food processor)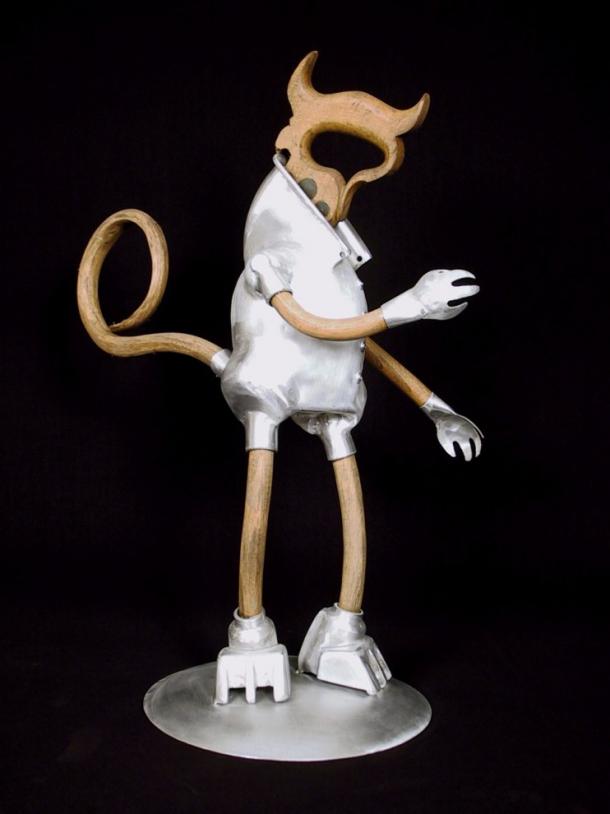 Cat theme (handle saws, forks, ice crusher, lamps, spoons, skeleton grinder)
In 2007, Gould chose as an artist in residence processing and recycling. If earlier in San Francisco just destroy mountains of garbage, trash now gets a second life.
Anything that showed the artist Nemo Gould, collected from the debris caught in the waters of the world ocean found on the streets, pick up along the streets ... If you think about it, it's just awful. A beautiful installation! Moreover, they are still moving!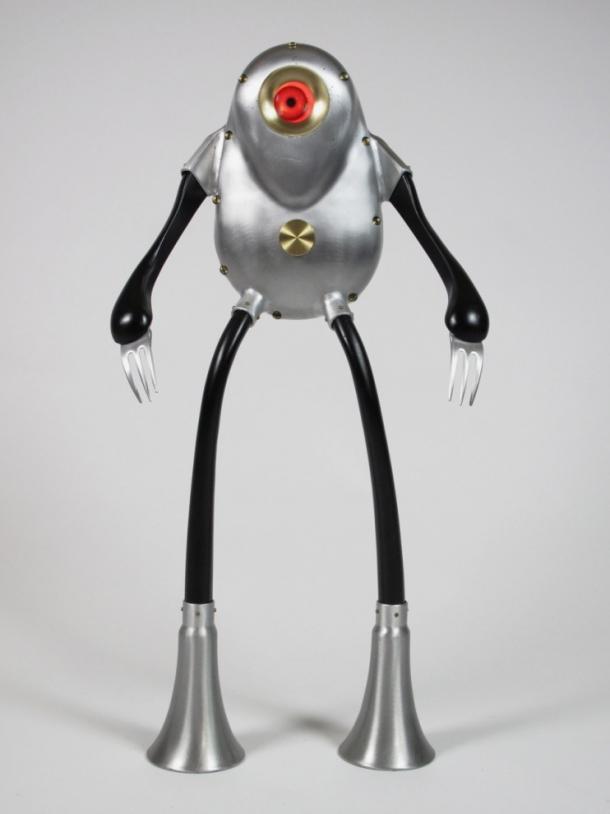 The viewer (the elements of the gearbox of the motorcycle, headlights, light-emitting diodes, plugs, cords, wires, kettle, table legs)
"MandoliNAsekomoe" (Mandolin, chair, deer antlers, light bulbs, sockets, engines, pieces of wood)
Lamp-centipede (soldered pots, levers, vacuum cleaner, spoons, light-emitting diodes)
Numerous art ideas if they are not directed at the creation, seem preposterous. Why look at the strange metallic structures and seek in them a philosophical sense? But the artists project deserves attention if only because it shows how people casually refer to nature.
Savage tree (gear box, kettle, chair parts, snack plate, headboard, decorative shelves, clogs, bike (exhaust side)
Sound interference (clogs, the vacuum cleaner, chair, boat, bicycle pedals, beater egg and potatoes)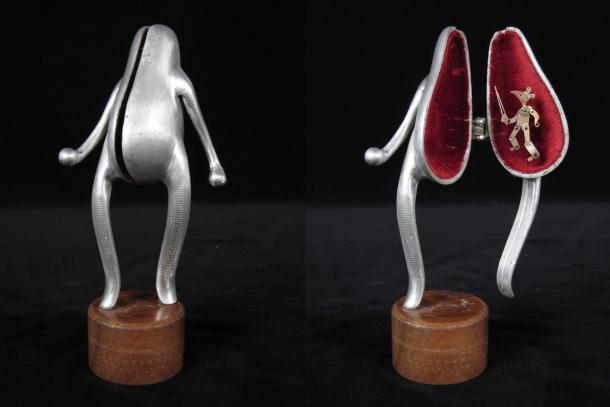 Pod (fishing equipment, brake shoes, watches, velvet, wood)
All the exposure created from the debris, allow us to estimate how severely a person is drawn to the fact that grants him the planet. Among the items for dioramas can find cans, pieces of broken water vessels, electronic devices, batteries, lighting equipment, building material, piles, tires ... It's hard to believe when you look at the finished object, but it is really garbage, welded, ground and processed.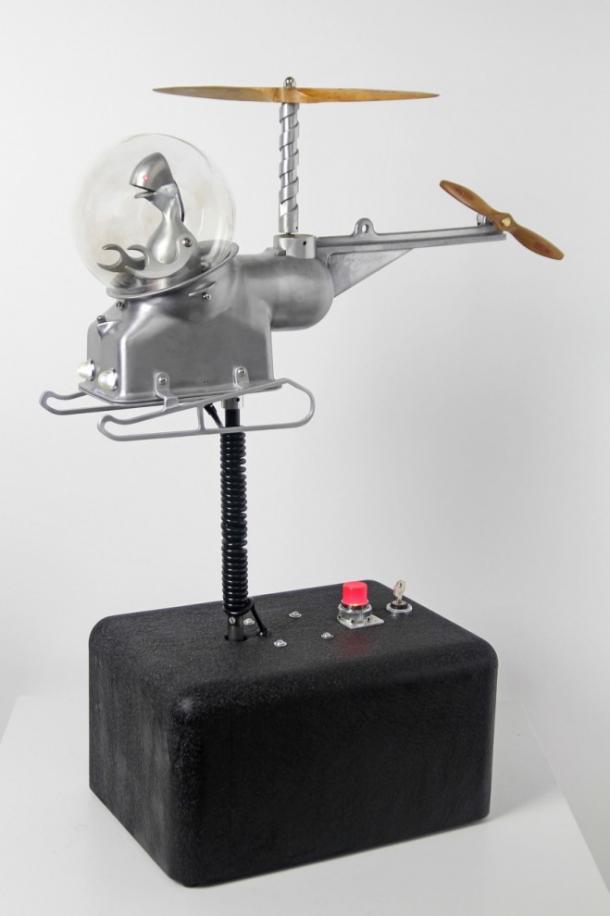 Hugh taxi driver
I want my sculptures made you wonder what the real inhabitants of the earth to live among this pile of garbage. After all, these blockages affect the ecology of our planet with you.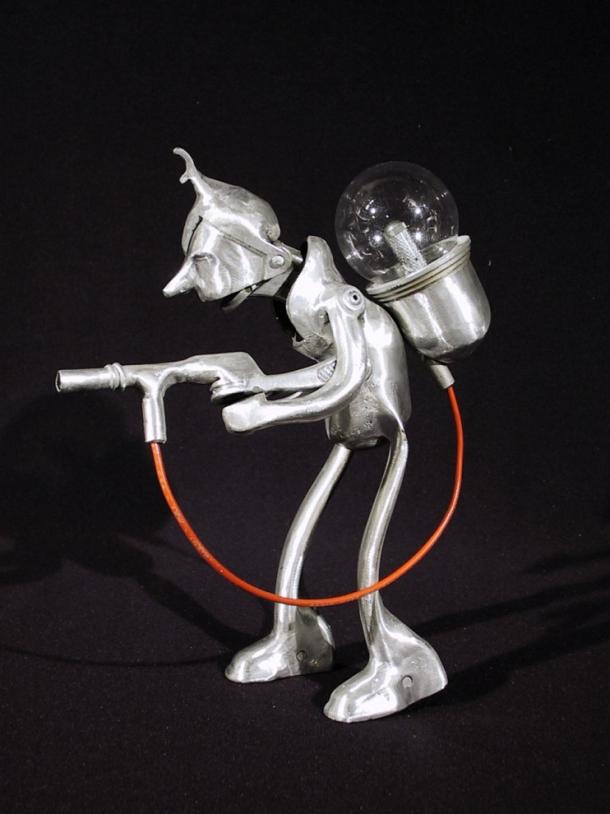 Soldier (brake of the bike, press chenoska, fixtures, paint sprayer, coffee maker, glass lamp)
Gradually work Nemo learns about the world. Another exhibition is dedicated to his life squid.
The unique project "Tentacles" became the hit of the season.
Cuttlefish project "Tentacles»
Octopus project "Tentacles»
In the video, where Nemo is preparing to showcase the exhibition "tentacles" are shown in the installation operation. Some animals will react to visitors due to built-in sensors.